Improve your pump and stimulate your mind with this great pre-workout supplement from Staunch.
Product Overview
Pre-workouts can be exactly what you need to boost your workouts to the next level, but the choices are endless. Lining the shelves are brand after brand with ingredients you have probably never heard of. While the choice can be overwhelming, we have taken a look at a great pre-workout to make your decision a little easier. Staunch Pre Koala Freak 2.0 is a great choice in pre-workout for those looking to enhance their pump while also stimulating their mind.
Pre Koala Freak 2.0 has the three most important things everyone wants to see in their pre-workout: an improved pump to see big gains, the ability to enhance mental focus and stimulate the mind for a great workout, and jitter-free clean energy. For those looking to get the most out of a pre-workout, this is one that can take you to the next level and support your muscle growth without bouncing you off the walls.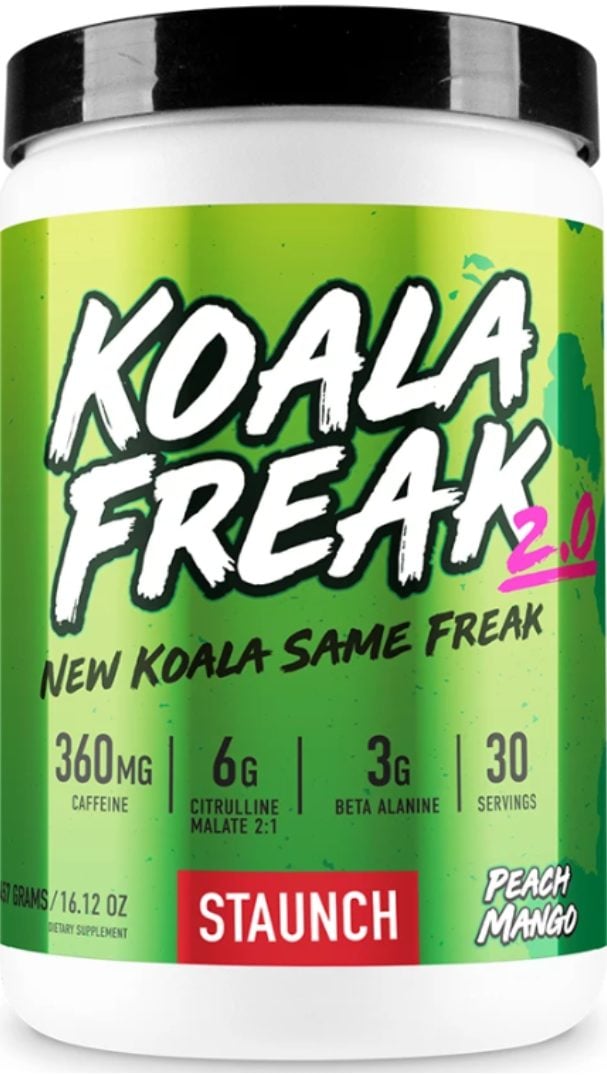 Staunch was started by Australian bodybuilder Calum Von Moger as a trusted supplement brand for bodybuilders and lifters looking for safe and effective supplements. Their fun and entertaining marketing strategies show relatability and their hard-hitting formulas compete with others on the market. Koala Freak was their flagship product, but they have since expanded to include a host of other high-quality supplements.
Calum and Staunch seek to bring top-tier products to bodybuilders and athletes looking to take their workouts to the next level and see serious muscle growth. With common ingredients mixed with their own personal take on what should be in a pre-workout supplement, Staunch works to bring consumers products that will work. With cutting-edge formula, Koala Freak was developed to deliver maximum performance every time.
---
Check out where Staunch Koala Freak Pre-Workout landed on our list for Best-Pre-Workout!
---
Staunch Pre Koala Freak 2.0
When it comes to your pre-workout needs, Pre Koala Freak 2.0 has you covered. It's cutting edge formula with 11 ingredients works to enhance your pump, increase mental focus, and fill you with clean, jitter-free energy to ensure a great workout. With a variety of flavors from natural and artificial flavoring, Koala Freak offers diversity and great tasting options while also filling you with important amino acids and vitamins. Researched, developed, and tested by top-tier fitness professionals, Staunch brings you Pre Koala Freak 2.0 to get you ready for whatever workout comes your way.
Ingredients
L- Citrulline Malate
One of the most common ingredients found in pre-workouts, L-Citrulline Malate can increase muscle strength, while also aiding in both muscular endurance and aerobic endurance (1) for longer, harder workouts. It can also improve absorption to make sure you get all the benefits of this pre-workout.
Beta-Alanine
Beta-alanine is an amino acid that plays a role in the production of carnosine, which can enhance muscular endurance in high-intensity exercise (2). It can also improve exercise power and capacity, while boosting resistance training volume.
Betapure Betaine Anhydrous
For those who already participate in strength training, Betapure can enhance muscle growth and power (3) and reduce fatigue during lifts to keep you going strong. By allowing for increased reps, your muscular endurance will improve and you will feel great about your pump.
L-Theanine
When paired with caffeine, L-theanine will work to reduce the jitters and give you that clean energy Koala Freak prides itself on. With the ability to improve mental stimulation and focus (4), you will have better reaction time and attention to keep you distraction-free during that important workout.
Other Ingredients
With a host of other ingredients, Koala Freak adds that extra level of workout enhancement. Arginine AKG and Agmatine Sulfate are amino acids which work to help with increased muscle mass and protein synthesis while stopping muscle degradation (5). By enhancing your pump, they allow for increased blood flow and protein synthesis to aid in this growth.
Choline can help you maintain healthy brain function and improve cognitive performance (6), while also serving as a weight loss aid without sacrificing that hard-earned muscle. Methylliberine may amplify moods, energy, and focus by working to activate certain neurotransmitters in your brain to keep you feeling fresh and ready for whatever the day's workout brings. Caffeine anhydrous, theobromine, and Huperzine A are also included to help maximize your pump and keep you feeling mentally charged.
Price & Flavors
Staunch Pre Koala Freak 2.0 has a serving size of one scoop per serving in a container of 30 servings. With a price of $49.00 per container, it is on the expensive side, but the flavors and benefits are something to consider when shopping around. With six flavors to choose from, this great tasting pre-workout will never leave you bored with taste. The flavors include:
Peach Mango
Strawberry Pina Koala
Aussie Apple
Tropical Mojito
Blue Baz Berry
Mystery Flavor
Athlete Spotlight
Calum Von Moger started Staunch to bring great supplements to bodybuilders and lifters to improve their pump and overall performance. The professional bodybuilder and actor has made a great name for himself, and despite injury, has bounced back and is now stronger than ever. He appeared in Generation Iron's Calum Von Moger: Unbroken, which chronicled his recovery and return to peak strength to get to where this true professional is today, as well as playing the role of a young Arnold Schwarzenegger in the biographical drama Bigger. Calum and Staunch continue to make great supplements from high-quality ingredients to help people improve their fitness and overall health.
Overall Value
Staunch Pre Koala Freak 2.0 is a great pre-workout for those looking to improve their pump and stimulate their mind while providing a source of clean energy. With an effective formula of 11 top ingredients, consumers can look to increase their exercise power and capacity while improving muscle strength as well as muscular endurance and aerobic performance. Led by Calum Von Moger, this pre-workout stands by Staunch's mission to bring bodybuilders and lifters top supplements to see huge gains and increased fitness. What you are getting is a fantastic pre-workout with well-researched and professionally engineered ingredients to elevate your workout to the next level.
Try Pre Koala Freak 2.0 at Staunch Today
Let us know what you think in the comments below. Also, be sure to follow Generation Iron on Facebook, Twitter, and Instagram. 
*Images courtesy of Staunch and Calum Von Moger Instagram
References