Here are the full results from the 2022 Pittsburgh Pro!
The 2022 Pittsburgh Pro took place over the course of two days over the weekend with many events happening throughout. There were a total of six divisions present at the Wyndham Grand Pittsburgh Downtown Hotel. In the end, Alexander Westermeier and Natalia Abraham Coelho highlighted the event by picking up victories in their respective divisions.
The Pittsburgh Pro was the host of many guest posers featuring some of the top talents in the world. This includes reigning two-time Olympia champion Big Ramy, Brandon Curry, Nick Walker, and Hunter Labrada. There was also a special appearance from three-time Classic Physique Olympia champion Chris Bumstead.
The Bikini division has grown in size over the years and there is a clear tier at the top. Lauralie Chapados continues to be one of the best there is. Chapados earned her second victory of the season after winning the Arnold Classic. She also finished as the runner-up during the 2021 Olympia. Janet Layug also made her return to the stage in Pittsburgh. She finished third in her first competition since winning the 2020 Olympia.
Coelho will return to the Olympia for the fifth consecutive year in Women's Physique. She finished as the runner-up in 2021 for the second time in her career. Coelho also has two third-place finishes. She has solidified her spot as one of the top competitors in this division.
Westermeier made an impact right away in Pittsburgh and rode this momentum to a Classic Physique title. He will now have a chance to test his luck against some of the other top competitors in the world. Shanice Abrams won Figure after an eighth place finish in Pittsburgh last year.
The results from the show are spread out over Friday and Saturday night. Checkout which divisions have named winners and the official score cards below!
2022 Pittsburgh Pro: All Division Winners
Classic Physique: Alexander Westermeier
Men's Physique: Sadik Hadzovic
Women's Physique: Natalia Abraham Coelho
Bikini: Lauralie Chapados
Figure: Shanice Abrams
Wellness: Sunny Andrews
2022 Pittsburgh Pro Breakdown
Classic Physique
First Place – Alexander Westermeier
Second Place – Camilo Diaz
Third Place – Neil Currey
Fourth Place – Daniel Costa
Fifth Place – Brandon Kidd
View this post on Instagram
Women's Physique
First Place – Natalia Abraham Coelho
Second Place – Justine Albert
Third Place – Marie-Solange Essoh
Fourth Place – Natalie Rae Wolfe
Fifth Place – Jessica Belt
View this post on Instagram
Figure
First Place – Shanice Abrams
Second Place – Ericka M. Morgan
Third Place – LaToyia Farley
Fourth Place – Tereza Linhartova
Fifth Place – Maude Exantus
View this post on Instagram
Bikini
First Place – Lauralie Chapados
Second Place – Ashley Kaltwasser
Third Place – Janet Layug
Fourth Place – Liana Giannamore
Fifth Place – India Paulinho
View this post on Instagram
Men's Physique
First Place – Sadik Hadzovic
Second Place – Mark Robinson
Third Place – Jason Huynh
Fourth Place – Chidube Anene
Fifth Place – Ramses Rams
Wellness
First Place – Sunny Andrews
Second Place – Kassandra Gillis
Third Place – Julia Chitarra
Fourth Place – Jasmine Payne
Fifth Place – Devone Martin
2022 Pittsburgh Pro Official Score Cards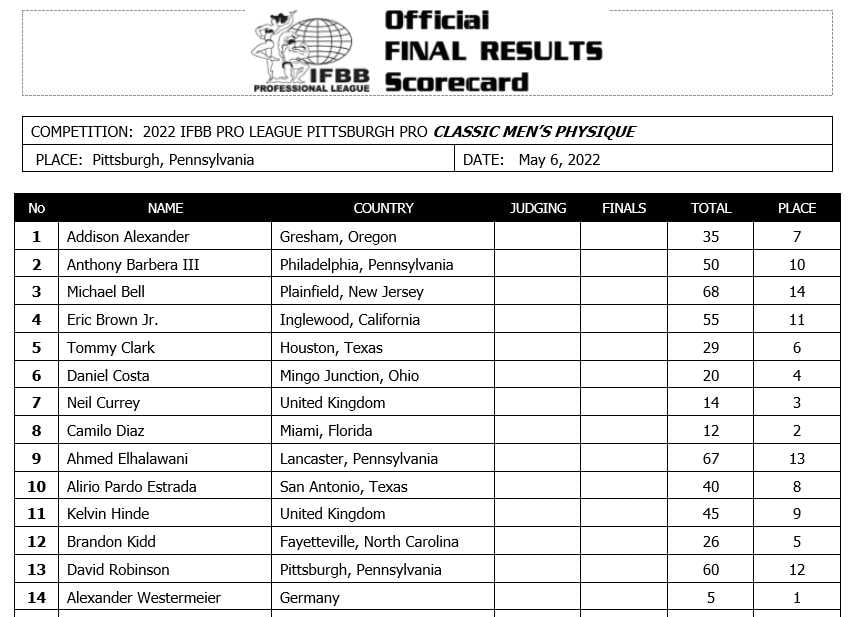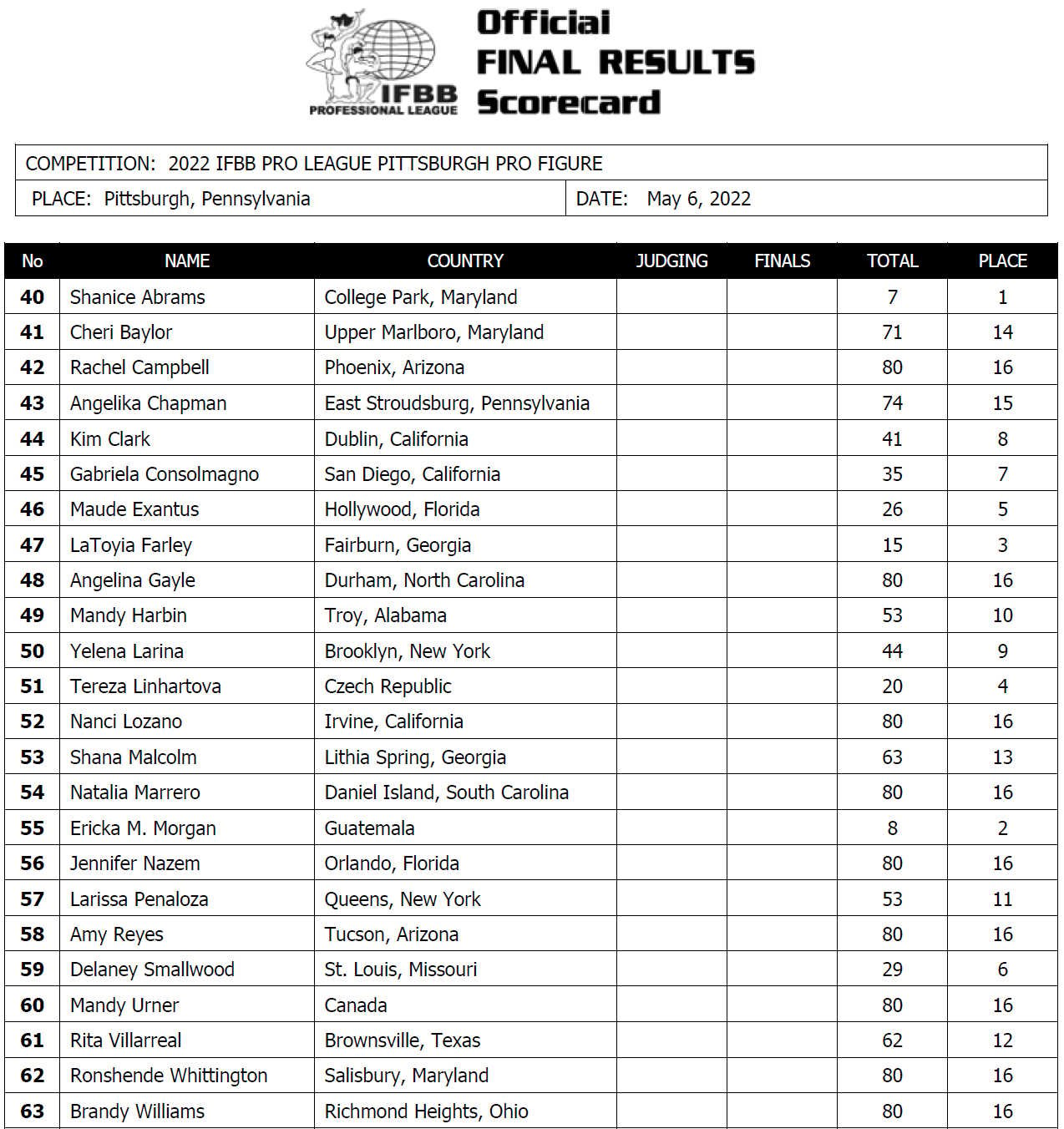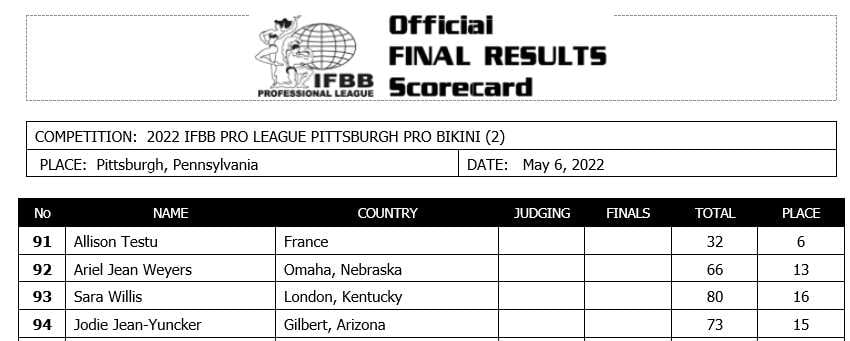 Generation Iron wishes to congratulate all the great athletes who earned a win at the 2022 IFBB Pittsburgh Pro. Make sure to check out our full IFBB Pro results page from this year and previous years right here to catch up on any action you may have missed!