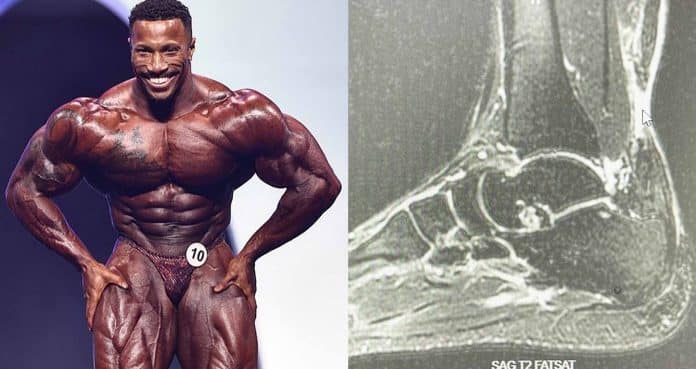 Patrick Moore finally opens up about his achilles tendon injury and how it nearly ended his bodybuilding career.
Amidst swirling rumors, pro bodybuilder Patrick Moore has officially provided an update and confirmed he has suffered a ruptured achilles tendon. While Moore admits that the injury threatened to completely end his career, he happily shares that he is "almost back to 100%" and is looking optimistically towards his competition future.
It was initially posted in April that Patrick Moore suffered an achilles tendon injury. This kind of rupture is a serious injury in bodybuilding. With Moore remaining silent on the matter and slowing down his social media updates – many believed that news of early retirement was on the horizon.
Patrick Moore's last major placing was at the 2021 Mr. Olympia where he received 14th place. His very last competition was the 2021 Legion Sports Fest Pro – where he finished in 10th. Despite these hurdles, many hyped Moore due to his incredible aesthetics valued over mass monster size. If he could tighten the screws – he would be a true threat to be reckoned with.
After the Legion Sports Fest Pro, Patrick Moore officially announced that he would take 2022 as an off year to focus on recovery and improving his physique. He wanted to return in the 2023 season new and improved and ready to live up to the long chanted hype.
However, news of his achilles tendon injury in April, followed by his relative silence online, sparked worry and rumor that he would not return in 2023. Perhaps, in fact, he would not return at all and announce his retirement.
Now it seems Patrick Moore is ready to squash the retirement rumors once and for all – and finally speak openly about his achilles tendon injury. Moore directly commented on the situation in an Instagram post published on August 17, 2022. You can see it below:
View this post on Instagram
A full break down of Patrick Moore's injury
Patrick Moore starts his official statement directly addressing the injury and the overall timeline of events. It appears that much of the rumors were true – but it's still good to have an official confirmation from the athlete himself.
"4/28/22 I Completely ruptured my Achilles. I'll never forget the exact feeling I had when I was told it was ruptured. I can remember struggling to hold back tears as it was the first time I've ever suffered an injury….a severe one at that."
Patrick Moore directly comments and confirms that he had ruptured his achilles tendon in April. He then received surgery for the injury on May 10th, 2022. It seems that upon getting first diagnosed with the injury – he immediately went into crisis. Moore truly believed the news would end his bodybuilding career.
"My first thought "My career is over and I hadn't even reached my peak!"

It took a few days to even get past the initial shock of what had happened. I was so used to being the guy who could do any and everything I wanted, and now I couldn't even walk. Mentally was one of the hardest few weeks I've ever had….the feeling of never being able to do what I loved again."
Patrick Moore also acknowledged his silence after the initial injury. His explanation was an extreme focus on getting better – using his actions and not words – to fully understand what his future will actually hold. Now with things more clear, Moore was ready to explain the injury and his future plans.
"I didn't talk or post about it because I didn't need or want the attention or anything to distract me from getting back healthy. On 5/10/22 I had surgery by Dr. Michael Greaser. Now 14 weeks post op, it is such an amazing feeling to be almost back to 100%. The fact is unexpected storms will always come, but eventually they'll pass and you just have to make sure that you're ready! You owe it to yourself to get back on track if you get knocked off!"
While some fans may be frustrated for the lack of transparency, it's now clear that Patrick Moore was going through both a physical and psychological internal struggle. Rather than speak out immediately and regret his words, Moore waited for a more logical and clearer response.
Patrick Moore was truly worried about the future of his career. Now 14 weeks after the injury, he feels much more optimistic and believes that he can continue to compete. Whether or not that actually comes to pass remains to be seen. While all of us here at Generation Iron wish Moore the healthiest and speediest or recoveries, an achilles tendon injury of this magnitude can have long lasting impacts.
Hopefully, Patrick Moores update and optimism about recovery is a good sign. However, until we see him again on stage – we won't know what kind of physique Patrick Moore will bring back to the stage. We're wishing for the best after a very tough year.
Stay tuned to the Generation Iron Fitness Network for future updates on Patrick Moore's injury and general updates on all things bodybuilding, strength sports, and fitness!