Jonas Jamena was victorious during the 2023 Musclecontest Pacific USA Pro!
The 2023 Musclecontest Pacific USA Pro took place over the weekend in San Diego. The Men's Physique division was prepared to hand out a qualification to the 2023 Olympia and it was Jonas Jamena who proved superior on stage.
The Olympia qualification system has changed this year. If an athlete did not finish in the top three in the previous year, or top five in Men's Open, they will have to win a show to qualify. The points qualification system is no more. Also, former winners of an Olympia title have lifetime eligibility.
Jamena will make his second-consecutive appearance in the biggest show of the year. He won the Irons Games Pro last year and has now earned his second victory. He will have a chance to improve his standing among the best in the world.
The full results from the show have been announced. Below, check out the full breakdown, along with an official scorecard. 
2023 Musclecontest Pacific USA Pro Breakdown
Men's Physique
First Place – Jonas Jamena
Second Place – Alexander Toplyn
Third Place – Rhyan Clark
Fourth Place – Clarence McSpadden Jr.
Fifth Place – Andre Smith
Sixth Place – Mahmut Alan
Seventh Place – Austin Witty
Eighth Place – Diogo Basiglia
Ninth Place – Charles Tawiah
Tenth Place – Alexander Rogers
View this post on Instagram
2023 Musclecontest Pacific USA Pro Official Scorecard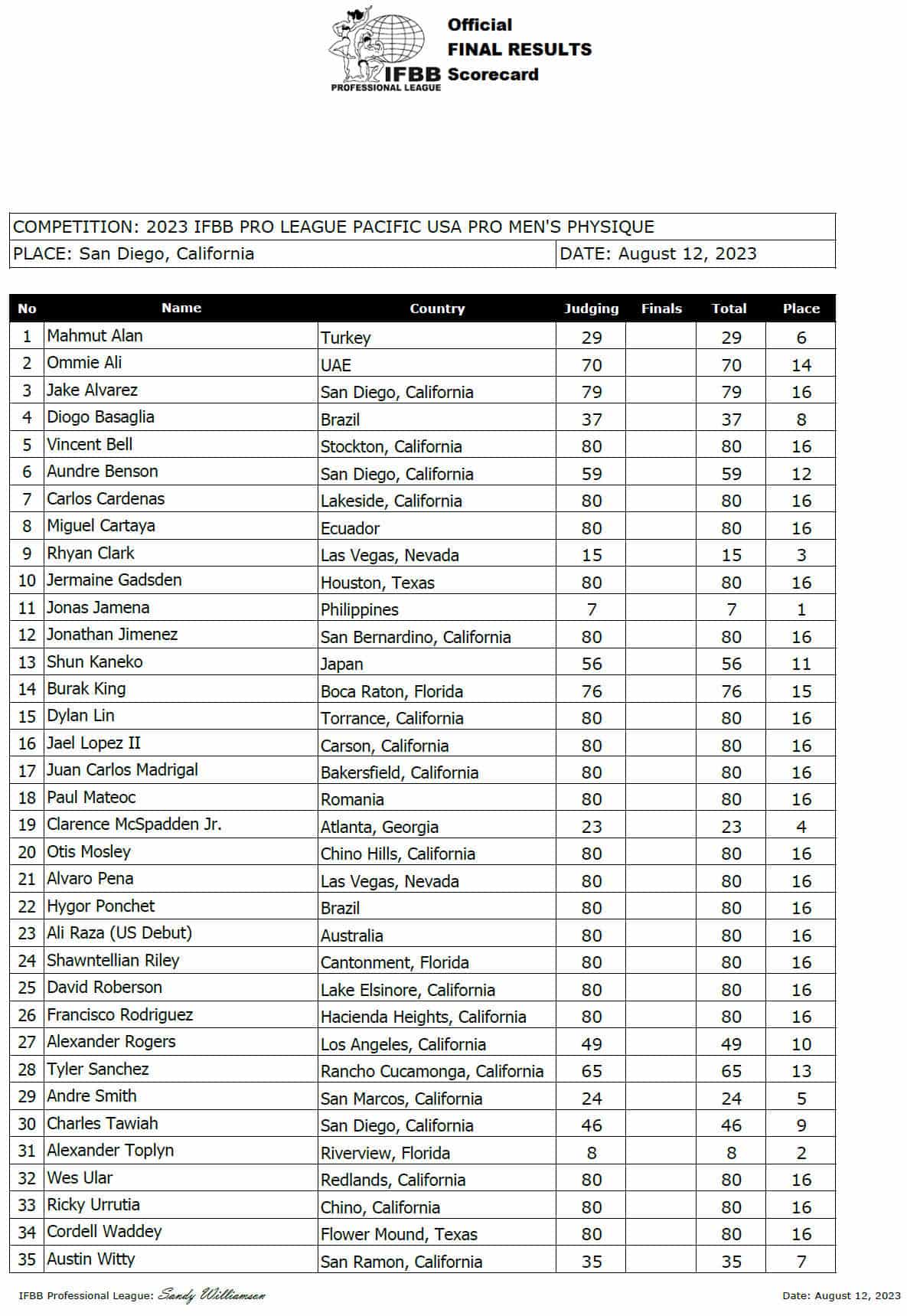 For more news and updates, follow Generation Iron on Facebook, Twitter, and Instagram.