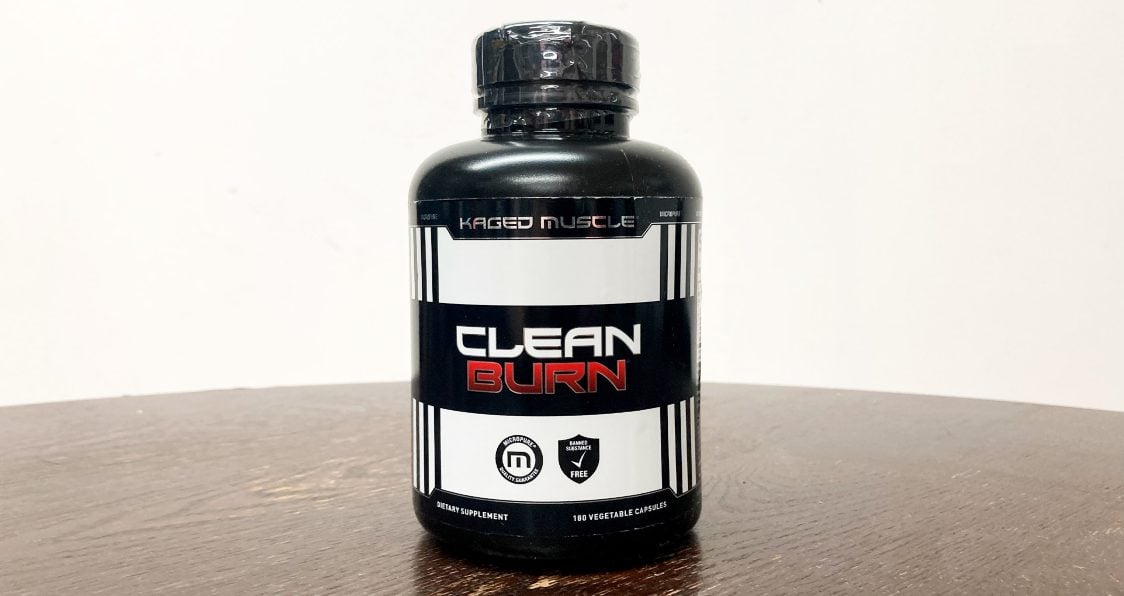 This thermogenic and appetite suppressant will help any fat loss goals.
Product Overview
For those of us looking to lose weight and shed that unwanted and stubborn body fat, looking to a top tier fat burner can give you great results. When it comes down to it, a solid training plan and proper diet can work wonders for all your gains, but with a little help from a fat burner, you are well on your way to achieving that desired physique.
While stimulants tend to be a driving ingredient in many fat burning supplements, those looking for stim-free options tend to suffer, for unwanted side effects can cause discomfort and steer you away from these products. Kaged Muscle Clean Burn is a stimulant-free fat burner designed to help tackle all of your fat loss needs so you can see your desired goals come to life.
Code GENIRON For 15% OFF
Kaged Muscle Clean Burn is a great stim-free fat loss solution to tackle any weight loss needs. With great fat burning ingredients and a powerful formula, this is great for weight loss or weight management.
Although stimulants tend to be a driving factor in fat burners, when you use a stim-free product, you don't sacrifice any of the great benefits. You will still burn fat, change body composition, retain muscle, and a host of other benefits without feeling the negative effects of stimulants. With companies putting a new emphasis on stimulant-alternative ingredients, you can be comfortable knowing your respective supplement is working for you and Kaged Muscle Clean Burn is no different.
Kaged Muscle is a supplements company who takes their production process and final products seriously, only reinforcing the deepest of integrity. They source the most pure, most potent raw materials and ensure their labs operate beyond the status quo with rigorous testing and third party assurance. Never compromising on quality and price, Kaged Muscle seeks to only make the highest quality supplements they can, for they know you the athlete deserve only the best.
Clean Burn Highlights
Kaged Muscle Clean Burn is a stimulant-free fat-loss solution to give you the best chance at weight loss and seeing your goals come true while promoting fat breakdown. A non-stimulant, clean, and fully disclosed formula works to accelerate metabolism, transport fat to cells to be burned for energy, and attack loss from many angles for the most effective burn while losing weight.
With 5 formulated, premium, patented, and scientifically tested ingredients, Kaged Muscle Clean Burn is exactly what you need to lose weight and improve muscle definition as you get leaner and see that desired definition take shape as compared to other weight loss pills. Perfect on it's own or in a supplement stack, getting lean and ripped is now easier and more possible with this dietary supplement.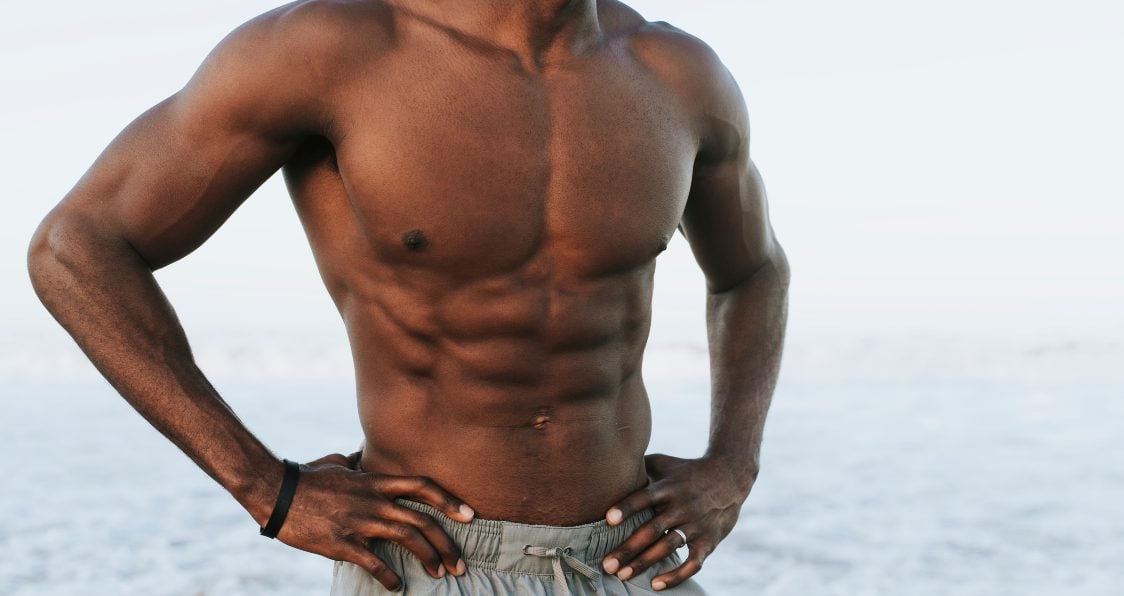 Ingredients
Chromium: Can help raise good cholesterol and lower bad cholesterol levels while improving athletic performance and increased muscle mass. By regulating blood sugar, it may also help reduce cravings (1).
L-Carnitine Tartrate: Will help your body become more effective at burning fat and can provide for more energy during and after a workout. May also help boost your metabolism for increased energy and weight loss (2).
Green Tea Extract: Helps burn fat and curb your appetite while improving digestion and inflammation. Can also serve as a substitute to stimulants and boost the thermogenesis process (3).
Gymnema Sylvestre Extract: Can help stop sugar cravings and promote weight loss by working on controlling blood sugar and insulin levels (4).
Capsicum Fruit Extract: Will work to boost your metabolism and provide for energy boosts while also reducing appetite for increased fat burning capacity (5).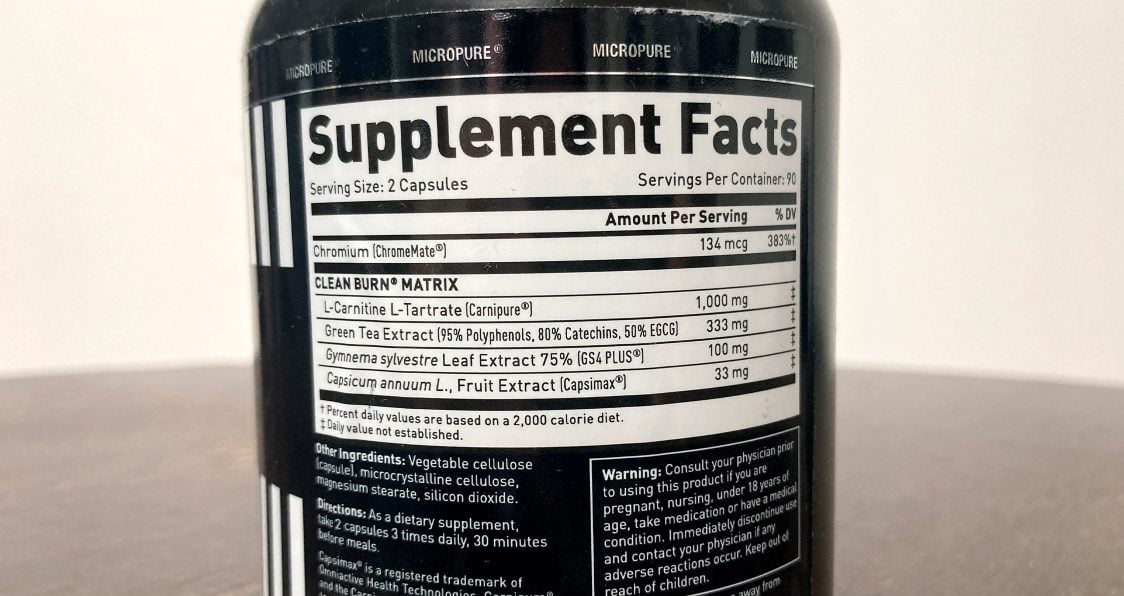 | | |
| --- | --- |
| Number Of Servings | 90 |
| Serving Size | 2 Capsules |
| Stim Or Non-Stim | Stim-Free |
| Best Way To Take | Take 2 capsules, 3 times daily, 30 minutes before meals. |
Price & Effectiveness
Kaged Muscle Clean Burn is a great stim-free fat burner designed to help you lose weight, shed fat, tone muscle, and see that desired definition you want most with this premium weight loss formula. With 90 servings per container, 2 capsules will give you all the benefits these great ingredients and formula have to offer unlike many other weight loss pills and weight loss supplements. This is also great for those in a cutting phase with key ingredients and unparalleled quality.
Pros
Clean and fully disclosed formula
Premium, patented, and scientifically tested ingredients
Stim-free option for those looking to shed fat and build lean muscle
From a reputable company in Kaged Muscle
Cons
Contains no stimulants for those looking for a stim fat burner
Price: $29.99
---
Check out our list of the Best Fat Burners On The Market for more great fat burning supplements!
---
Wrap Up
Kaged Muscle Clean Burn is that stimulant-free fat burner you need to see all those fat burning goals come true. Able to help shed fat, drop weight, retain muscle definition, and offer a seriously effective fat burner, Clean Burn is a top tier supplement with a clean and fully disclosed formula matched with premium and scientifically tested ingredients. Kaged Muscle works hard for their consumers because they know and understand all the needs of athletes. What you are really getting is a high-quality, stim-free fat burner with amazing ingredients, a quality formula, and an honest company backing you. Try Kaged Muscle Clean Burn today and give yourself the best chance at seeing your fat burning gains become reality.
Try Kaged Muscle Clean Burn Today
---
Generation Iron may receive commissions on purchases made through our links. See our disclosure page for more information.
Let us know what you think in the comments below. Also, be sure to follow Generation Iron on Facebook, Twitter, and Instagram. 
*Images courtesy of Kaged Muscle
References