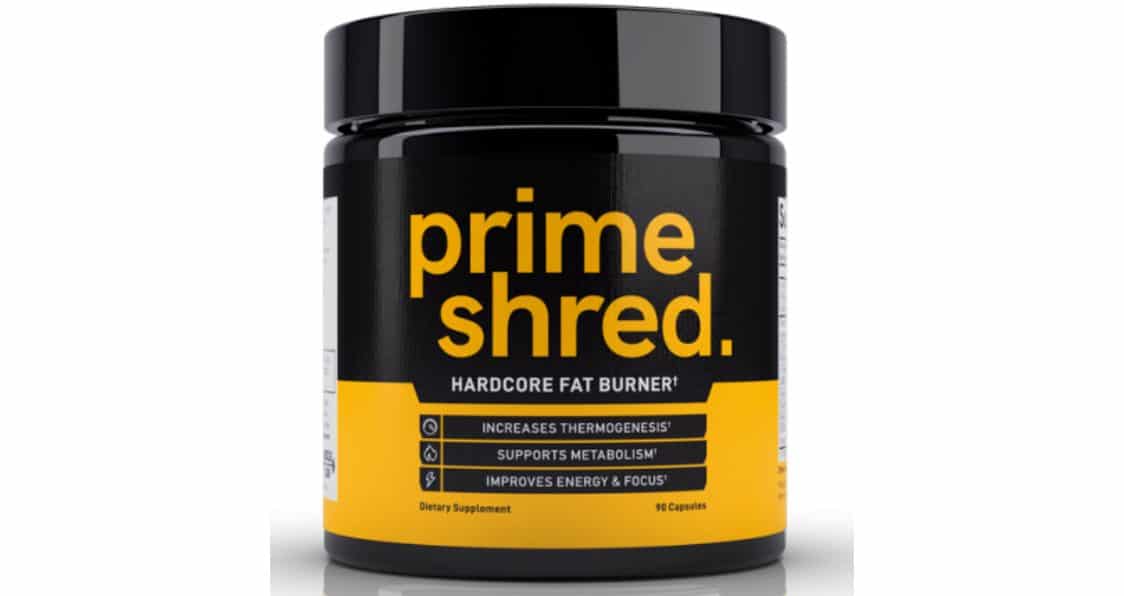 This fat burner can increase thermogenesis, support metabolism, and improve energy and focus for the ultimate fat burn.
Product Overview
Many of us are constantly looking for the right supplements to take to aid in our weight and fat loss, and while many fat burners do exist and can greatly influence our goals, the right fat burner is hard to come by. So many claim to have the right ingredients that are well-researched and properly dosed, but too often do they prove to let us down. Finding the right fat burner is possible and with stimulant and non-stimulant options available, the choices have grown exponentially. PrimeShred is a great fat burner designed to target fat loss in three stages for the most natural and effective fat loss journey.
The benefits of a quality fat burner can greatly benefit your goals and work to burn that stubborn belly fat as you seek a shredded aesthetic. A fat burner can work to boost your metabolism and aid in thermogenesis to keep burning calories and continue fat loss. Working to suppress your appetite, you eliminate hunger and snacking so you can maintain lean muscle while not putting on any excess weight. Those burners with stimulants can also increase energy and focus by raising your level alertness so you are ready to take on any challenge before you. PrimeShred does this and much more as a safe and effective fat burning supplement.
PrimeShred is a hardcore fat burner with a 3-stage approach to fat loss designed to maximize the fat burning process as naturally as possible.
PrimeShred by Muscle Club Limited Company works to conduct research and create the best supplements around so athletes can see the results they want most. Working with clean and effective ingredients, the research then proves just how to put this into a quality formula so everyone can see the best results around. PrimeShred is 100% manufactured in the United States in an FDA approved and GMP certified facility.
PrimeShred Highlights
PrimeShred is a hardcore fat burner designed with a 3-stage approach to fat loss so your body can maximize the fat-burning process as much as possible. By working with clean and effective ingredients PrimeShred works to accelerate your body's own natural fat-burning processes for maximum calorie burn, activate specific fat-burning hormones to break down stubborn fat, and amplify your energy and mental focus to make cutting easier. This well-researched formula contains the most effective, scientifically backed ingredients for round-the-clock fat burning for the best results possible.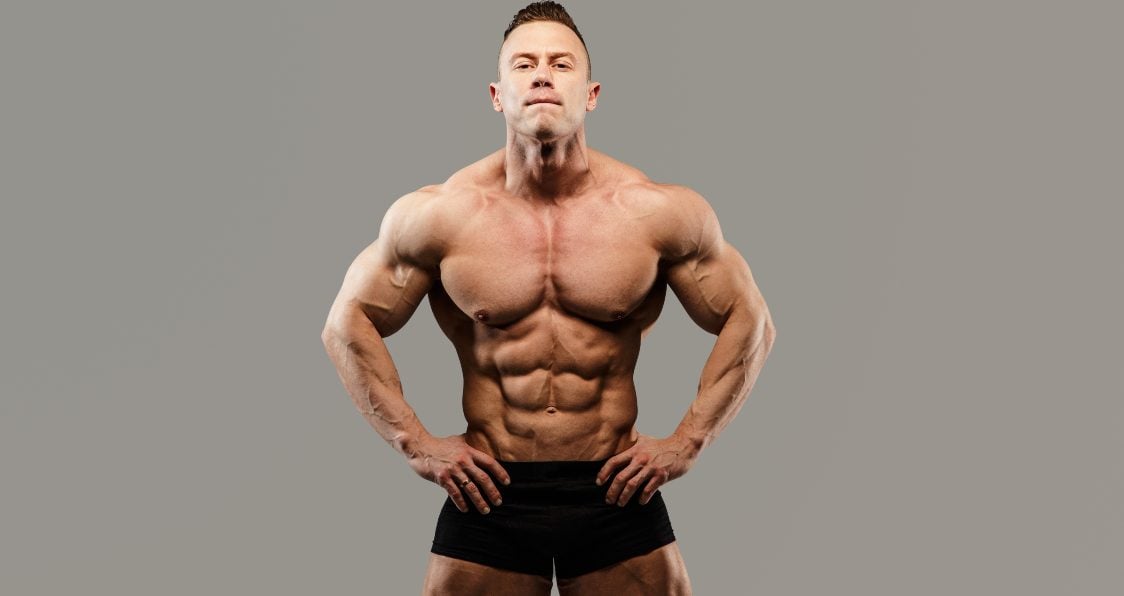 Ingredients
Green Tea Extract: Accelerates fat burning by speeding up your metabolism and boosting fat burning hormones (1).
L-Tyrosine: Improves focus, alertness, and concentration by delaying the depletion of neurotransmitters (2).
L-Theanine: Increases your metabolism by reducing the amount of fat and carbs your body absorbs while also enhancing focus and attention.
Caffeine Anhydrous: Boosts your metabolism and fat burning by breaking down fatty acids in your fat cells. It also improves focus and alertness as well as energy (3).
Cayenne Pepper Extract: Kickstarts your metabolism and increases thermogenesis by activating key fat burning enzymes.
Green Coffee Extract: Sparks thermogenesis for better fat burning and reduces tiredness and lethargy (4).
BioPerine Black Pepper Extract: Improves bioavailability for better absorption of all those key nutrients for maximum benefits (5).
Other Ingredients
Vitamin B3, Vitamin B6, Vitamin B12, Rhodiola Root, Dimethylaminoethanol, Hypromellose (Veggie Capsule), Silica, Magnesium Stearate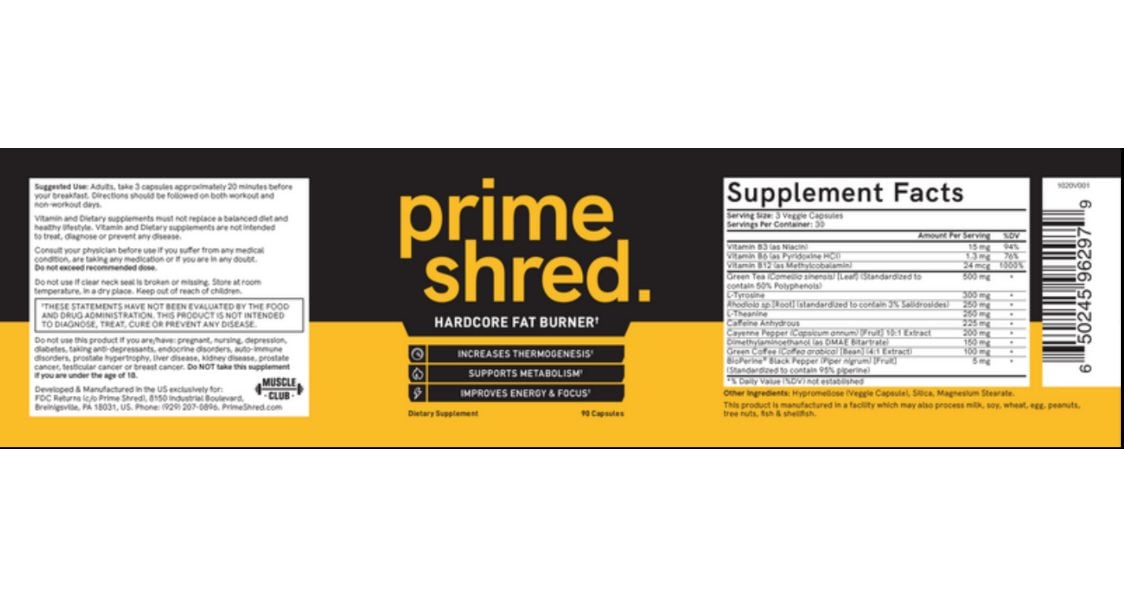 | | |
| --- | --- |
| Number Of Servings | 30 |
| Serving Size | 3 Veggie Capsules |
| Stim Or Non-Stim | Stim |
| Best Way To Take | Take 3 capsules 20 minutes before breakfast on training and non-training days. |
Price & Effectiveness
PrimeShred is a hardcore fat burner designed to increase thermogenesis, support metabolism, and improve energy and focus for the best fat burn possible as you seek that desired physique. With 30 servings per container, 3 veggie capsules will pump you with these powerful ingredients so you get the best results possible.
Pros
Accelerates natural fat burning for max calorie burn
Clean and effective ingredients for proven results
Advanced and high potency formula
Vegetarian and vegan friendly
Cons
Three capsules is a lot for a serving size
Price: $47.00 (39.9 Euros)
---
Check out our list of the Best Fat Burners for more great fat burning products!
---
Overall Value
PrimeShred is that hardcore fat burner you need most when looking to maximize all your fat burning gains. With the right ingredients that are scientifically researched and well-dosed, it is possible to get the most out of your fat burning potential. PrimeShred works in three stages of fat burning so you get the most in terms of that desired physique you seek while also having the process be completely natural. Produced by a company who knows the needs of athletes and cares about their product, PrimeShred is the ultimate fat burner for you. What you are really getting is a great fat burner with well-researched ingredients and results to hit your intended fat loss goals. Try PrimeShred today and see what this supplement can do for your fat loss needs.
---
Generation Iron may receive commissions on purchases made through our links. See our disclosure page for more information.
Let us know what you think in the comments below. Also, be sure to follow Generation Iron on Facebook, Twitter, and Instagram. 
*Images courtesy of PrimeShred and Envato
References