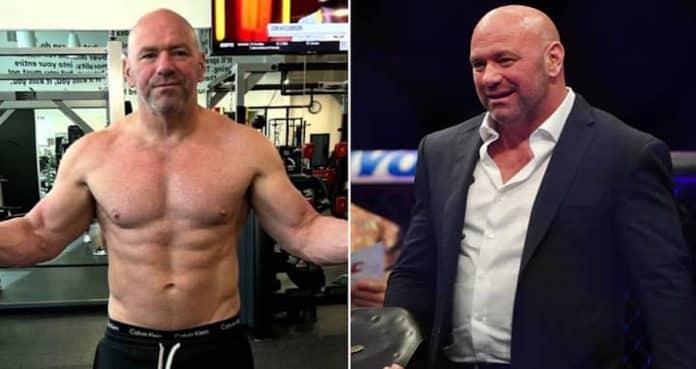 Dana White went through a transformation after being told he has 10 years to live.
Dana White, President of UFC, has found great success as he has built the sport to a sensation all over the world. White recently went through a physique transformation where he showed off his shredded abs after losing 30 pounds.
Recently, White was told by a DNA expert that he has around "10.4" years left to live. Of course, it is unknown how factual this information is but it caused White to go through a transformation. At 53 years old, White is looking like he is in prime shape and has tailored his workouts in different ways.
At first, Dana White did not get much help from doctors but eventually started to make some changes that helped jumpstart this process.
Dana White Shares Process, Discusses DNA Expert
Dana White admitted that many were asking about him allegedly having 10.4 years to live. Because of this, he discussed what the process was.
"This guy can take your blood and your DNA, and tell you when you are going to die, and he's right within a month. How crazy is that? I connect with this guy. They come in and do my blood work, they scrape the insides of your cheeks to do your DNA.

He ends up coming out, sits down for three and a half hours and goes through my blood work. I'm all f**ked up, everything else that could possibly be bad is bad. He gave me 10.4 years to live."
View this post on Instagram
Dana White has clearly been working out in different ways and has made changes to his diet plan. He continued to explain how he has been keto and this has made all of the difference.
"I'm on the keto diet. Basically, people talk sh*t about the keto diet, like, 'oh, you can't do this, you can't do that.' There are essential fats that your body needs or you'll die. There's essential amino acids that your body needs or you will die. There's no such thing as an essential carbohydrate, it's not true it doesn't exist. You don't need f***ing carbohydrates."
Dana White continues to help take UFC to great heights and has been doing it while transforming himself as well.
For more news and updates, follow Generation Iron on Facebook, Twitter, and Instagram.