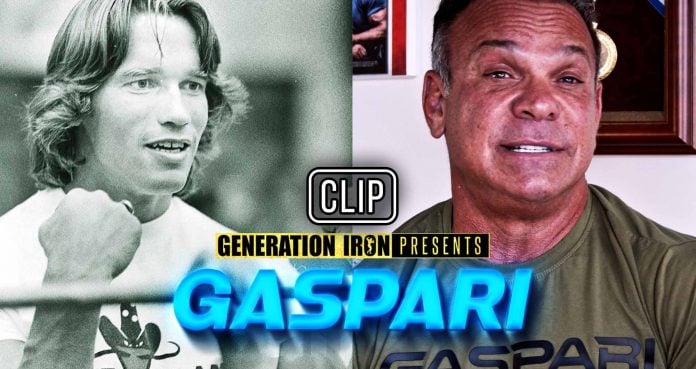 Rich Gaspari lived up to his promise of making sure Arnold Schwarzenegger would remember him after their first meeting
Watch the new exclusive clip from GASPARI – available on digital November 3rd, 2023! You can pre-order the Gaspari film today. In this clip, Rich Gaspari recounts the time he first met Arnold Schwarzenegger at 13 years old at a book signing and then later when he first started bodybuilding. Arnold didn't remember Gaspari back then – but he certainly would remember after Gaspari's impressive bodybuilding career.
Before Rich Gaspari was the first ever Arnold Classic champion and before he went toe to toe with Lee Haney at the Mr. Olympia – Gaspari knew that he would be a name to be remembered. He was so confident, in fact, that he would promise Arnold Schwarzenegger that he would remember his name when they met very early in Gaspari's bodybuilding journey.
Watch the exclusive clip from GASPARI below:
The First Meeting: Arnold Schwarzenegger As An Inspiration
Arnold Schwarzenegger was a major inspiration to Rich Gaspari growing up. As he was to many aspiring bodybuilders throughout the generations. This was solidified when Gaspari was only 13 years old. Schwarzenegger had a book signing nearby Gaspari's home town and it was something he wouldn't allow himself to miss.
There was only one problem, Rich Gaspari didn't have enough money to buy Arnold's book. Regardless, Gaspari rode his bike to the nearby mall, waited in line, and eventually stood before the 7x Mr. Olympia champion himself.
Without a book, Gaspari asked Arnold to simply sign a piece of paper. He kindly obliged. Rich then said to him, "One day I want to be like you."
To which Arnold Schwarzenegger replied, "Train hard, eat good, and believe in yourself."
If there was any doubt left in Rich Gaspari's dream to become a bodybuilder, it was removed in that instance. Gaspari wanted to become a bodybuilding star and there was nothing that was going to stand in his way.

The Second Meeting: Making Arnold Schwarzenegger Remember Gaspari's Name
Years later, Rich Gaspari would meet Arnold Schwarzenegger again. Now actively training to become a bodybuilder, Gaspari had moved to California in order to be closer to the mecca of bodybuilding. He eventually ran into Arnold. Gaspari felt the need to say hello and let him know how much their first meeting inspired him.
Rich Gaspari asked if Arnold Schwarzenegger remembered meeting him at a book signing in New Jersey. Laughing, Arnold told Gaspari that he did so many book signings, how could he be expected to remember one kid's name?
In retelling the story, Rich Gaspari laughs. In response to Arnold Schwarzenegger's comment, he said –
"You better remember me. You're going to remember me."
Years later, Rich Gaspari would eventually become one of the most iconic pro bodybuilders of his generation – eventually winning the first ever Arnold Classic. In numerous interviews, Arnold has stated that one of the most memorable bodybuilders in the sport was Rich Gaspari. He always remembered that first win at the Arnold Classic. And he always remembered just how impressive his conditioning was among most bodybuilders of his era and beyond.
So it seems that Rich Gaspari was right. Not only did he become a bodybuilding legend and successful entrepreneur – he also made sure that the biggest legend in the sport's history remembered his name.
GASPARI Synopsis
Rich Gaspari is an iconic bodybuilder and the first ever to win the Arnold Classic title. He also revolutionized the sports nutrition supplement industry by being one of the first bodybuilders to start his own supplement brand. Now in his 60s, he has been through peaks and valleys in both his bodybuilding career, business endeavors, and personal life. Gaspari is the first authorized biography chronicling the life story of Rich Gaspari from past to present – while also giving insight into the heart and soul of one of fitness' biggest icons.
Rich Gaspari, a name synonymous with excellence in bodybuilding, has left an indelible mark on the fitness world. With a remarkable career spanning decades, Gaspari's dedication, discipline, and passion have made him an icon for aspiring bodybuilders worldwide.
How To Watch
GASPARI will be available on all major digital platforms November 3rd, 2023 including Apple TV, Amazon Video, Google Play, VUDU, and Vimeo on Demand. You can pre-order the film today right here or by clicking the banner below.