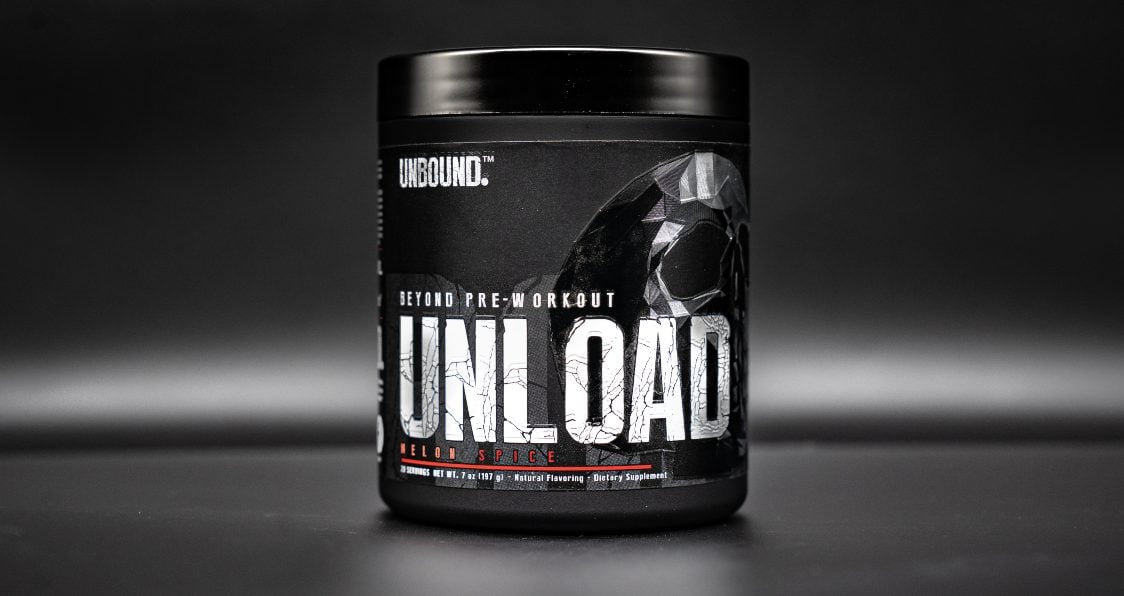 This pre-workout is powdered jet fuel to take your training and performance to new heights.
Product Overview
Many of us know that pre-workout is incredibly popular in the fitness community. Out of all the supplements to choose from, along with a protein supplement, a pre-workout is up there in the top choices for us. With so many on the market, it can be challenging to choose which pre-workout supplement will work best for our gains. Thankfully, companies like Unbound have set themselves apart and have designed and created some seriously effective and awesome supplements. Unbound Unload is a high-stimulant nootropic pre-workout meant to be stacked with the rest of Unbound's hardcore lineup to deliver serious gains.
Any good pre-workout can work to increase energy and focus so you have more intense workouts with the ability for more muscle growth. During those grueling workouts, it can be easy to fall victim to fatigue, but a pre-workout worth its salt will help to reduce that fatigue and unwanted muscle soreness for better performance while also leading to more enhanced recovery so you bounce back much faster. Unbound Unload can do this and much more as you seek the best for your training and performance gains.
Unbound is on a mission to help those self-starters get the gains they want most. They seek those who set the highest standards, not follow them, and whose demand for greatness is unparalleled by others. Unbound wants their athletes to be unequaled in a world of mediocrity and by designing and creating high quality supplements, they understand that those seeking to be the best, need the best when it comes to fueling their bodies and driving towards the top. A sister company to the amazing and top tier company NutraBio, their honesty and transparency shows through with every product.
Unbound Unload Highlights
Unbound Unload is that unique pre-workout you need most as you seek to never settle for less. Unbound was formulated with top of the line, premium ingredients and is meant for hardcore athletes willing to push themselves to the absolute max. With an experience unlike any other, Unload seeks to support increased power, energy, and focus, while also fueling a feeling of euphoria. It will also aid in endurance and the effects last throughout the entire training session, making the Unload experience impossible to beat.
With 13 effective ingredients and three amazing flavors, Unload is that pre-workout to keep you going day in and day out. The flavors are unique when compared to other basic pre-workouts flavors. Grape Lychee is sweet and refreshing, Melon Spice has a pleasant kick, and Tangelo is a bright citrus flavor.
Unload is meant to be stacked with other Unbound products for it will enhance all areas of your training and performance when paired with these stellar supplements.  For those looking to beef up their resistance training, stack this with their pump product, Unbent. If you are someone looking to really boost your cardio, stacking the fat burner Unlock is the product for you.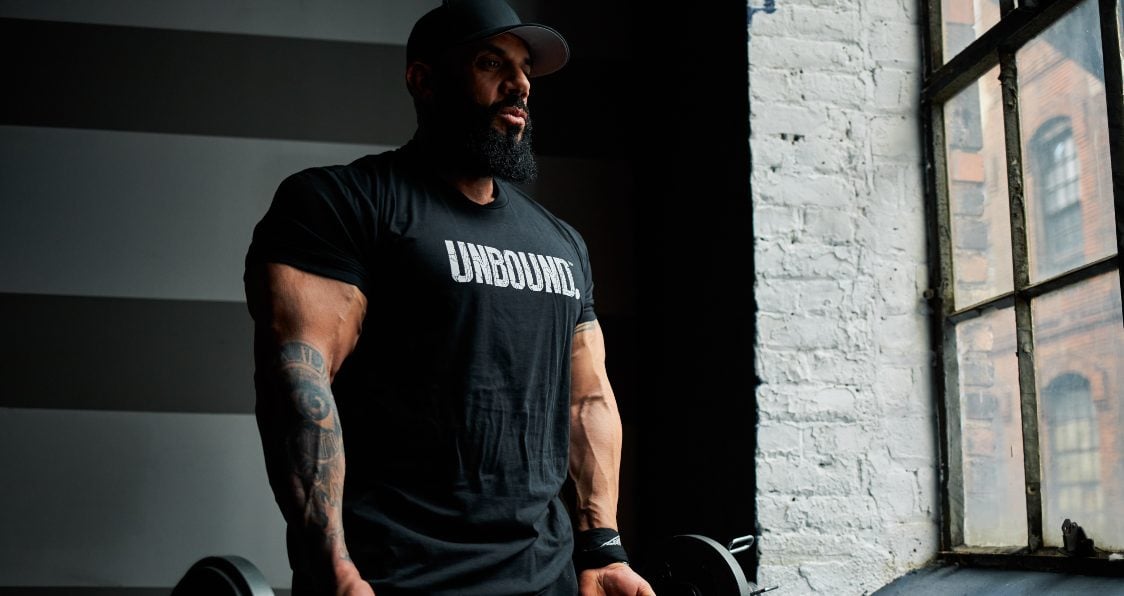 Ingredients
NOOLVL: A patented, non-stimulant nootropic, it supports increased nitric oxide production with greater oxygen and nutrient delivery. It will promote better focus and cognitive function.
Alpha GPC: A premium form of choline, it is highly bioavailable and facilitates better concentration and mind-muscle connection (1).
Zynamite: Works similar to caffeine and supports better energy, mood, and motivation without the need for additional caffeine.
RhodioPrime: A high-quality form of rhodiola crenulate with anti-stress and anti-fatigue benefits while also supporting longer lasting elevations in mood, motivation, and focus (2).
EnXtra: Shown to improve alertness without impacting sleep quality and cardiovascular parameters.
Mucuna Pruriens: Works to increase dopamine levels to help people feel more motivated and energetic, thus pushing them harder in the gym.
Zum XR: Provides for better energy, focus, and motivation with longer lasting effects.
L-Tyrosine: Enhance mental and physical performance while reducing stress and improving cognitive flexibility (3).
Caffeine Anhydrous: Works to improve reaction time and attention, delay onset of fatigue, reduce poor training performance due to sleep deprivation, and boost power output, strength, and muscular endurance (4).
Rauwolscine: A powerful CNS stimulant for its effects on adrenaline and serotonin receptors.
Yohimbine: Has intense stimulatory properties and pro-fat burning effects (5).
Huperzine A: Helps to ensure stronger and more sustained focus and concentration while working on mind-muscle connection.
AstraGin: Increase bioavailability and absorption while also supporting better muscle recovery and growth.
Other Ingredients
Citric Acid, Natural Flavors, Malic Acid, Sucralose, Acesulfame Potassium, Anti-Foam (maltodextrin, canola oil, silicon dioxide)
| | |
| --- | --- |
| Stim Or Non-Stim | Stim |
| Calories | 10 |
| Carbs | 1g |
| Servings Per Container | 20 |
| Serving Size | 2 Scoops |
| Flavors | Grape Lychee, Melon Spice, Tangelo |
| Best Way To Take | Take 2 scoops with 12-16 oz. of water 15-20 minutes before your workout. |
Price, Flavors & Effectiveness
Unbound Unload is that jet fuel pre-workout you absolutely need to boost all areas of your training and performance as you seek those massive gains. With 20 servings per container, 2 scoops of this powerful pre-workout will take your workouts to new heights and give you the most out of each and every training session. With three great flavors in Grape Lychee, Melon Spice, and Tangelo, you'll never grow bored with the taste.
Pros
Powerful and effective ingredients
Transparent and honest label
Great benefits to improve training and performance
Awesome and interesting flavors
Cons
Does contain artificial flavoring for those seeking a more natural approach
Not available for online purchase
Price: Unload retails for $50.00 but it is not available to purchase online. The entire Unbound lineup is currently exclusive to brick and mortar retailers. If interested in where to buy Unload or other Unbound products, check out this Where To Score store locator and find the nearest location to you!
Featured Unbound Athlete
Erik Ramirez
Erik Ramirez is an IFBB pro bodybuilder and Unbound athlete who uses their supplements to enhance his absolutely shredded aesthetic. Among many competitions, he was crowned the 2015 North American Overall Champion and has competed in other events including the New York Pro, Toronto Pro, Tampa Pro 212, and the 2020 Chicago Pro Men's Bodybuilding contest. Working with Unbound, Ramirez only uses high quality supplements to fuel his workouts and recovery and is comfortable with Unbound given their innovative formulas, clean ingredients, and advanced results for maximum gains.
---
Check out our list of the Best Pre-Workout Supplements for other awesome pre-workouts!
---
Overall Value
Unbound Unload is that jet fuel pre-workout you've been waiting for to take your gains to the next level. By promoting power, focus, and energy, you never have to settle for anything less than great with this amazing pre-workout. Unbound knows the needs of athletes and seek to bring the best supplements to those who set the standards and who stand out from the pack when it comes to hitting their goals. What you are really getting is a high-quality pre-workout with amazing ingredients and great flavors from a company who understands the dedication it takes to produce great supplements. Check out Unbound Unload today and watch your gains take off.
Generation Iron may receive commissions on purchases made through our links. See our disclosure page for more information.
Let us know what you think in the comments below. Also, be sure to follow Generation Iron on Facebook, Twitter, and Instagram. 
*Images courtesy of Unbound, Erik Ramirez Instagram and Envato
References