Tavi Castro defends his side of the story in response to Kenny KO's video.
In December 2019, bodybuilding influencer and entrepreneur Tavi Castro announced to the world that he was allegedly being extorted by a business partner named Peter Versluis. Tavi's business, Body Engineers, has now had its assets seized after Peter went to court and made a case that Tavi had been mismanaging the company. Peter became a 50% owner of Body Engineers after he had agreed to a deal with Tavi in which he invests $1.5 million to help in the next step of growth for Body Engineers.

In Tavi Castro's initial video, he claims that Peter was consistently late on the scheduled payments (of the $1.5 million agreed investment) which lead to strains on the initial business plan for Body Engineers' expansion. Tavi believes that the court actions and asset seizure is an attempt by Peter to unlawfully take over the company. Tavi claims to have offered numerous peaceful solutions to the situation including paying back the entire investment in full. Peter had at this point invested $1 million our of the agreed upon $1.5 million.
They now have an official court date set for February 5th, 2020. Tavi plans on making a case that the seizure of assets was unlawful and the claims of mismanagement are completely false.
Shortly after Tavi revealed the news publicly, bodybuilding influencer and YouTuber Kenny KO connected directly with Peter Versluis to get his side of the story regarding the Body Engineers lawsuit. Before interviewing Peter, Kenny takes a moment to claim that many "personal friends" of Tavi have spoken with Kenny directly – stating that Tavi is a liar and a cheat. Allegedly, these friends spoke to Kenny under anonymity.
Then in the video, Peter denies Tavi's side of the story. He claims that there was no issue with his investments into Body Engineers and that Tavi was simply mismanaging the company. He claims that the seizure of the company assets was lawful and court ordered.
Generation Iron's Vlad Yudin connected with Tavi Catro via Skype to further clarify the situation at hand and to give Tavi a chance to rebuttal against Kenny KO's video and Peter Versluis' claims. In preparing for the interview, Tavi shared screenshots of messages he had sent Kenny KO – asking to also give his side of the story four days before Kenny's video went public. The messages went unanswered.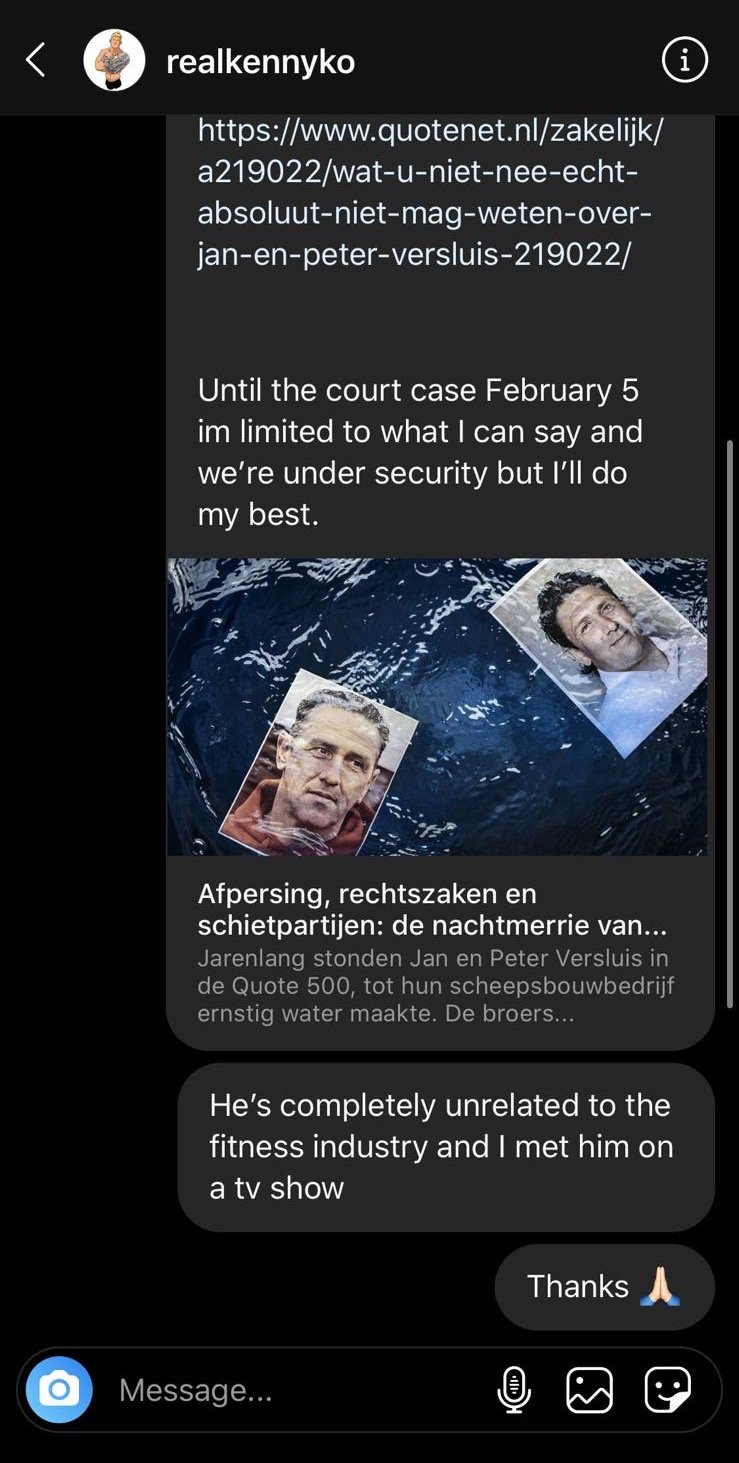 Unable to further share his side of the story or react to Peter Versluis' interview in Kenny KO's video. Tavi agreed to sit down with Vlad via Skype and respond to Peter's interview comments and further explain why he believes he is innocent and being extorted. In our GI Exclusive interview, Tavi takes us step by step through the series of events and reveals that he had found "buried" articles from the past detailing previous misdeeds by Peter.
Until this gets settled in court, we simply have two men defend their side of the story. We'll surely have more information after the initial February 5th court date. But until then, check out our GI Exclusive interview with Tavi Castro above.