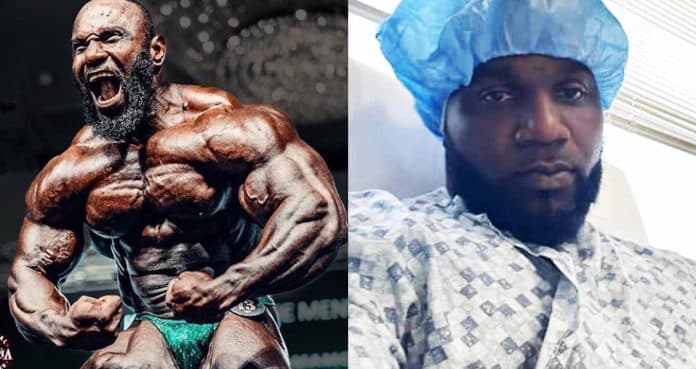 After a car accident last year, Akim Williams sustained back and shoulder injuries that were not resolved before the Mr. Olympia or Arnold Classic and has since undergone surgery
Pro bodybuilder Akim Williams took to Instagram this weekend revealing that not only has he undergone surgery – but that he competed at the 2022 Mr. Olympia and 2023 Arnold Classic while injured. Williams stated that the injury was due to a car accident last year.
Akim Williams, also known as "The Beast" is known in the bodybuilding world as one of the strongest athletes currently competing in the IFBB Pro league. He has also long been hyped as a contender to one day win the Mr. Olympia title. Earlier this year, he placed an impressive sixth at the 2023 Arnold Classic. This came after a disappointing 16th place finish at the 2022 Mr. Olympia.
But it seems that both placings were likely affected by a hurdle he was facing unknown to many fans. A car accident last year left Williams with some lasting injuries that he did not resolve before competing at either show. According to his recent update on social media, he competed with these injuries and has finally undergone surgery to fix the issue.
Akim Williams gives an update after shoulder surgery and reveals that he had been competing injured
Akim Williams revealed both his injuries and his recent surgery in a new Instagram post. In the update, he stated that the surgery was a success but that he was still suffering from the injuries beforehand when he competed in the two biggest shows of the year, the Mr. Olympia and the Arnold Classic.
Below is a transcript of his update alongside the original post:
"Just got out of my shoulder surgery. My hand is still in the sling, just did it on Thursday. In case you guys didn't know, I got into a big car accident last year so I had some injuries from that, back and shoulder injuries. I still trained and did the Olympia and Arnold injured… I feel like it was time to take care of that problem. Last Thursday, I got shoulder surgery and it went really well, successful, and I'm happy with it."
View this post on Instagram
The overall tone of the update was positive and it seemed that Akim Williams was not worried how this will effect his 2023 bodybuilding plans. While the update was mostly about his shoulder surgery, he also mentioned that he also incurred a back injury due to the car accident. He doesn't detail the extent of the injury – or whether or not he is still facing problems from it.
Despite setbacks, Akim Williams has been steadily improving into greatness
Akim Williams has been competing in pro bodybuilding for quite some time. But he truly started gaining momentum and turning heads in 2018. He competed at both the 2018 Toronto Pro Supershow as well as the 2018 Muscle Mayhem competition. In both competitions he placed second, but the sheer size and conditioning of his physique was an unexpected leap in quality. Suddenly, Williams had hype.
In 2019, he put pedal to the metal and competed in six competitions. This built up to him breaking into the top ten at the 2019 Mr. Olympia. The next year, he rose up and placed sixth at the 2020 Mr. Olympia.
Fast forward to 2022, Akim Williams competed in the Tampa Pro and defeated the former 212 Olympia champion Kamal Elgargni and was eying an attempt to make a big win at the Arnold Classic. Unfortunately, Williams was sidelined by his car accident and had to withdraw from the competition.
Later that year, he placed 16th at the 2022 Mr. Olympia. Williams opened up about his disappointment in his contest prep – and stated he would be retooling for greater success in 2023. He ended up competing in the 2023 Arnold Classic and earning a sixth place spot. This was a huge improvement, especially now knowing that he was competing with an injury.
With his newfound training tactics and a surgery fixing his past injuries, perhaps the timing is right to see an even further improved Akim Williams at the 2023 Mr. Olympia. That is, of course, if the surgery itself doesn't set him back. Williams has been seen by many bodybuilding coaches and experts as a true threat to the Olympia throne. We wish Williams a speedy recovery and can't wait to see what he brings during his next competition.