The official Mr. Olympia 2019 results and score cards.
As fast as it started it has come to an end. The Olympia 2019 weekend was full of shocks and surprises alongside a set of Olympia champions new and old. It goes without saying that this was certainly a strange build up to the Olympia with bodybuilders such as Shawn Rhoden, Phil Heath, and Big Ramy not competing for the Sandow trophy – but this left the Men's Open division wide open for a new champion and a new set of athletes to battle on an even playing field.
But the Men's Open was not the only division to see a new champion. The Classic Physique division saw many athletes hungry to defeat the reigning champion Breon Ansley – who was ultimately defeated by Chris Bumstead in a close call that will have fans debating for months following the competition.
Men's 212 saw a new champion for the first time in nearly a decade due to Flex Lewis stepping down from the division this year and while many found Derek Lunsford to be a frontrunner – ultimately it was Kamal Ergagni who took the top honor at this year's biggest event.
Men's Physique, Women's Physique, Figure, Fitness, and Bikini all also had very exciting battles on the stage with champion new and old laying claim to the Olympia crown. You can check out the full list of results and score cards for each division below – brought to you by Nano Rx.
Olympia 2019 Men's Open Results
1. Brandon Curry
2. William Bonac
3. Hadi Choopan
4. Dexter Jackson
5. Roelly Winklaar
Official scorecard below: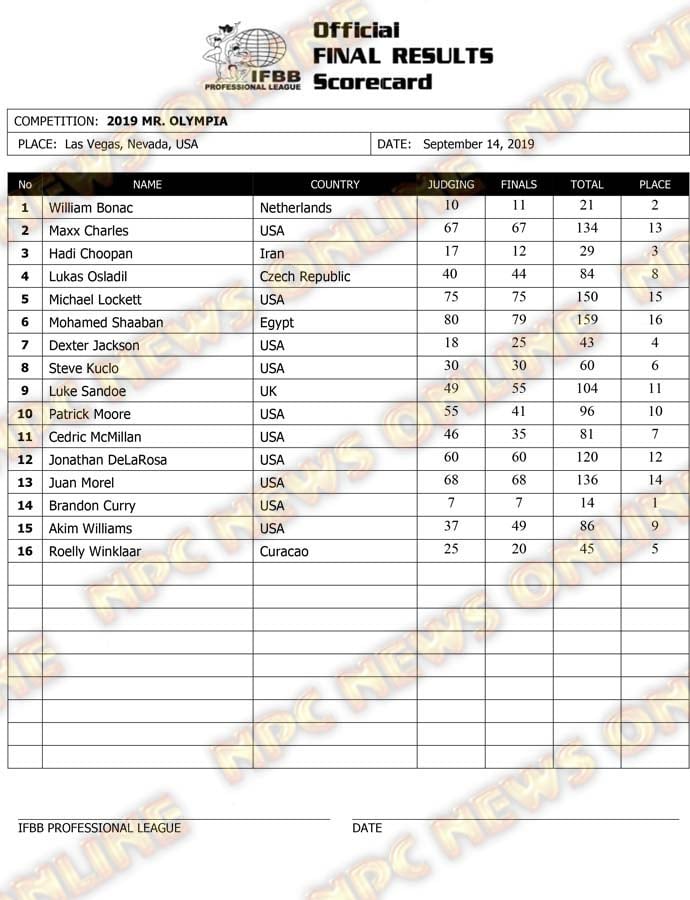 Olympia 2019 Classic Physique Results
1.Chris Bumstead
2. Breon Ansley
3. George Peterson
4. Keone Pearson
5. Chen Kang
Official scorecard below: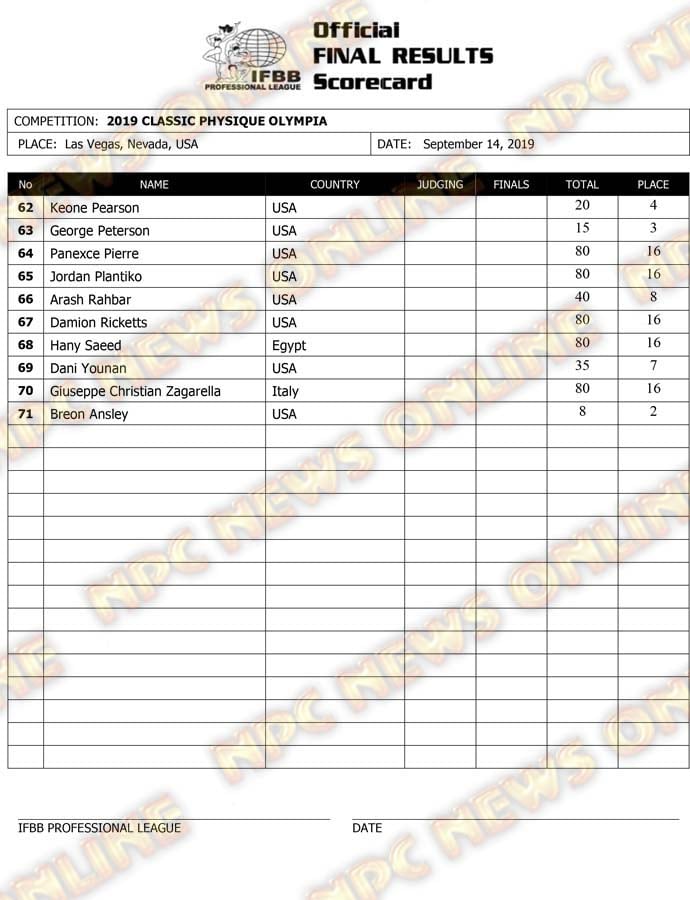 Olympia 2019 Men's 212 Results
1. Kamal Elgargni
2. Derek Lunsford
3. Shaun Clarida
4. John Jewett
5. Ahmad Ashkanani
Official scorecard below: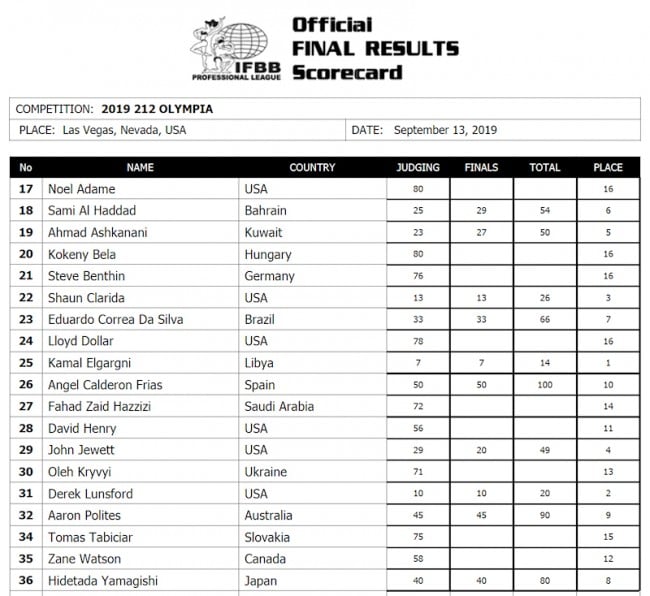 Olympia 2019 Men's Physique Results
1. Raymont Edmonds
2. Andre Ferguson
3. Kyron Holden
4. Brandon Hendrickson
5. Ryan Terry
Official scorecard below:
Olympia 2019 Women's Physique Results
1. Shanique Grant
2. Sarah Villegas
3. Natalia Abraham Coelho
4. Daniely Castilho
5. Laura Pintado Chinchilla
Official scorecard below:
Olympia 2019 Women's Figure Results
1. Cydney Gillion
2. Latorya Watts
3. Nadia Wyatt
4. Jessica Reyes Padilla
5. Carly Starling-Horrell
Official scorecard below: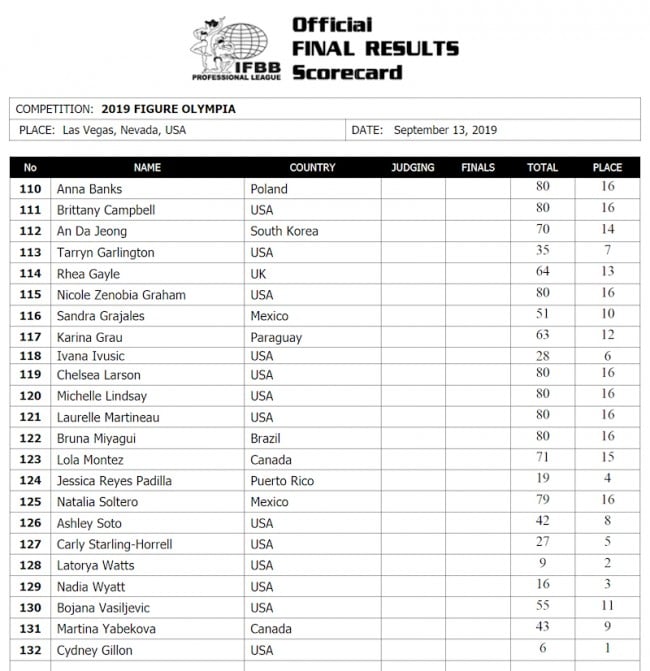 Olympia 2019 Fitness Results
1. Whitney Jones
2. Missy Farrell
3. Jaclyn Baker
4. Jaclyn Baker
5. Tiffany Chandler
Official scorecard below: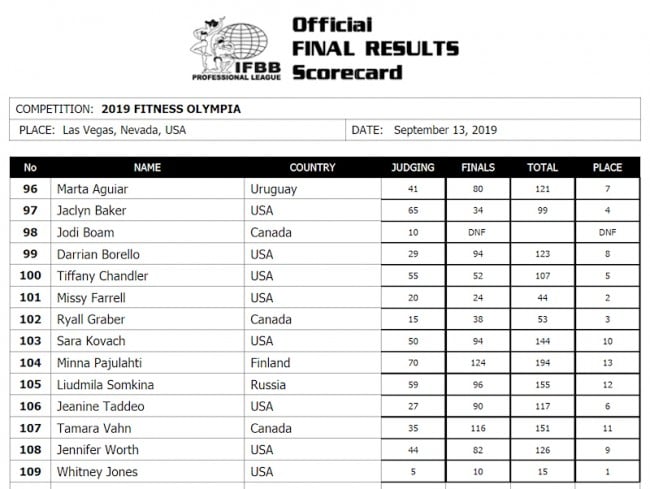 Olympia 2019 Bikini Results
1.Elisa Pecini
2. Janet Layug
3. Angelica Teixeira
4. Lauralie Chapados
5. Jennifer Dorie
Official scorecard below: