Erin Banks will look to fine tune his physique before defending his Olympia title.
Reigning Men's Physique Olympia champion Erin Banks will compete during the 2023 Legion Sports Fest Pro. He plans to put the finishing touches on his physique and give it a test run before defending his title on the biggest stage in the sport.
Banks shared the news with BarBend during the 2023 Pittsburgh Pro. The Legion Sports Fest Pro will take place in Reno, NV on Oct. 7, which is just a few weeks before the Olympia.
Banks decided to compete at the 2023 Arnold Classic despite having already qualified for the Olympia. He was victorious, marking his second straight win in Columbus. If Banks is able to win the Olympia in November, he would accomplish something that no Men's Physique competitor has ever done. This is win the Arnold and Olympia in the same year twice.
The Men's Physique division is one that could be gaining some steam in 2023 for multiple reasons.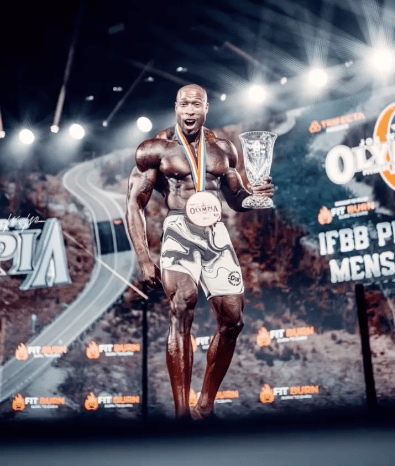 Is Men's Physique Gearing Up For A Big Year?
Earlier in the month, Jeremy Buendia shared that he is "all in" for a return to the Olympia in 2023. The former Men's Physique Olympia champ shared his plan on Instagram, along with an announcement that he will be battling Erin Banks in June.
Buendia was at the top of Men's Physique during his prime and will be looking to return. In 2014, Buendia reached the top of the division and won his first Olympia title. Over the next three years, he was unbeatable and logged four consecutive wins.
Buendia defended his title once again in 2018 but was bested by Brandon Hendrickson. This began a stretch of three wins in four years for Hendrickson before Banks won his first in 2022.
View this post on Instagram
Erin Banks has been preparing to take over the division and has done it over the last two years on the biggest stages. Now, he will have a chance to continue momentum but the competition seems to be improving year to year. Fans will get a chance to see the progress he has made since March during the Legion Sports Fest Pro.
For more news and updates, follow Generation Iron on Facebook, Twitter, and Instagram.