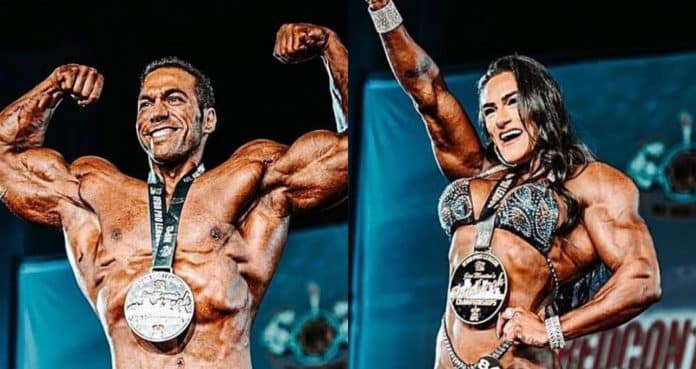 Here are the full results from the 2023 Pittsburgh Pro!
The 2023 Pittsburgh Pro took place on Friday May 12th and Saturday, May 13th in Pittsburgh PA with results split across both days. The action was nonstop from the beginning at the Wyndham Grand PGH Hotel in Pittsburgh.
The Manion tradition continues to be an Olympia qualifier and host to the best guest posing show of the year. The lineup was jam packed once again. Olympia runner-up Derek Lunsford and Arnold Classic champion Samson Dauda are scheduled to appear, along with Nick Walker and Big Ramy. Each competitor will get a chance to show progress made right before summer. Also, for those in attendance, Chris Bumstead will be making a special appearance in Pittsburgh but is not expected to pose.
The results will be announced over the course of two days. Below, check out the full breakdown of the Pittsburgh Pro, along with official score cards for Classic Physique, Men's Physique, Women's Physique, Figure, Bikini, and Wellness.
2023 Pittsburgh Pro: All Divison Winners
Classic Physique: Michael Daboul
Men's Physique: Corey Morris
Women's Physique: Natalia Abraham Coelho
Bikini: Aimee Delgado
Figure: Cherish Richardson
Wellness: Gisele Machado
2023 Pittsburgh Pro Breakdown
Classic Physique
First Place – Michael Daboul
Second Place – Eric Wildberger Lisboa
Third Place – Alexander Westermeier
Fourth Place – Danill Famponte
Fifth Place – Camilo Diaz
Sixth Place – Tomas Adame-Hernandez
View this post on Instagram
Figure
First Place – Cherish Richardson 
Second Place – Natalia Soltero
Third Place – Maria Luisa Baez Diaz Pereira
Fourth Place – Erika Morales Morgan
Fifth Place – Madison Dinges
Sixth Place – Manon Dutilly
View this post on Instagram
Women's Physique
First Place – Natalia Abraham Coelho
Second Place – Emily Schubert
Third Place – Amandine Kolly
Fourth Place – Joseli Schoenherr
Fifth Place – Marie-Solange Essoh
Sixth Place – Diana Schanidt
View this post on Instagram
Wellness
First Place – Gisele Machado
Second Place – Kassandra Gillis
Third Place – Lili Dong
Fourth Place – Tefani-Sam Razhi
Fifth Place – Jennifer Zollars
Sixth Place – Emily Azzarello
View this post on Instagram
Men's Physique
First Place – Corey Morris 
Second Place – Ryan Terry
Third Place – Benquil Marigny
Fourth Place – Sidy Pouye
Fifth Place – Ali Bilal
View this post on Instagram
Bikini
First Place – Aimee Delgado
Second Place – Ashley Kaltwasser
Third Place – Romina Basualdo
Fourth Place – Vania Auguste
Fifth Place – Lexus Redmond
View this post on Instagram
2023 Pittsburgh Pro Official Scorecards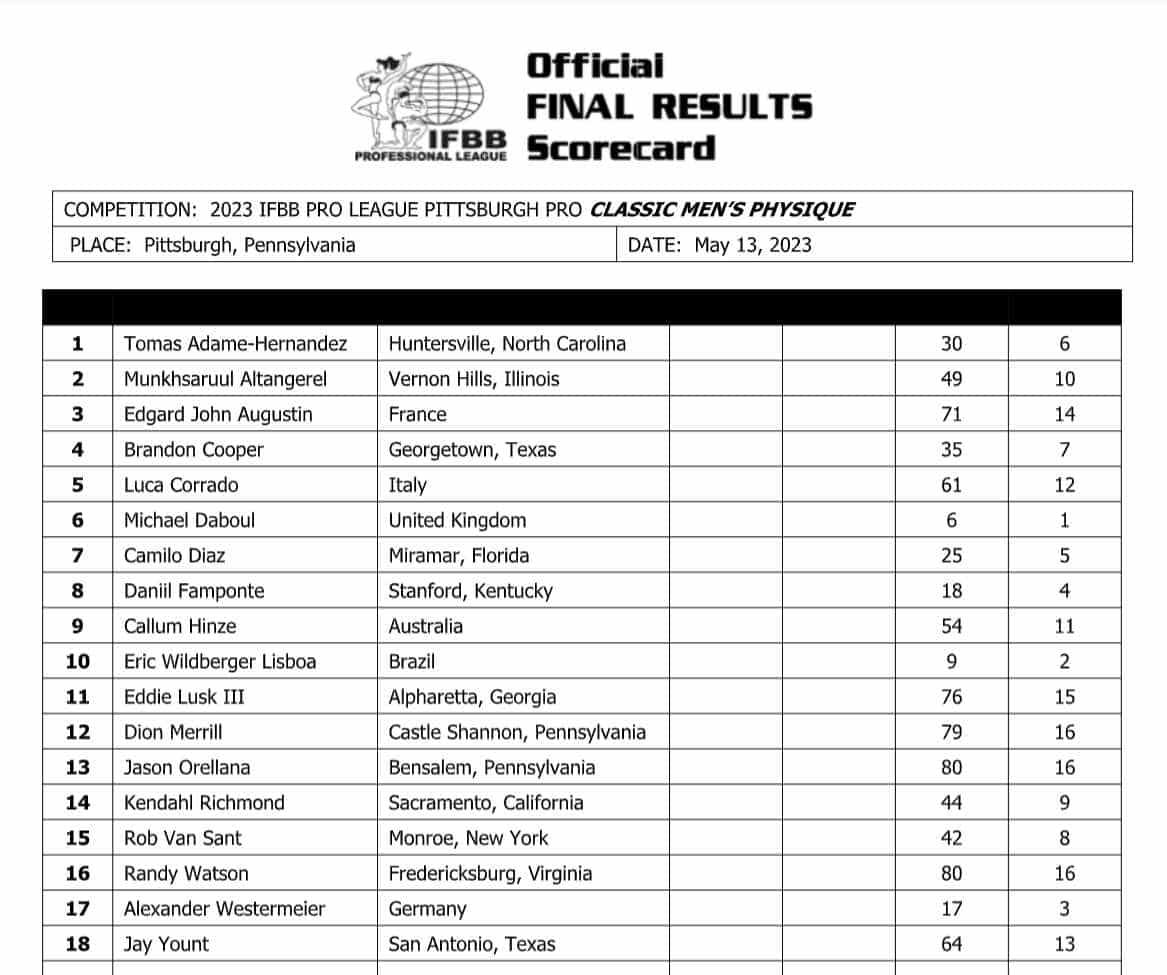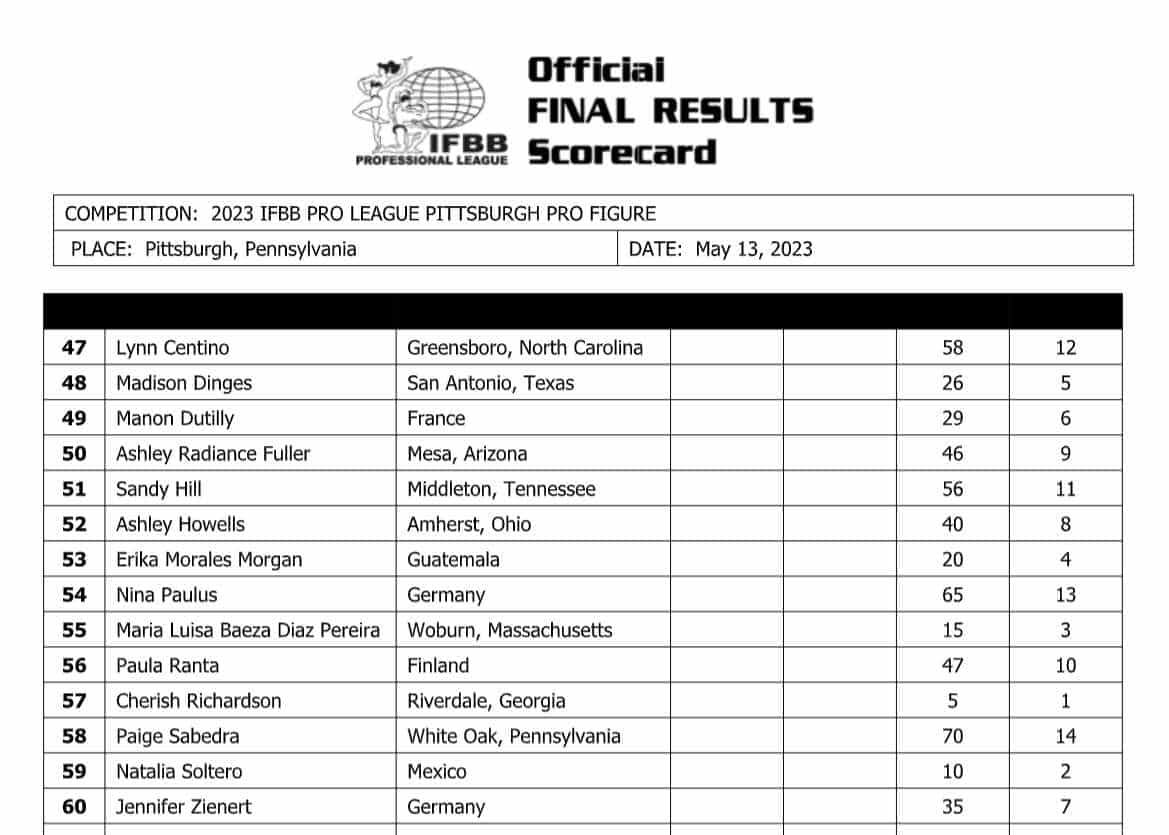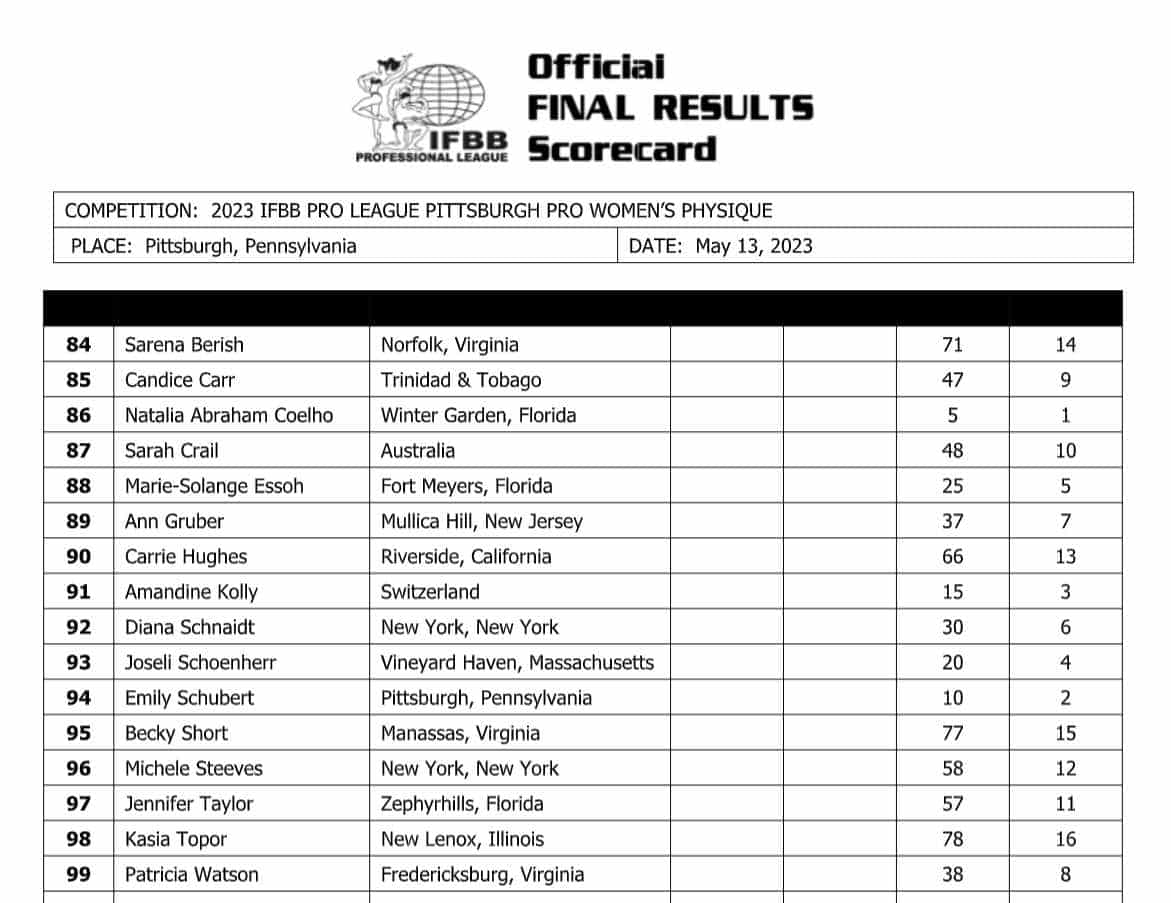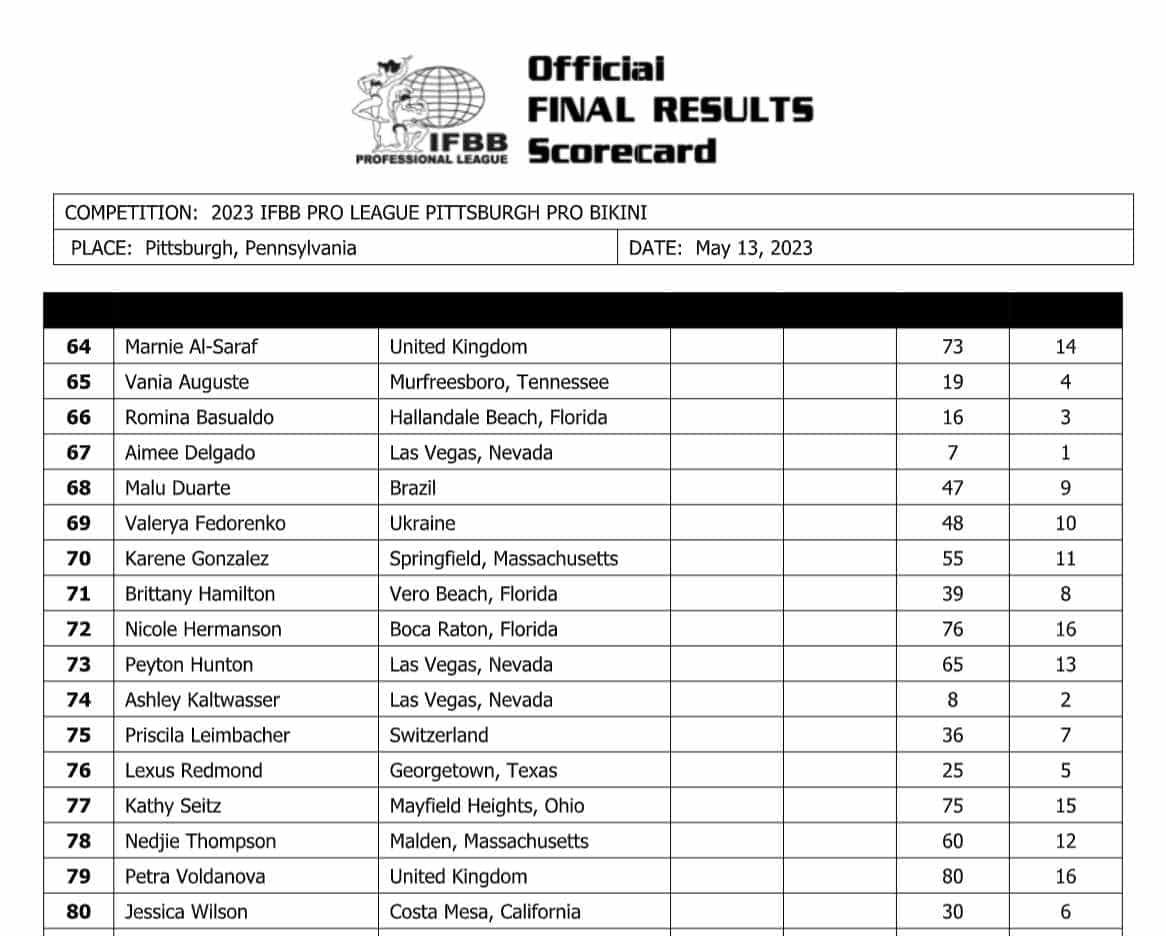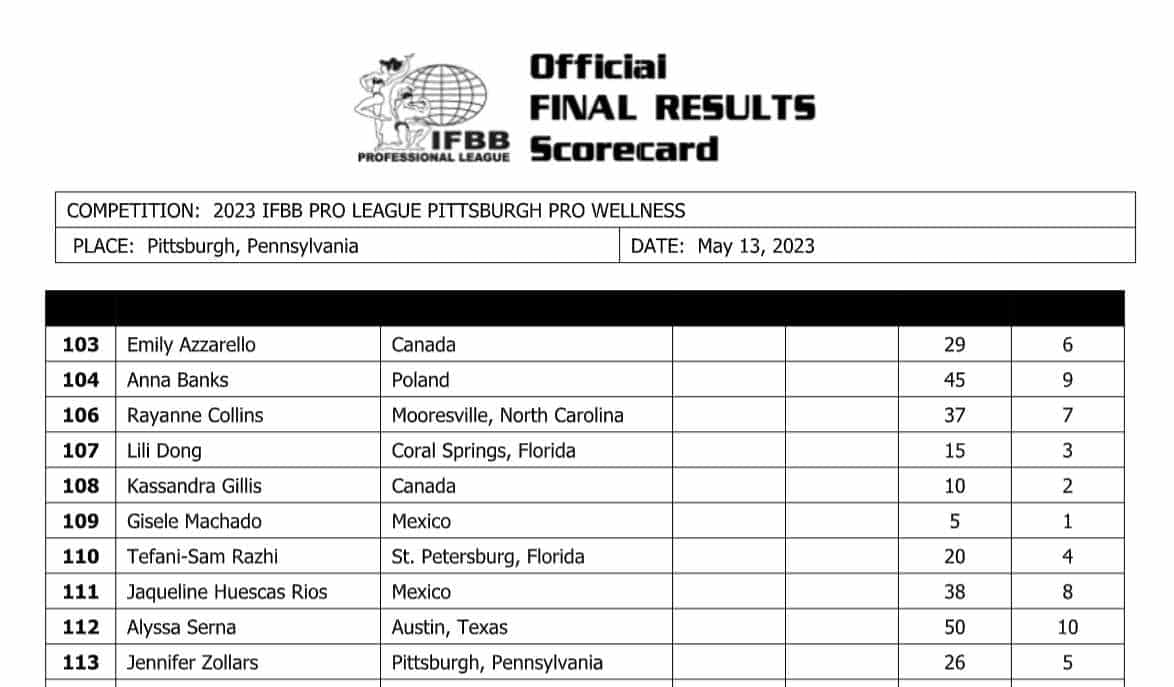 For more news and updates, follow Generation Iron on Facebook, Twitter, and Instagram.