Enhance Your Performance Through Better Blood Flow
Honestly, how often do you think about your blood circulation when it comes to your performance? By performance, this means in the gym AND the bedroom. It is probably something that is pushed to the back of your mind and you focus more on your diet and workouts. In reality, good blood circulation is crucial for overall performance, and not everyone has the best circulation, but there are plenty of supplements to improve it. Which do you choose? What do you look for? In a saturated market of supplements, Inno Supps provides nothing but quality with Nitro Wood.
Nitro Wood contains natural ingredients designed to produce the best results for your circulation and improve your performance. Healthy blood flow is vital for both men and women's health, and Inno Supps takes that into consideration, providing a great product to keep everything in check. Let's dive in.
Circulation Overview
Let's start off by addressing circulation and why it is important. Circulation is obviously important for a number of reasons, but most importantly it works to properly and efficiently bring fresh blood and nutrients to your brain and other organs. This helps to ensure that your body is working to its maximum capacity. Good circulation can also promote better cell growth, enhance organ function, create healthy skin, and increase recovery so you heal faster from injury and muscle soreness.
Another benefit of good circulation worth mentioning is that enhanced blood flow improves sex drive and sexual performance. Not only does blood flow help men achieve and maintain erections; in women, blood flow to the clitoris and labial arteries also results in increased stimulation. 
In short, good blood circulation is important for both male and female performance, whether in the bedroom or in the gym.
Nitro Wood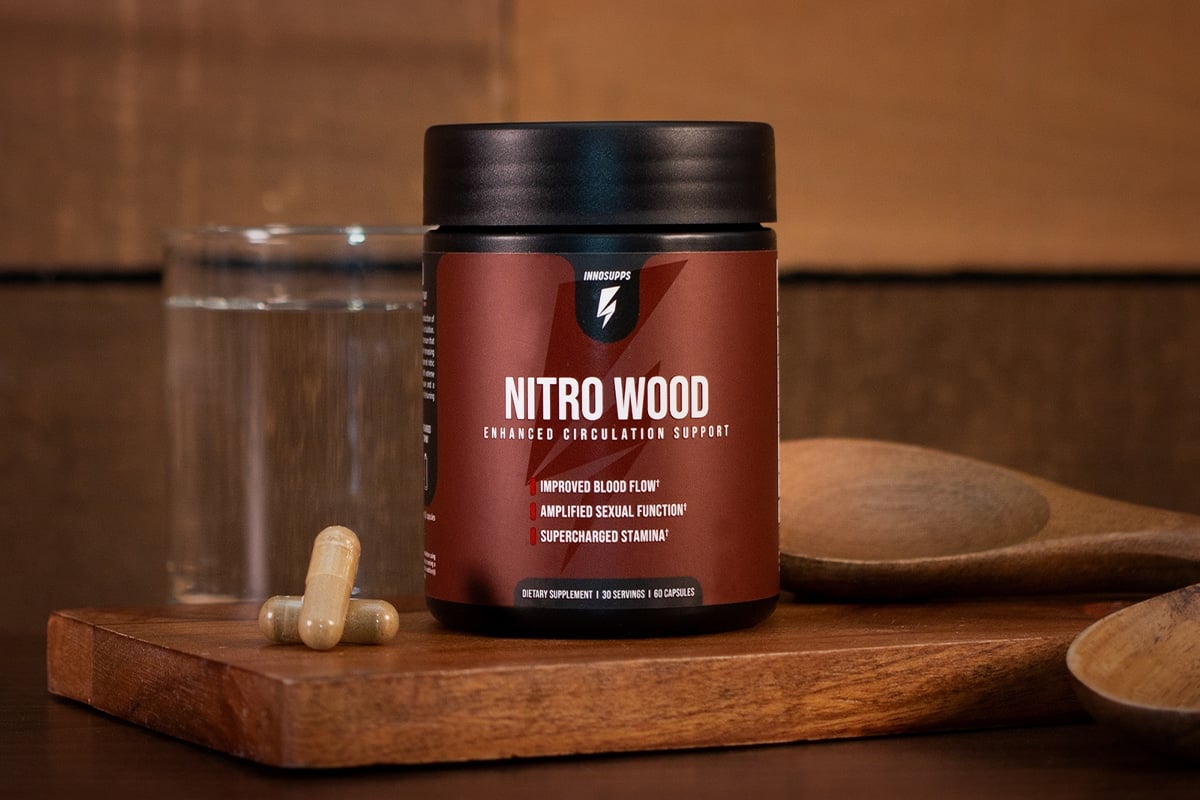 There are plenty of supplements on the market designed to enhance blood flow, but as with any supplements, they can be underdosed and overpriced. When it comes to quality products for a fair price, Inno Supps does not fail to provide, especially with Nitro Wood. With something as important as good blood circulation, why would you not want something you know will yield good results? 
Nitro Wood is packed full of natural ingredients that are typically proven to enhance your blood circulation. It is created for both men and women to improve their performance overall. Let's take a look at all of the specs of Nitro Wood. 
Ingredients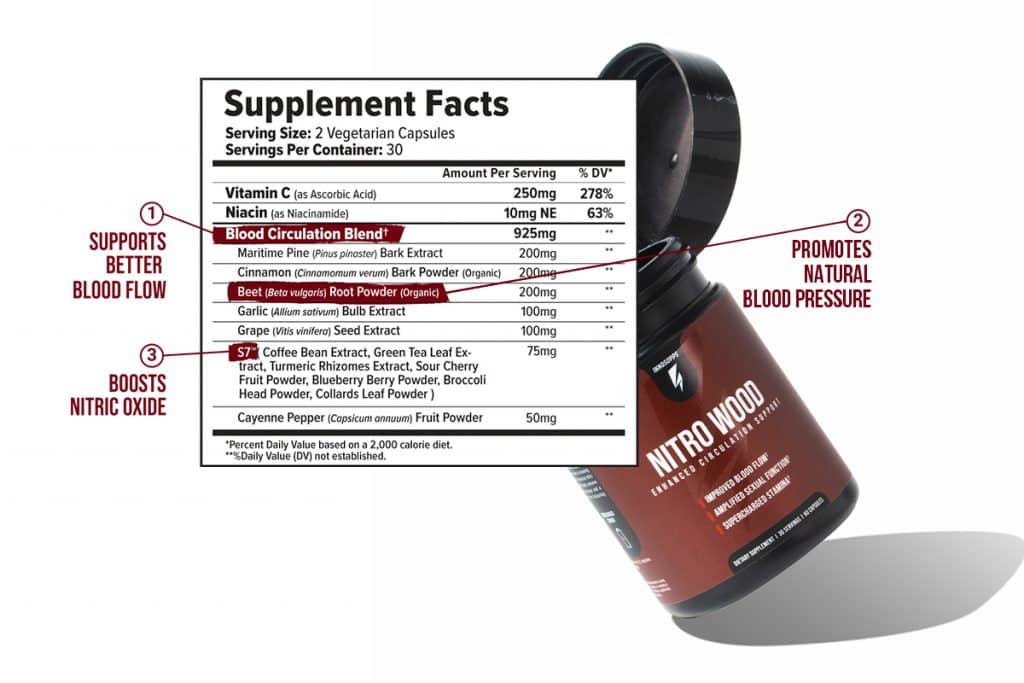 The first thing worth looking at are the ingredients of Nitro Wood. They are all natural, dairy free, and vegan friendly, so anyone can give them a try.
S7 Blend: The first thing on the list is Inno Supps signature S7® blend. This is a blend of natural ingredients such as coffee bean and green tea leaf extract amongst others, to promote blood vessel expansion. It is a nitric oxide booster in short. Elevated nitric oxide levels skyrocket physical performance and give you more endurance as it helps deliver more fuel, oxygen and nutrients to your body where it needs them, when it needs them.
The S7® blend is actually said to increase nitric oxide by about 230%. Enhanced circulation and blood flow supports overall health. It boosts your cardiovascular and immune function as well as improves your mental cognition. 
Accelerated Circulation Blend: Next on the list is the accelerated circulation blend.This consists of pine bark, beetroot, cinnamon, grape seed extract, garlic extract, and cayenne pepper. It is designed to help with circulation, and this combination of superfood extracts is high in nitrates, which is nature's way of maintaining blood pressure levels already in the normal, healthy range. 
Inno Supps ensures that you'll notice a vast improvement in your physical activity and endurance with this blend, whether at the gym or in the bedroom. 
Natural Immune Support: Finally, the natural immune support in Nitro Wood consists of vitamin C and niacin. If you're having occasional performance struggles, these immune-boosting vitamins also encourage nitric oxide production and may help support libido.
Price

A huge factor in purchasing products like these is the price. We are firm believers that you get what you pay for, which is another reason we like Nitro Wood. You have a few different purchase options, so let's take a look at those.
1 Bottle: $42.99
3 Bottles: $119.97
6 Bottles: $209.94
Inno Supps also offers a "Subscribe and Save" deal. This is where you can subscribe to getting 1, 3, or 6 bottles delivered every 30, 90, or 180 days and you get 25% off.
Proof?
Another factor that matters are the reviews. You wouldn't buy something with awful reviews, right? Luckily, Nitro Wood stands out with over 2,500 reviews, and racking up 4.6 out of 5 stars. Out of the total number of reviews, around 2,100 are 5 stars, while about 190 are 4 stars. 
Aside from the reviews, Nitro Wood is also endorsed by Cedars-Sinai Cardiologist
Dr. David M. Filsoof, M.D. Having a legitimate doctor stand by a product is something you do not see from many supplement companies, and it's another reason Inno Supps stands out. 
Nitro Wood Frequently Asked Questions
You may have some questions about Nitro Wood, and we have answers. Let's take a look at some of these.
Can I Use Nitro Wood With Other Blood Pressure Medications?
While Nitro Wood is made from natural ingredients, it would most certainly be best to consult with your physician ahead of using it if you are already taking prescription or OTC blood pressure medications.
How Do I Take Nitro Wood?
Inno Supps recommends taking 2 capsules a day. This can be with or without food, whichever you prefer. But if your stomach gets easily irritated, you should take it with food.
How Does Nitro Wood Work?
Nitro Wood has natural ingredients that are research based and shown to improve blood flow and circulation throughout the body by promoting your body's own natural production of nitric oxide.
Nitro Wood Wrap Up
Overall, blood circulation is something that is crucial to human performance, but is often pushed to the back of our minds. While there are many different supplements that promote healthy blood flow circulation, Nitro Wood from Inno Supps certainly stands out. It is packed full of natural ingredients that are almost guaranteed to get your blood pumping.
Will you be giving Nitro Wood a try?
---
Let us know what you think in the comments below. Also, be sure to follow Generation Iron on Facebook, Twitter, and Instagram. 
*Images courtesy of Inno Supps
References