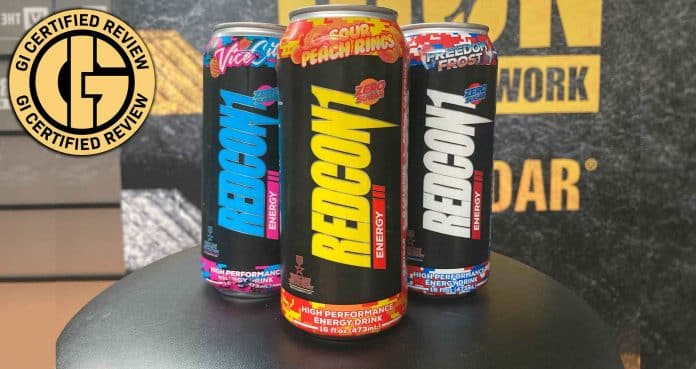 REDCON1's High Performance Energy Drink is Here!
There are plenty of options today as far as energy drinks and pre-workouts, no doubt about it. So, which do you choose? Some have too much sugar, not enough caffeine, an overabundance of calories, or too many artificial ingredients, all things you do not want in an energy drink. However, REDCON1 delivers the perfect solution with their high performance energy drink, REDCON Energy. 
REDCON1 Energy is a great balance of a good caffeine dosage, ingredients, calories, and benefits. So, let's take a look at what this product brings to the table, and how it blows other energy drinks out of the water.
REDCON1 Energy Overview
With 200mg natural caffeine, focus factors and metabolism supporting ingredients, REDCON1 helsp you stay energized, ultra focused, and feeling good - no matter what the day throws at you. Every flavor is delicious, crips and refreshing so as you hustle hard each day, you never sacrifice taste for high performance.
REDCON1 Energy is not just an energy drink. It can be used to replace your pre-workout, lunchtime energy boost, or for the people that do not enjoy coffee, you can consume REDCON1 Energy to replace that! 
With 200mg of natural caffeine it is right around the perfect amount for the sweet spot of caffeine. Let's not forget the focus factors, and metabolism supporting ingredients, which are also things REDCON1 packs into Energy. It is all to help you stay energized, focused and concentrated, and feeling good, no matter what the day throws at you. Not to mention, REDCON1 Energy helps support your metabolism.
REDCON1 makes sure that every flavor is delicious, crisp, and refreshing so you not only get the benefits of good performance, but also great taste. 
One more thing that makes REDCON1 Energy stand out is that every can supports the military. Each can purchased helps support military organizations and families with a percentage of proceeds from each can going towards those who need it most. Who doesn't love a little patriotism to accompany a great product?
REDCON1 Energy Ingredients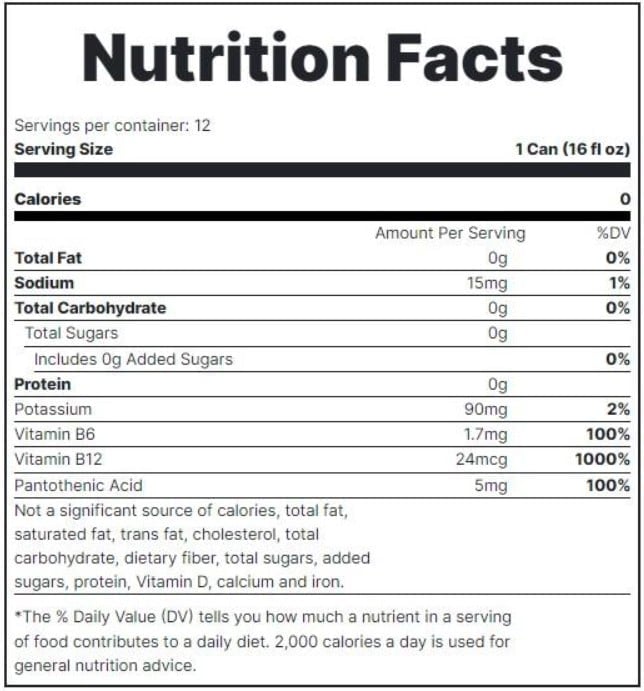 So, what exactly is in REDCON1 Energy that makes it stand out from other energy drinks? Aside from the 200mg of natural caffeine that comes from green coffee beans, there are no carbs, no fat, and no protein. The whole drink is 0 calories! There are 15mg of sodium, with 90mg of potassium, 1.7mg of Vitamin B6 and 24mcg of Vitamin B12, as well as 5mg of Pantothenic Acid.
Other Ingredients:Carbonated Water, Citric Acid, L-Carnitine, Taurine, Natural and Artificial Flavors, Potassium Citrate, Alpha Glycerylphosphorylcholine (Alpha GPC), Coffee Beans (Coffea arabica), Sucralose, Potassium Sorbate (preserves freshness), Sodium Benzoate (preserves freshness), Acesulfame Potassium, Calcium Pantothenate, Pyridoxine HCI, Methylcobalamin.
With all these different ingredients, what exactly do they do? Let's take a look.
200mg Alpha GPC- This nootropic helps improve memory, concentration, and energy levels to aid in giving you the motivational boost.
1g L-Carnitine – This is a stimulant free fat burner that also helps preserve muscle.
Vitamins B6, B12, and B5- These vitamins are a natural way to help supercharge your mood.
200mg Natural Caffeine- This is to help promote alertness and wakefulness.
Keep in mind that with each flavor, the nutrition and supplement facts and ingredients may vary slightly.
Price and Flavors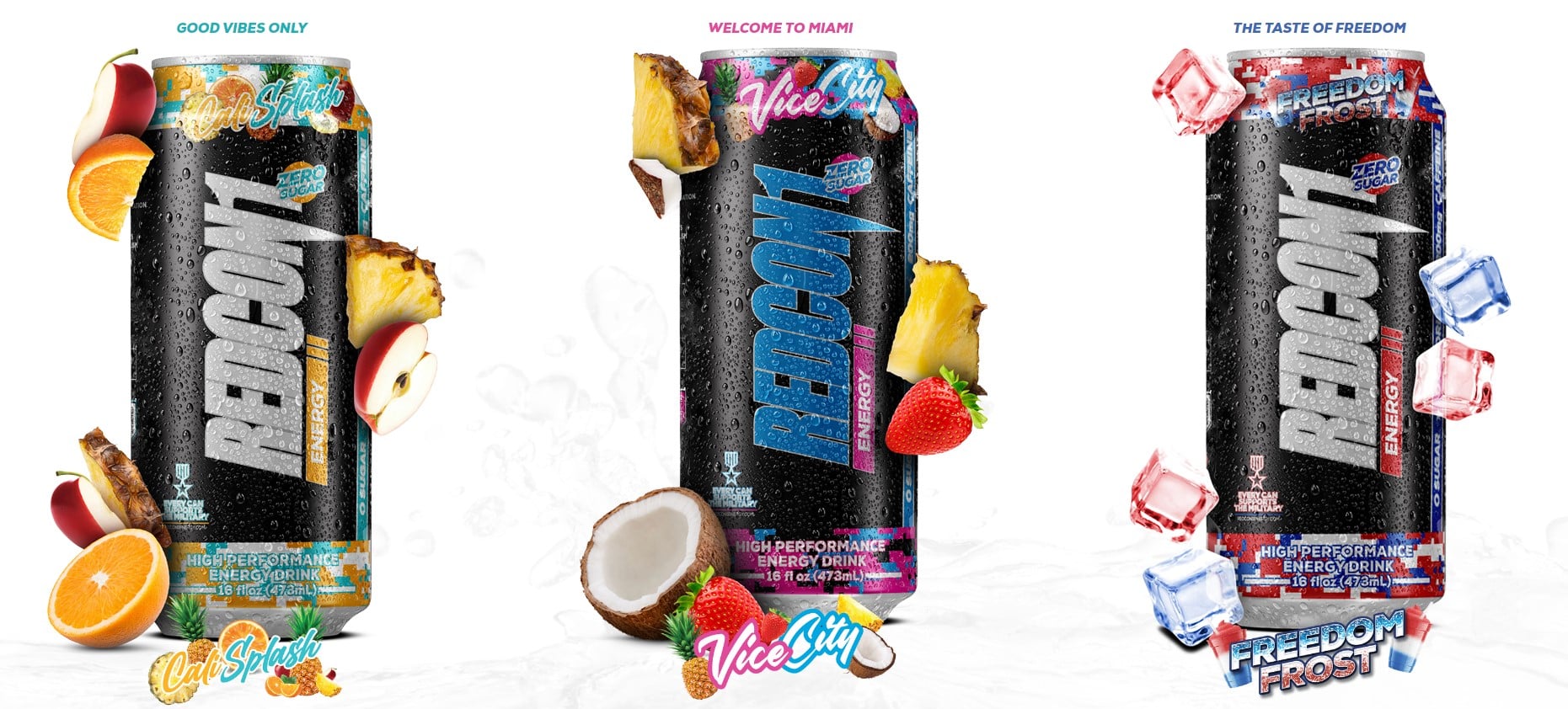 So, what is the price? What flavors do I have to choose from? There actually are a few different price options, as well as a few great flavors to choose from. 
For starters, it is $29.99 for 12 cans, which is a pretty good price considering they are ready to go for your convenience. Not to mention, REDCON1 is a pretty reputable brand that has a large array of quality products. 
You also have the option to "subscribe and save", which means you subscribe to monthly shipments and you can save 30% on your purchase.
As far as flavors, there are a few. The flavors include Vice City, Freedom Frost, Sensationally Sour, Good Vibes Only, and Sour Peach Rings. You can purchase some of these in your local VItamin Shoppe, on Amazon, or right from REDCON1's website!
REDCON1 Energy Reviews
Reviews can be a pretty telltale sign of how good a product is. I mean, you wouldn't buy something with awful reviews, right? On REDCON1's site, there are roughly 80 reviews that give Energy a 4.7 out of 5 stars. Many of these reviews rave about the taste, even calling it "dangerously delicious".
The reviews also go on to say how great the effects are, saying it is the perfect energy drink to power through the day, and even one of them stating that "it makes you want to throw a Smurf across the street while holding an alligator", that sounds pretty energetic. 
Frequently Asked Question (FAQs)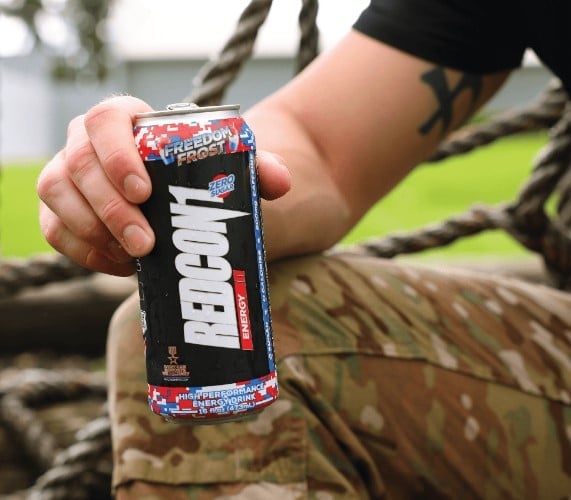 You may have a few questions regarding this product which is more than okay. So, let's address a few of them. 
Is REDCON1 Energy Carbonated? 
Yes, REDCON1 Energy has light carbonation. 
When Should I Consume REDCON1 Energy?
Quite honestly, you can use it in a few different scenarios. It can replace your morning coffee, a nice lunchtime pick me up, or as a pre-workout. It all depends on when you feel you need it.
Who Should Not Consume REDCON1 Energy?
REDCON1 Energy is not recommended for people sensitive to caffeine, children under the age of 18, or women who are pregnant or nursing.
Where Can I Get REDCON1 Energy?
You can find REDCON1 Energy on the REDCON1 website, Amazon, or your local Vitamin Shoppe.
REDCON1 Energy Wrap Up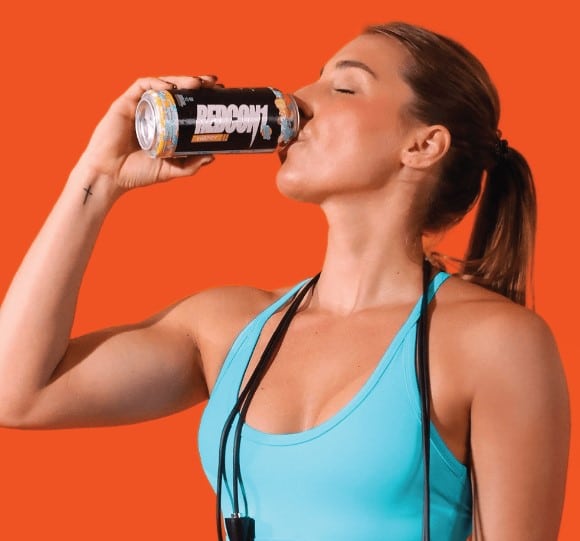 Overall, REDCON1 Energy is a great option to choose when it comes to picking out a caffeinated drink. There are plenty of energy drinks on the market, but it not only comes from a reputable brand, it also has a good dosage of caffeine with other ingredients to boost your mood and focus. Who wouldn't want that? 
There are a good amount of flavors to choose from. This is probably the biggest downside about this product, with this much variety, you may be tempted to buy them all! 
For the price of $29.99 you can get a hold of a dozen cans that are ready to drink at your leisure. Or you can subscribe to a monthly shipment and save some money! Every can you buy, a portion of it goes to military organizations and families, making this product patriotic as well as effective and delicious. 
Will you be trying REDCON1 Energy?