Total War's new tasty pre-workout flavor, Baja Bomb, sends your workout performance through the roof! 
Finding a good pre-workout supplement can be challenging. With so many on the market, the choices seem endless as you scroll through pages of products or, worse, walk aimlessly through shelves of them. The truth is, pre-workout is a popular supplement for bodybuilders, strength athletes, endurance folks, and everyday gym goers looking to enhance their "pump" – the flood of blood that rushes your muscles and makes them look bigger during an intense arm day. In this article, we'll review RedCon1 Total War Pre-Workout's effectiveness for maximizing workout performance.
The benefits of a good pre-workout supplement can make or break your workout. A good pre-workout supplement can increase focus and energy, reduce fatigue, enhance muscle pumps, and promote better recovery, covering all facets of your workout so your gains have zero time to fade. The trouble comes with certain products adding unnecessary or useless ingredients that aren't conducive to your workouts or health. Thankfully, one supplement company's got your back.
RedCon1 is a company founded on creating high-quality supplements for people who train to be their best. Their formulas seek the gold standard in the industry so consumers can be confident in knowing they're taking a good quality supplement. Their team of athletes consists of retired members of the military, strength athletes, and bodybuilders, all using RedCon1 products to enhance their gains.

RedCon1 Total War Pre-workout Highlights
RedCon1 Total War is a complete all-in-one pre-workout supplement designed to give you a serious boost to your workouts. Training and competing rely on intensity and energy, and RedCon1's Total War packs serious firepower into each and every dose. A strong combination of stimulants and other ingredients designed to enhance focus gives you energy, focus, and serious pumps to offer a great workout at home or in the gym. For those serious about getting fit, Total War is our pre-workout of choice and isn't for the faint of heart.
With 11 main ingredients, Total War brings a strong formula of stimulants. The 320mg of caffeine is so high that you can tackle any workout and have ample energy to push weight and optimal focus. However, for those sensitive to caffeine, be cautious.
TOTAL WAR DELIVERS THE STRENGTH, ENDURANCE, AND ENERGY THAT WILL TRANSFORM YOUR WORKOUT SO YOU CAN TRAIN WITH INTENSITY YOU DIDN'T THINK WAS POSSIBLE.
Ingredients
Other Ingredients
Juniper Extract, Di-Caffeine Malate, Theobromine, Green Tea Extract, Naringin Extract, BioPerine, Disodium Phosphate, Natural and artificial flavor, Silicon Dioxide, Calcium Silicate, Sucralose, Citric Acid, Acesulfame Potassium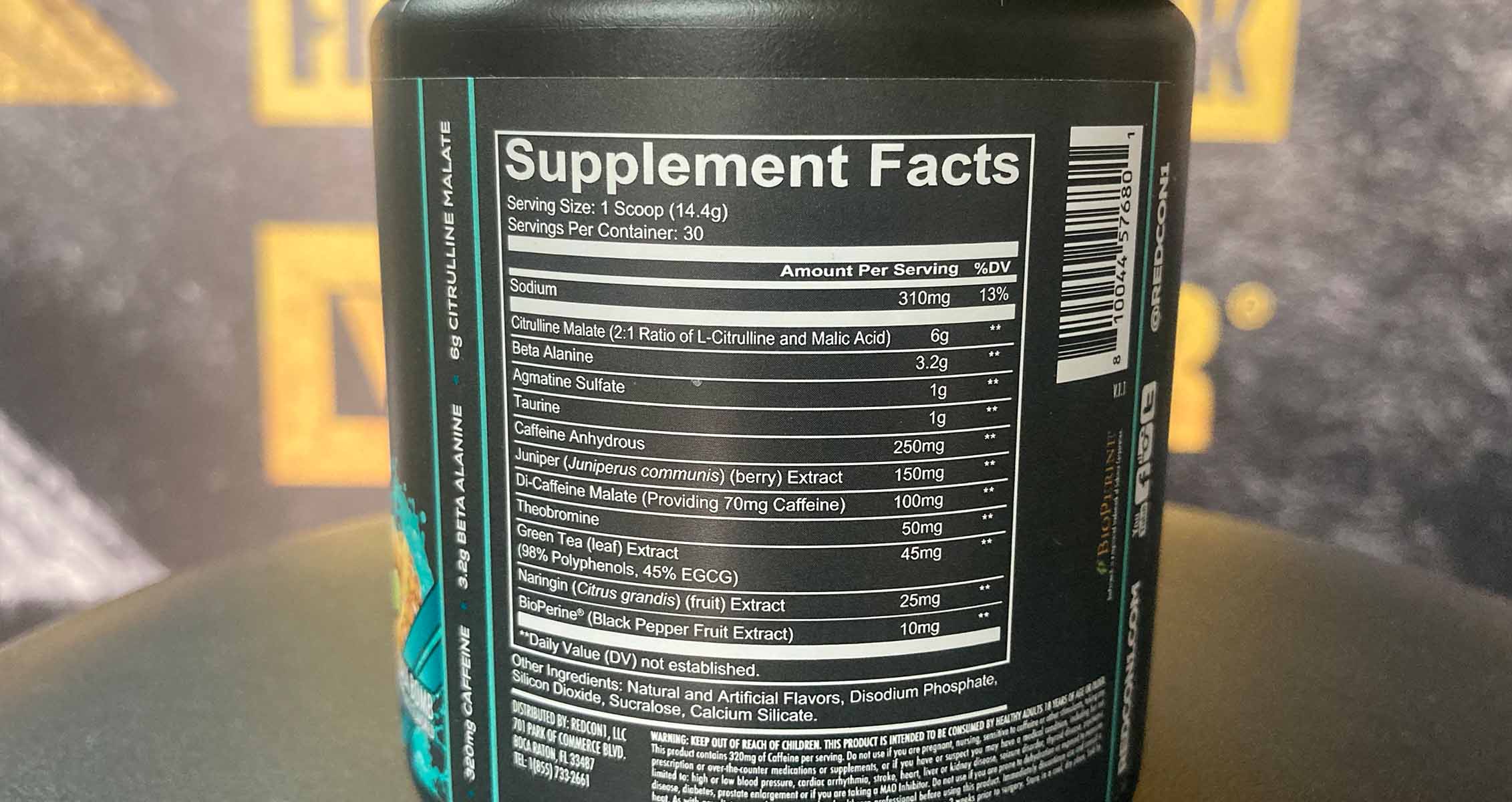 Introducing Total War Pre- workout's New Flavor – Baja Bomb
Are you ready to lock in and launch your workout with unrivaled flavor and intense performance? Redcon1 Total War Pre-Workout's new flavor, Baja Bomb, is the answer if you're looking for a one-two punch of taste and performance! This refreshing, tropical lime tang is the perfect supplement for the hardest workouts and pickiest tastebuds!
Its fast-acting formula gives you sustained energy and endurance, so you can go above and beyond your workout limits like never before! Plus, with added focus support, mind-muscle connection enhancement, and lactic acid delaying abilities, this pre-workout helps propel your physique toward top-tier results.
After trying it out, we can say with certainty that Baja Bomb is one of the best-tasting pre-workouts on the market. Mix one scoop in 4-6oz of water 30 minutes before training and enjoy the most delicious tropical lime taste, then crush your workout!
Now that you have the full scoop on its latest flavor let's look at all the other delicious options this pre-workout has.
Price, Other Flavors & Effectiveness
RedCon1 Total War is a complete all-in-one pre-workout supplement with tons of flavors to choose from.
Flavors include: Green Apple, Blue Coconut, Blue Lemonade, Blue Raspberry, Candy Apple, Grape, Orange Crush, Pineapple Juice, Rainbow Candy, Sour Gummy Bear, Strawberry Kiwi, Strawberry Mango, Tiger's Blood, Vice City, Watermelon, Strawberry Lemonade
Pros: Potent and able to offer quick energy bursts. Able to provide focus and muscle pumps for continued growth. They do have some high-quality athletes as part of their team.
Cons: Since it contains a lot of caffeine, those sensitive to caffeine may experience side effects, such as nausea, itchy/twitchy feeling, and a rapid pulse. Also, it contains artificial sweeteners like sucralose and acesulfame potassium.
Price: $42.99
Featured Athlete

Robert Oberst is an American professional strongman who began his professional journey in 2012. As a yearly competitor at World's Strongest Man, he was a finalist in 2013 and 2018. With successful appearances at America's Strongest Man and the Arnold Strongman Classic, he has made a name for himself in the world of Strongman as a tough competitor. With a strict training regiment, solid dietary routine, and sheer will to be the best in the field, Oberst is a force at nearly every event. As a RedCon1 athlete, Oberst relies on their products to power him through any workout as he aims to be the best.
Overall Value
RedCon1 Total War seeks to be an all-in-one pre-workout supplement designed to promote gains and give you long-lasting energy. It succeeds in providing that energy boost, but with the amount of caffeine involved, we would be shocked if it didn't. Besides the abundant caffeine, other ingredients in this formula, such as l-citrulline and beta-alanine, will surely help your gains. You're getting a potent pre-workout at a decent price from a company that seeks to produce high-quality supplements. Check out RedCon1 Total War for yourself and see how it affects your next workout!
TOTAL WAR DELIVERS THE STRENGTH, ENDURANCE, AND ENERGY THAT WILL TRANSFORM YOUR WORKOUT SO YOU CAN TRAIN WITH INTENSITY YOU DIDN'T THINK WAS POSSIBLE.
---
Generation Iron may receive commissions on purchases made through our links. See our disclosure page for more information.
Let us know what you think in the comments below. Also, follow Generation Iron on Facebook, Twitter, and Instagram. 
*Images courtesy of RedCon1, Robert Oberst Instagram, and Envato
References
Perez-Guisado, Joaquin; Jakeman, Philip M. (2010). "Citrulline malate enhances athletic anaerobic performance and relieves muscle soreness".
Artioli, Guilherme; Gualano, Bruno; Smith, Abbie; Stout, Jeffrey; et al. (2010). "Role of beta-alanine supplementation on muscle carnosine and exercise performance".
Waldron, Mark; Patterson, Stephen; Tallent, Jamie; Jeffries, Owen (2018). "The Effects of an Oral Taurine Dose and Supplementation Period on Endurance Exercise Performance in Humans: A Meta-Analysis".