Everything you need to know about Transparent Labs PhysiqueSeries Fat Burner supplement.
Product Overview
If a good fat burner is working for you, you will feel lean and see that desired physique pop. But finding that right fat burner supplement can be hard with so many on the market. Transparent Labs PhysiqueSeries Fat Burner is one that can offer great results while keeping you healthy and looking great.
PhysiqueSeries Fat Burner is great for those looking to lose weight fast without sacrificing muscle in order to achieve that toned physique. There are three ways to lose fat being increased metabolic rate, the suppression of hunger cravings, and a lifestyle that you can enjoy. PhysiqueSeries Fat Burner will provide you with all three to make your weight loss goals attainable and fun in the process.
With no added artificial sweeteners, coloring, or preservatives, Transparent Labs prides themselves on a transparent and honest label to ensure you get the highest quality ingredients with no hidden formulas. Each product has clean ingredients at clinically effective doses.
Transparent Labs products are manufactured in a state-of-the-art facility in Utah that is certified current good manufacturing processes (CGMP) and registered with the Food and Drug Administration (FDA). With each product third party tested, the quality remains high and your buying experience becomes easy and affordable.
---
See where PhysiqueSeries Fat Burner landed on our list of the Best Fat Burners!
---
PhysiqueSeries Fat Burner Highlights
PhysiqueSeries Fat Burner offers the benefit of increased fat loss while also maintaining that lean muscle mass you've worked hard for in the gym. With 9 simple ingredients and no additional artificial sweeteners, coloring, or preservatives, you can find comfort in a clean and trustworthy fat burner. The easy-to-swallow veggie capsules make this product easy and convenient for all of your needs.
This product will increase your metabolic rate to levels that healthy nutrition cannot do alone, while also suppressing your appetite and hunger cravings to avoid snacking and keep you feeling great. While the physical benefits alone make this product unique, the effects on reducing mental and physical stress are perfect to curb the jitters and keep you in a healthy state of mind to power through fat loss.
Ingredients
Forslean
Forslean, consisting of 10% forskolin, is a high quality extract that aids in fat loss. It can stimulate the release of fatty acids and works as an herbal metabolism booster. Aside from aiding in weight loss, it can also increase bone mass and testosterone levels (1).
Green Tea
Green Tea and the benefits surrounding it have been studied for a long time and is known to decrease fat synthesis and increase glucose utilization (2). It also increases your metabolic rate to keep your body burning calories efficiently.
5-HTP
5-HTP stands for 5-hydroxytryptophan and is good for curbing that often time hard to control appetite and can result in a decrease in your caloric intake (3) and aid in fat loss.
L-Tyrosine
L-tyrosine improves your fat loss outcome by working as an anti-stress amino acid. It can reduce the amount of mental and physical decline that results from poor sleep and high-level performance (4), providing positive impact when it comes to stress and cognitive decline.
L-Theanine
L-theanine is commonly found in green tea and works to reduce jitters and increase focus (5) to keep your workouts or daily routine running smoothly. It also works to increase serotonin and dopamine levels to increase mood.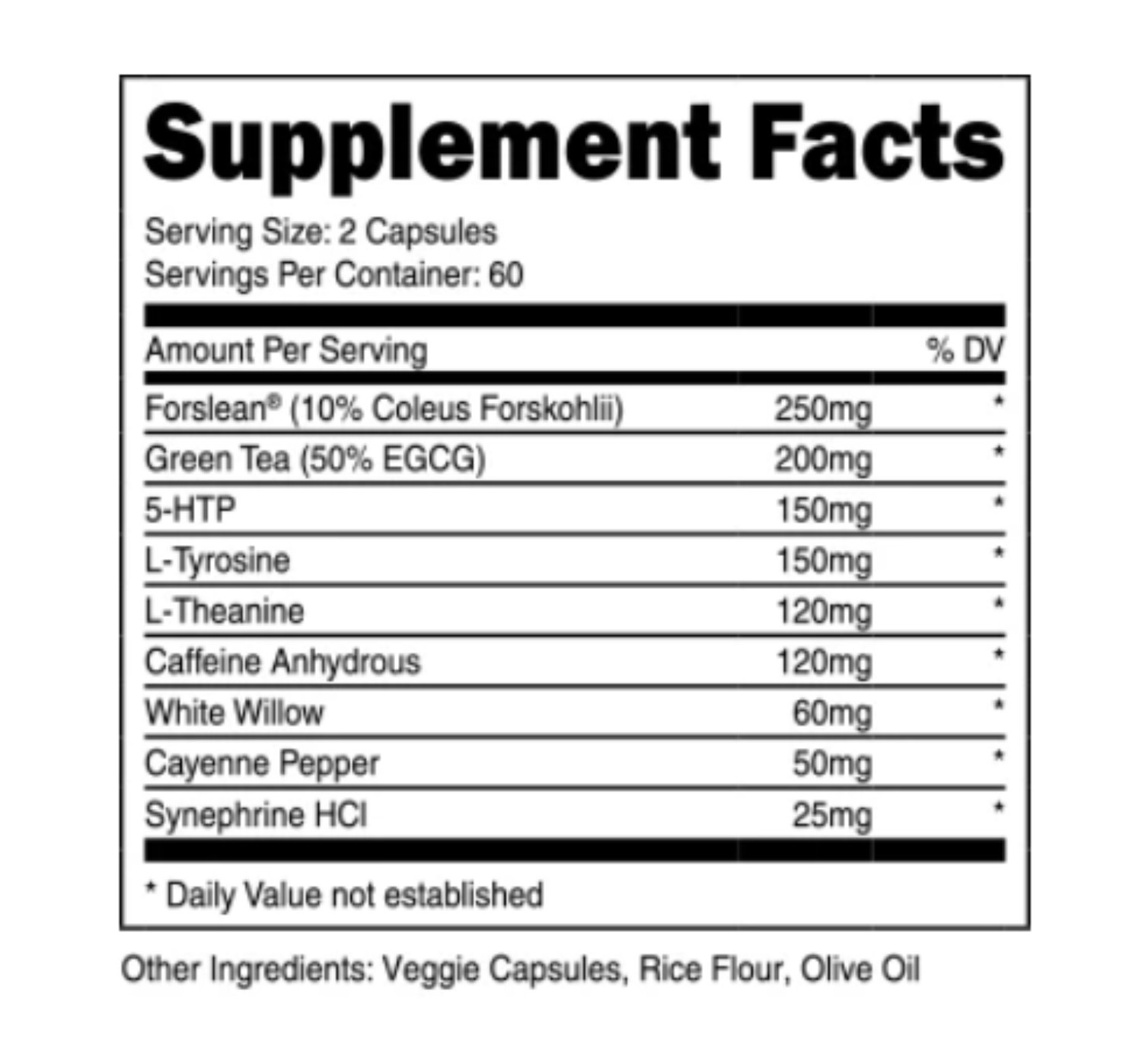 Other Ingredients
While the ingredients listed above make up the large part of PhysiqueSeries Fat Burner, other ingredients are present as well, including: caffeine anhydrous, white willow, cayenne pepper, and synephrine. These all aid in the fat loss process through appetite suppression, increasing your metabolism and caloric expenditure, raising your energy levels, and stimulating thermogenesis (6, 7). All of these ingredients are quality tested and clinically-dosed to ensure a healthy formula and a solid fat burner for your fat loss needs.
Price
This easy-to-swallow veggie capsule makes this product very easy and convenient. With 60 servings per container and 120 capsules included at a price of $49, PhysiqueSeries Fat Burner is an easy, clean, and affordable fat burner that beats out many currently on the market.
Sponsored Athlete
Transparent Labs welcomed strongman Hafþór Júlíus Björnsson to their team as a spokesman for their top of the line products. His famous role as "The Mountain" on HBO's Game of Thrones is matched by his wins at the Arnold Strongman Classic, Europe's Strongest Man, and World's Strongest Man competitions to make him the first to win all three in the same year and hold his reign atop strongmen. Transparent Labs helps Björnsson get to where he needs to be as an elite athlete.
Overall Value
Transparent Labs PhysiqueSeries Fat Burner is a great choice for your fat loss needs. From a company that prides itself on transparency, you can be sure that no hidden formulas or ingredients ruin this product. For those looking to lose weight fast yet keep on that lean muscle, PhysiqueSeries Fat Burner will give you an effective product, with no fillers or additives, to keep you on track for that stellar physique. What you are really buying is a great fat burner, from a reputable company, that ensures benefits both inside and out of the gym.
Try PhysiqueSeries Fat Burner at Transparent Labs Today
Generation Iron may receive commissions on purchases made through our links. See our disclosure page for more information.
Let us know what you think in the comments below. Also, be sure to follow Generation Iron on Facebook, Twitter, and Instagram. 
*Images courtesy of Transparent Labs and Hafþór Júlíus Björnsson Instagram.
References