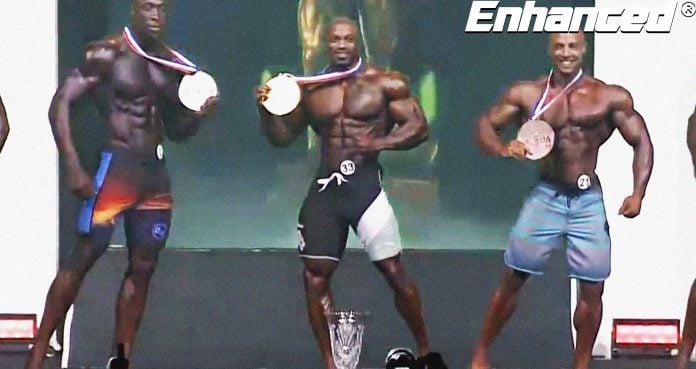 Who stood tallest at the 2021 Olympia Men's Physique?
The Men's Physique division was one that saw a bit of shakeup this time around. Brandon Hendrickson entered as the reigning champion looking to defend his title. He did so successfully and earned his third Olympia title in four years.
The results began in a surprising way with former Olympia champion Raymont Edmonds taking fifth place. He entered the weekend with a chance to finish in the top two or three. This meant that other competitors were to move up and those were Kyron Holden and Erin Banks. Men's Physique is in a good position moving forward and there is no better place to show it off than the Olympia.
After a win at the New York Pro, Banks was able to move into the top two. In the end, it was not enough to take down the champion but in his first Olympia, Banks showed plenty and the future is bright. Hendrickson has flexed his muscles in this division and it will be entertaining to see what happens over the years.
The full results have been announced from the Men's Physique division. You can find a full break down below along with the official score card.
Olympia 2021 Men's Physique Results
First Place – Brandon Hendrickson
Second Place – Erin Banks
Third Place – Diogo Montenegro
Fourth Place – Kyron Holden
Fifth Place – Raymont Edmonds
Sixth Place – Carlos DeOliveira
Seventh Place – Andrei Marius Lincan
Eighth Place – Arya Saffaie
Ninth Place – Andre Ferguson
Tenth Place – Joseph Lee
Pictures & Highlights
View this post on Instagram
View this post on Instagram
View this post on Instagram
Official 2021 Olympia Men's Physique Scorecards

Men's Physique Olympia Winners
2020: Brandon Hendrickson
2019: Raymont Edmonds
2018: Brandon Hendrickson
2017: Jeremy Buendia
2016: Jeremy Buendia
2015: Jeremy Buendia
2014: Jeremy Buendia
2013: Mark Anthony Wingson
For more news and updates, follow Generation Iron on Facebook, Twitter, and Instagram.