Bojana Vasiljevic wins Figure at the 2021 Titans Grand Prix Pro.
Bojana Vasiljevic took home the prize in Figure at the 2021 Titans Grand Prix Pro on Saturday. The event took place in Los Angeles with competitors looking for an early qualification to the 2022 Olympia. Just one week after the biggest competition of the year in Orlando, there were some competitors that were back on stage.
An Da Jeong headlined the list of competitors after a strong performance at the Olympia. She made an impact on stage and was able to finish seventh in the competition. Jeong wasted no time getting back on stage hoping to qualify for next year's competition.
Michele Silva Pinto has become a staple in the Figure division looking for improvements. In Orlando, Pinto finished near the bottom but was looking to turn things around right away. Wendy Fortino and Rachel Killam also made an appearance in Los Angeles looking to impress on their way to a qualification.
The full results from the event have been announced and winners have earned qualification for the Olympia. Check out the full break down of the 2021 Titans Grand Prix Pro below!
2021 Titans Grand Prix Pro: All Division Winners
Figure: Bojana Vasiljevic
2021 Titans Grand Prix Pro Breakdown
Figure
First Place – Bojana Vasiljevic
Second Place – An Da Jeong
Third Place – Wendy Fortino
Fourth Place – Michele Silva Pinto
Fifth Place – Mandy Umer
Sixth Place – Rachel Killam
Seventh Place – Nuannaree Sriwaralak
Eighth Place – Charity Field
Ninth Place – Tonya Brookter
Tenth Place – Kristy Crespo
Official Score Card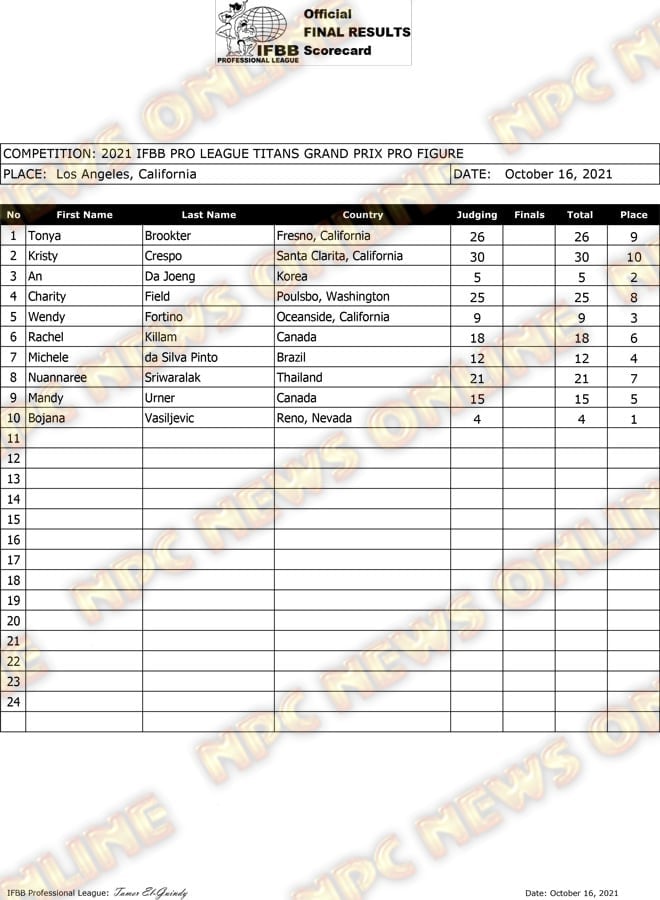 Generation Iron wishes to congratulate all the great athletes who earned a win this weekend. Make sure to check out our full IFBB Pro results page from this year and previous years right here to catch up on any action you may have missed!