Bong Seok Choi wins Men's Physique at the 2022 Asian Grand Prix Pro!
The 2022 Asian Grand Prix Pro took place on Sunday in Seoul. This is a Men's Physique show that gave competitors a chance to earn qualification to the 2022 Olympia. In the end, it was Bong Seok Choi who took home the prize in the division.
During the 2021 Olympia, there were two competitors in Men's Physique from South Korea. Choi finished 16th at the biggest show of the year and was on stage on Sunday. He was one of the favorites to bring home the title while Yoon Sung Lee also posed a threat.
The full results from the show have been announced. Checkout the full breakdown from the show below and find out who earned qualification to the Olympia!
2022 Asian Grand Prix Division Winners
Men's Physique: Bong Seok Choi
2022 Asian Grand Prix Breakdown
Men's Physique
First Place – Bong Seok Choi
Second Place – Yoon Sung Lee
Third Place – Seungho Chae
Fourth Place – Bum Su Park
Fifth Place – Woo Young Seo
Sixth Place – Tae Won Yong
Seventh Place – Yujin Lee
Eighth Place – Eun Taek Oh
Ninth Place – Bum Su Park
Tenth Place – Yashar Anbari
Official Score Card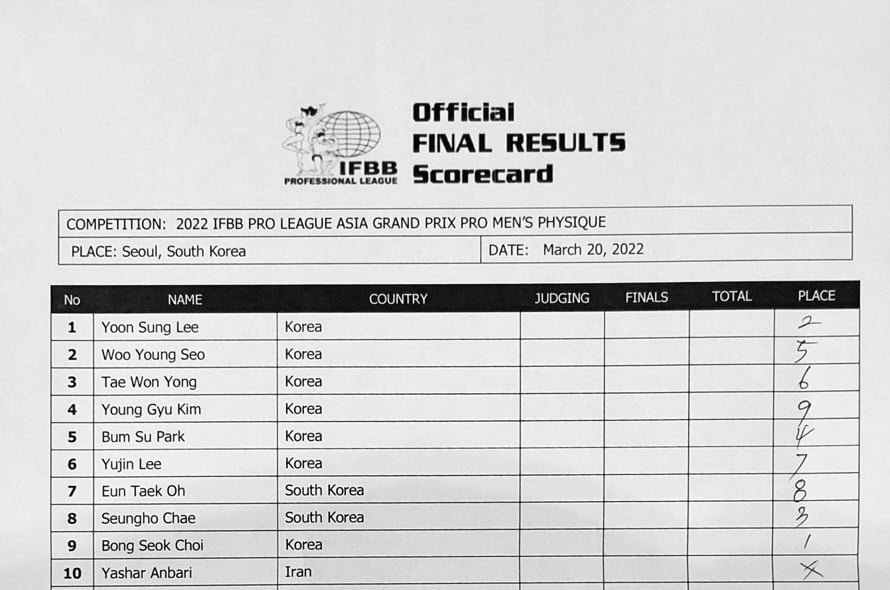 Generation Iron wishes to congratulate all the great athletes who earned a win at the IFBB Asian Grand Prix Pro. Make sure to check out our full IFBB Pro results page from this year and previous years right here to catch up on any action you may have missed!