Sotiris Gkatsis and Eszter Oczella earned victories at the 2022 Denmark Pro!
The qualifying season is coming to an end and the 2022 Denmark Pro acted as one of the final European qualifiers. Competitors from the Men's Physique and Bikini divisions gathered in Copenhagen, Denmark to battle for some of the final spots in the biggest show of the year.
In the end, Sotiris Gkatsis and Eszter Oczella were able to win titles in their respective divisions. Now, they will have a chance to share the stage with the best from around the world.
The full results from the show have been announced. Below, checkout the full breakdown of the event, along with official score cards.
2022 Denmark Pro: All Division Winners
Men's Physique: Sotiris Gkatsis
Bikini: Eszter Oczella
2022 Denmark Pro Breakdown
Men's Physique
First Place – Sotiris Gkatsis
Second Place – Mohammad Ali
Third Place – Andrea Mosti
Fourth Place – Rafal Zabawa
Fifth Place – Waldemar Gustavvson
Sixth Place – Dawid Wachelka
Seventh Place – Oskar Tchorzewski
Eighth Place – Haider Mehdi
Ninth Place – Issac Tse
Bikini
First Place – Eszter Oczella 
Second Place – Stine Hansen
Third Place – Mie Kristine Rommelhoff
Fourth Place – Regina Bonus
Fifth Place – Renata Nowak
Sixth Place – Amanda Wing Sham Lam
Seventh Place – Jessica Feeney
Eighth Place – Liliana Sakhanova
Ninth Place – Anna Setlak
Tenth Place – Stella Roberts
2022 Denmark Pro Official Score Cards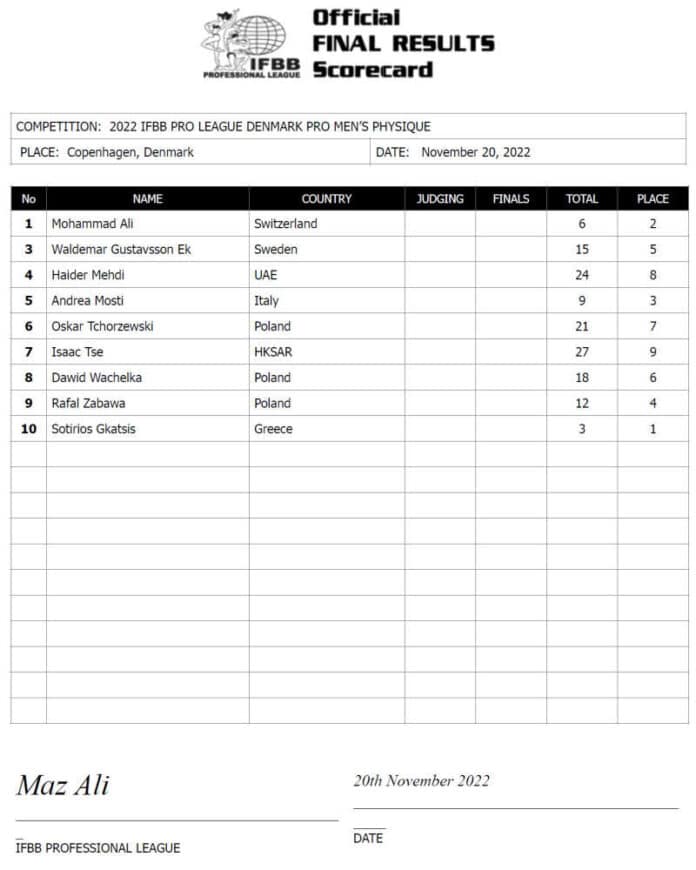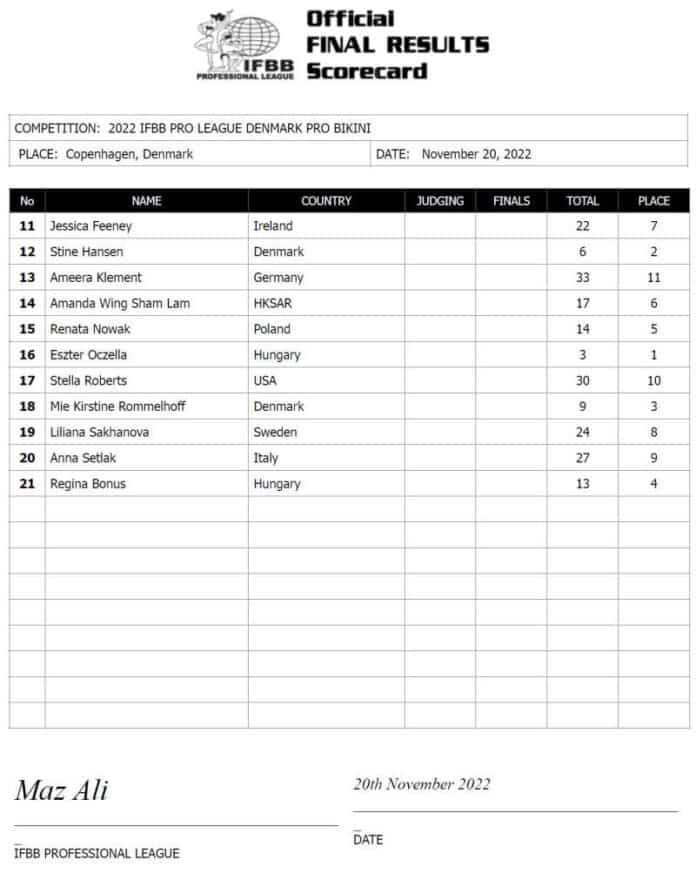 For more news and updates, follow Generation Iron on Facebook, Twitter, and Instagram.