Here are the results from the 2022 Monsterzym Pro!
The 2022 Monsterzym Pro began on Saturday with the finals taking place on Sunday in Paradise City, South Korea. The busy weekend in bodybuilding spanned across the world where many competitors were looking for qualification into the 2022 Olympia.
Heading into the event, Seung Chul Lee was expected to take home the prize. He was the reigning champion of this show from 2020 since there was no Men's Open category last year. Chul Lee is looking to return to the Olympia after last appearing in the biggest show in 2020. 
This was a deep event with other categories making strong appearances outside of Open Bodybuilding. Ji Bin Park made an impression on stage taking home the Bikini title while Hannah Son won Wellness.
The full results from the show have been announced! Below, checkout the full breakdown of the event from over the weekend, along with official scorecards.
2022 Monsterzym Pro: All Division Winners
Men's Open: Mohammad Alnsoor
Classic Physique: Jaehun Park
Men's Physique: JuXian He
Bikini: Ji Bin Park
Wellness: Hannah Son
2022 Monsterzym Pro Breakdown
Men's Open
First Place – Mohammad Alnsoor
Second Place – Seung Chul Lee
Third Place – Sibusiso Kotelo
Fourth Place – Diogo Nunes
Fifth Place – Hwang Shin
Sixth Place – Jinho Lee
Seventh Place – Jang Sung Yong
Bikini
First Place – Ji Bin Park
Second Place – Sara Choi
Third Place – Tae Run Kim
Fourth Place – Mina Kim
Fifth Place – Na Young Choi
Sixth Place – Yuna Kang
Seventh Place – Soo-Hyun Bae
Wellness
First Place – Hannah Son
Second Place – Min Ju Yoon
Third Place – Hye Yoon Kim
Fourth Place – Dohee Kim
Classic Physique
First Place – Jaehun Park
Second Place – Seonghun Park
Third Place – Woogyum Kim
Fourth Place – In Seung You
Fifth Place – Norbert Zakar-Balogh
Sixth Place – Dong O Ryu
Men's Physique
First Place – JuXian He
Second Place – Nur Irfan Bin Ahmad
Third Place – Minsu Kim
Fourth Place – Ajith Raja
Fifth Place – Jeong Hyeon Jo
Sixth Place – Young Guy Kim
2022 Monsterzym Pro Official Score Cards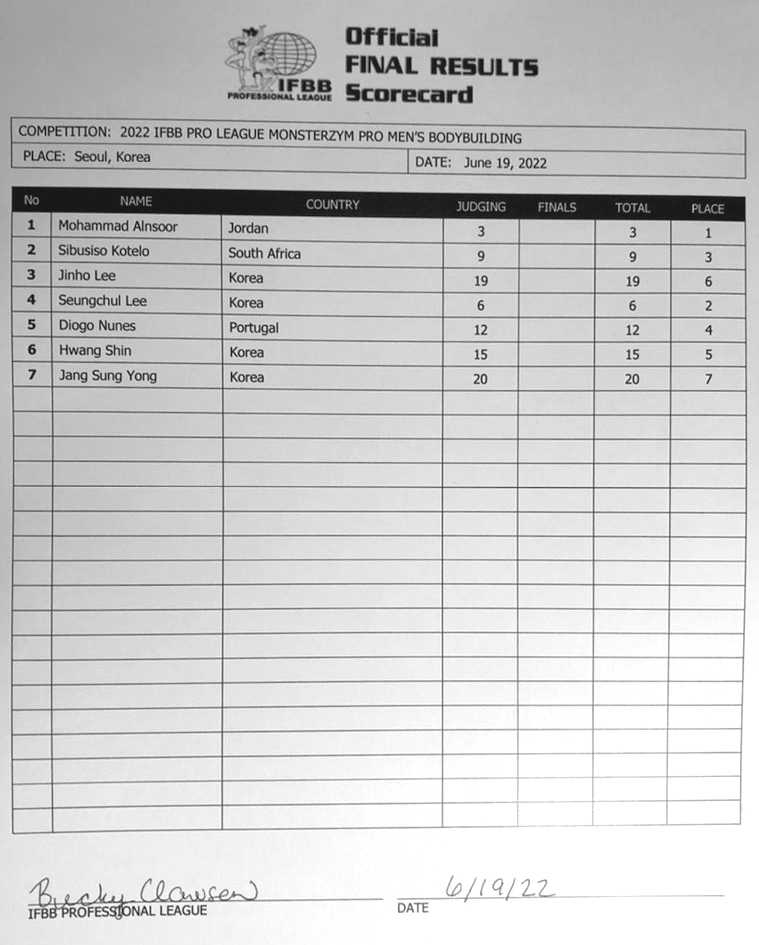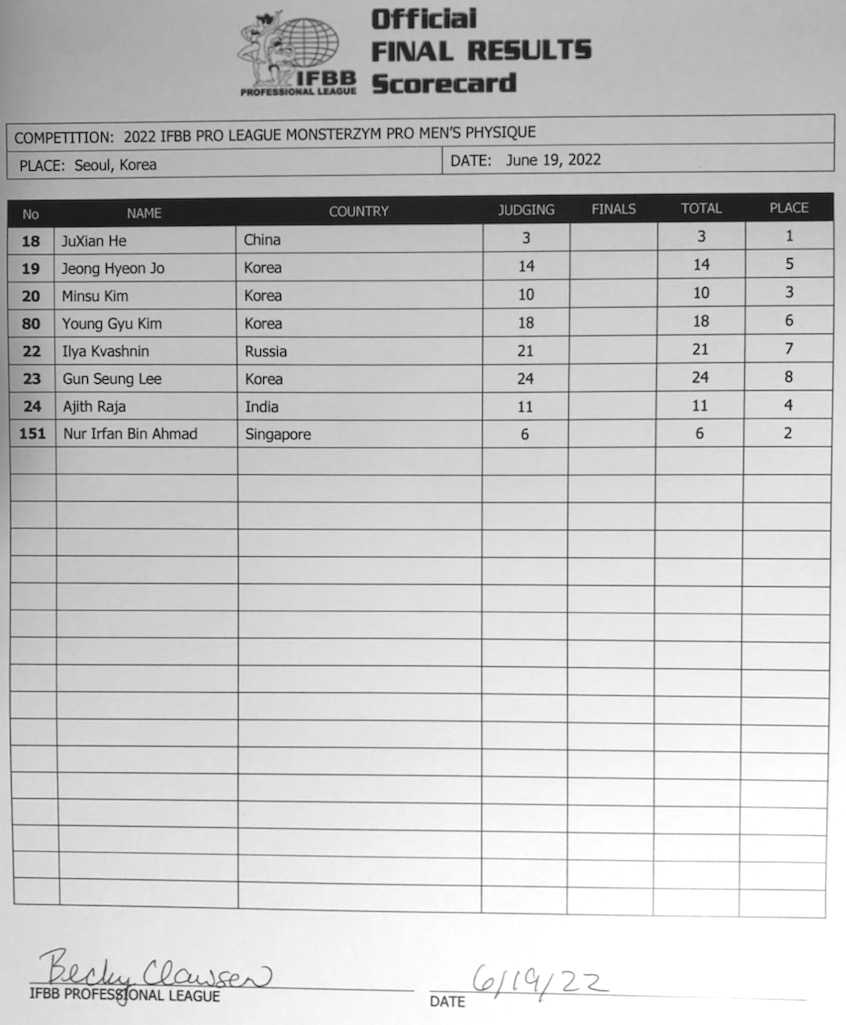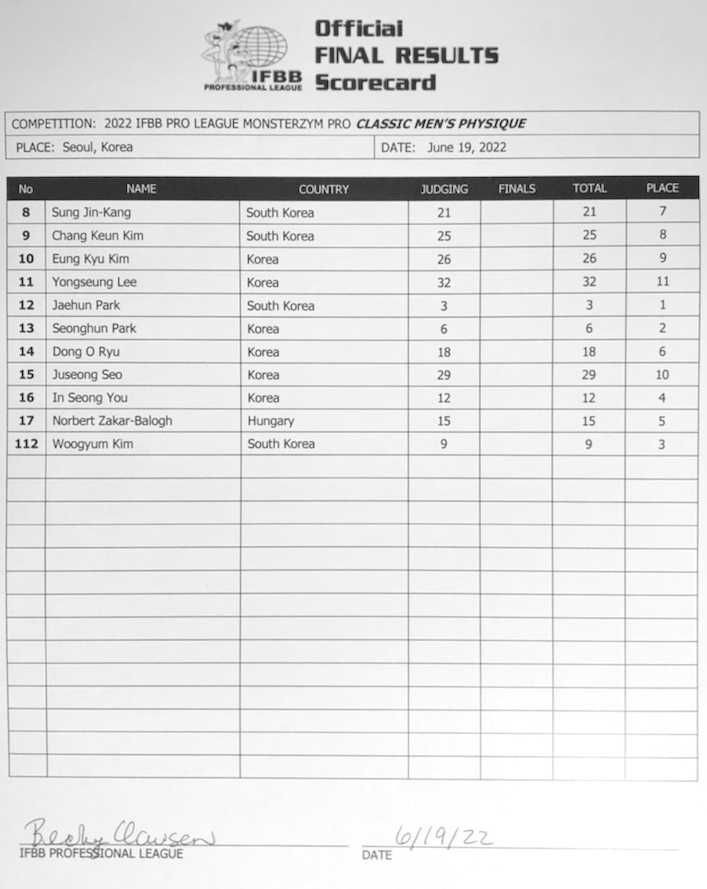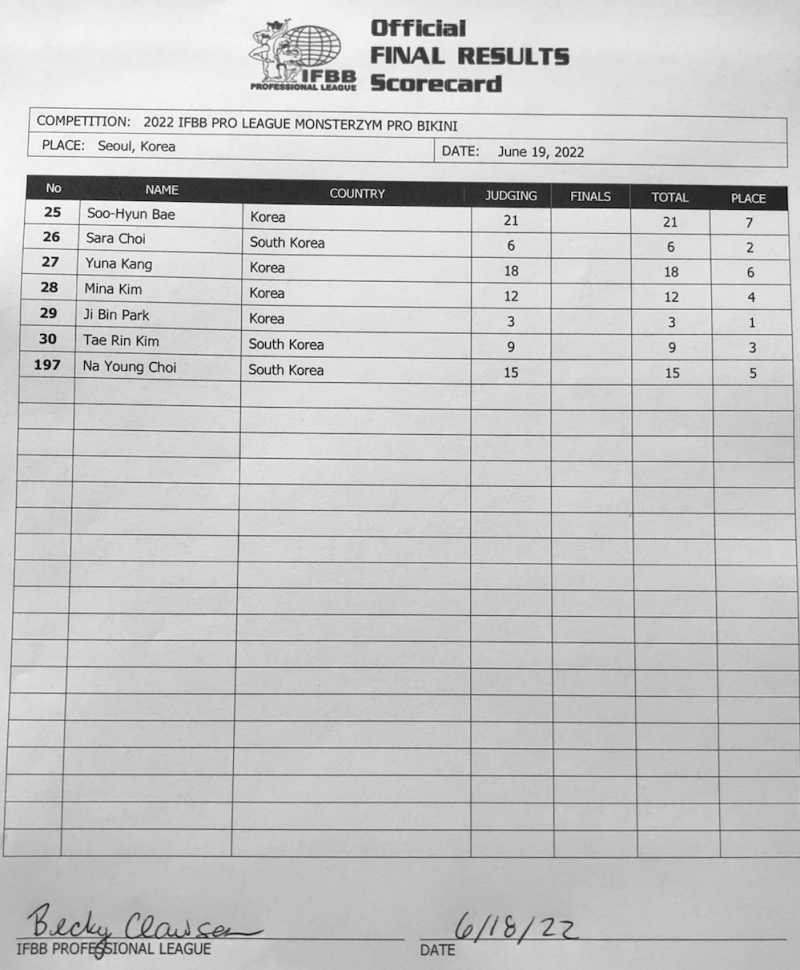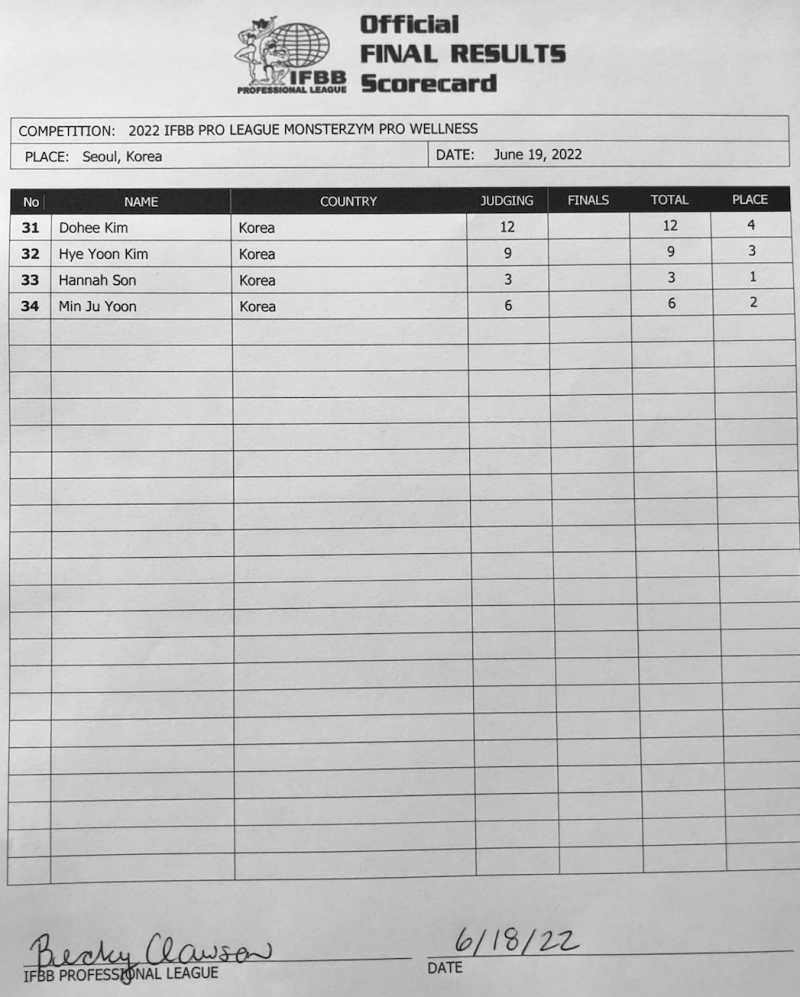 Generation Iron wishes to congratulate all the great athletes who earned a win at the IFBB Monsterzym Pro 2022. Make sure to check out our full IFBB Pro results page from this year and previous years right here to catch up on any action you may have missed!