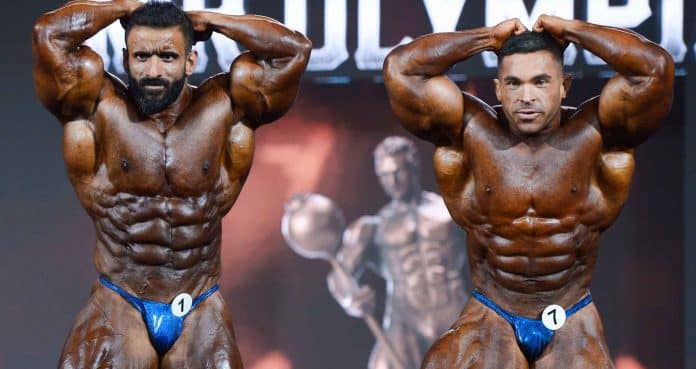 If the callout placings are to be believed – a shocking turn of events is taking place for the Men's Open Mr. Olympia with Derek Lunsford or Hadi Choopan leading the pack.
There's no doubt that the 2022 Mr. Olympia was a stacked lineup boasting one of the most impressive list of athletes in recent memory. And despite a little bit of controversy leading up to the big show, most had put Big Ramy squarely in line to hold onto his Mr. Olympia title. So many fans were shocked during the Men's Open pre-judging when Big Ramy was seemingly cast aside by the judges. During the final callout showcasing the potential top 6 athletes – Big Ramy was moved away from the center and kept to the side, indicating a lower placing.
In bodybuilding comparison rounds, it's usually best to be placed in the middle. This is square in the center right in front of the judges. For decades, fans and athletes alike have understood this was an insight into the placings. To see Big Ramy not featured in the center for most of the final callout is a shocking turn of events. One that either means he will place much lower this year – or that he is in fact doing so well that the judges have no need to compare him further.
Big Ramy's fate seems worrisome – though some still have hope
The bodybuilding community seems to be divided on what Big Ramy's callout could mean. Some believe he still looks incredible and that he is cast to the side because he so far exceeds the other athletes – the judges have already made their first place decision. This is similar to what happened to Phil Heath earlier in his career. He was once never called back into the final callout. This was not because he was doing poorly but because he was such a lock for first place, the judges didn't need to review him further.
Big Ramy's situation, however, is somewhat different. He was, in fact, called back into the final top six callout. It's rare for a bodybuilder to be placed on the outside of a callout line and place first. In fact, it may have never happened before. On top of this, other fans have pointed out that Big Ramy is not looking significantly better than his competitors. Photos have circulated showcasing the same "divots" in his quads that caused earlier controversy. Some assume this might be the reason for being moved over to the side.
Derek Lunsford is blowing the bodybuilding world away
Regardless of Big Ramy's placement in the final callout, one thing is for certain – Derek Lunsford is blowing minds on stage. For a competitor that was a Men's 212 Olympia champion only one year ago, the amount of size he has put on is astounding. Not only this – but his physique looks fantastic.
By the end of the final callout, Derek Lunsford was moved into the middle only matched by Hadi Choopan (both in the center of an even number six athletes). Lunsford truly brought his A game. If he were to win the Mr. Olympia entirely – it would be one of the most fantastic transitions between divisions in the history of the sport.
View this post on Instagram
Don't count Hadi Choopan out of the race
Speaking of Men's 212 to Men's Open transitions, Hadi Choopan also brought an amazing package to the stage during the prejudging. As mentioned, Choopan was right there next to Derek Lunsford at the center of the final callout. His conditioning was superb and his fullness was apparent.
Hadi Choopan might not have gotten to this position overnight like Lunsford – but his move into the Men's Open category has been a wildly successful one. His first ever Men's Open Olympia earned him 3rd place. It shocked the world. Ever since he's maintained a top five placing.
Due to his smaller height and overall size, many counted him out of the top five this year due to the massive amount of threatening competitors. Choopan put those doubters to rest with his performance during the prejudging. His placement indicates that the judges are considering him for the top spot. At the very least, he will definitely be placed in the top six.
View this post on Instagram
Andrew Jacked brings a powerful physique… but falls short of the hype
Andrew Jacked was one such competitor that many thought would shake the waters and push athletes like Hadi Choopan out of the top six. It doesn't seem like this story is yet to be however. Jacked brought a great physique but still has some work to do if he wants to be a real threat to the Mr. Olympia title.
Once the callouts were underway, it was clear he wouldn't be considered for the top six placings. Towards the end of the callouts, Andrew Jacked was called into a lineup that looked to be a battle for seventh place through tenth. Perhaps the person who looked best of that callout could inch up into the top six. But for the pre-judging at least, this was not meant to be.
By the final callout, Andrew Jacked was nowhere to be seen. This puts Andrew Jacked along the likes of Michal Krizo, another hyped athlete with incredible natural talent who fell short at this Olympia. This is not criticism of these athletes. Both are new to the Olympia stage and show incredible promise for future years. For 2022, however, it seems they will battle it out for somewhere in the top 10.
View this post on Instagram
Below is a recap of the full callout report:
Callout 1
Hadi Choopan
Nick Walker
Derek Lunsford
Samson Dauda
Mamdouh Elssbiay
Brandon Curry
Callout 2
Andrew Jacked
William Bonac
Iain Valliere
Hunter Labrada
Michael Krizanek
Rafael Brandao
Callout 3
James Hollingshead
Antoine Vaillant
Patrick Johnson
Charles Griffen
Justin Rodriguez
Akim Williams
Callout 4
Blessing Awodibu
Vladyslav Sukhoruchko
Tonio Burton
Mohamed Shaaban
Joel Thomas
Mohammad Alnsoor
Callout 5
Andrea Presti
Vitor Boff
Theo Leguerrier
Andrea Muzi
Callout 6
William Bonac
Hunter Labrada
Samson Dauda
Andrew Jacked
Callout 7
Samson Dauda
Nick Walker
Hadi Choopan
Mamdouh Elssbiay
Derek Lunsford
Brandon Curry
How things could change at the 2022 Mr. Olympia finals
With the Mr. Olympia pre-judging happening a full 24 hours before the finals – it is possible for some things to change for these key athletes. Phil Heath, for example, was often called Mr. Saturday Night for his ability to up his conditioning within the 24 hour period. The distance between the prejudging and the finals has often been a make or break situation for many athletes. What we saw during the callouts might alter depending on how they appear during the finals later tonight.
In either case, the 2022 Mr. Olympia competition has turned out to be a much more exciting one with some major potential upsets on the horizon. Will Big Ramy fall from grace? Will Derek Lunsford overtake the entire Men's Open division? Will Hadi Choopan finally rise up to champion status?
Any of these options are possible, and that's not even mentioning the quiet but powerful demeanor of Brandon Curry (who also was present and battling for the center spot during the top six final callout).
Time will tell as we inch closer to the finals tonight. Generation Iron will continue to bring moment to moment coverage throughout the rest of the Olympia weekend. Make sure to stay tuned as this exciting event climaxes towards an epic conclusion.