Felipe Franco wins the Musclecontest Goiania Pro!
The 2022 Musclecontest Goiania Pro took place on Saturday, with the Men's Physique division headlining the show. Competitors were vying for qualification to the 2022 Olympia. In the end, it was Felipe Franco who won gold and will now have a chance to compete on the biggest stage in the sport.
Franco earned another victory in his career after winning the 2021 Mr. Big Evolution Pro. He will qualify for yet another Olympia and attempt to improve upon his past standings. Franco appeared in the Olympia back in 2014 and 2016.
The full results from the show have been announced! Checkout the full breakdown from the event below, along with an official score card.
2022 Musclecontest Goiania Pro Breakdown
Men's Physique
First Place – Felipe Franco
Second Place – Emmanuel Costa
Third Place – Pedro Lima
Fourth Place – Anderson Da Silva Arruda
Fifth Place – Rafael Oliveira
Sixth Place – Everton Ribeiro
Seventh Place – Gil Batista
Eighth Place – Aristoteles Ulisses Silva de Lima
Ninth Place – Rafael Rey
Tenth Place – Rodrigo Oliveira
2022 Musclecontest Goiania Pro Official Score Card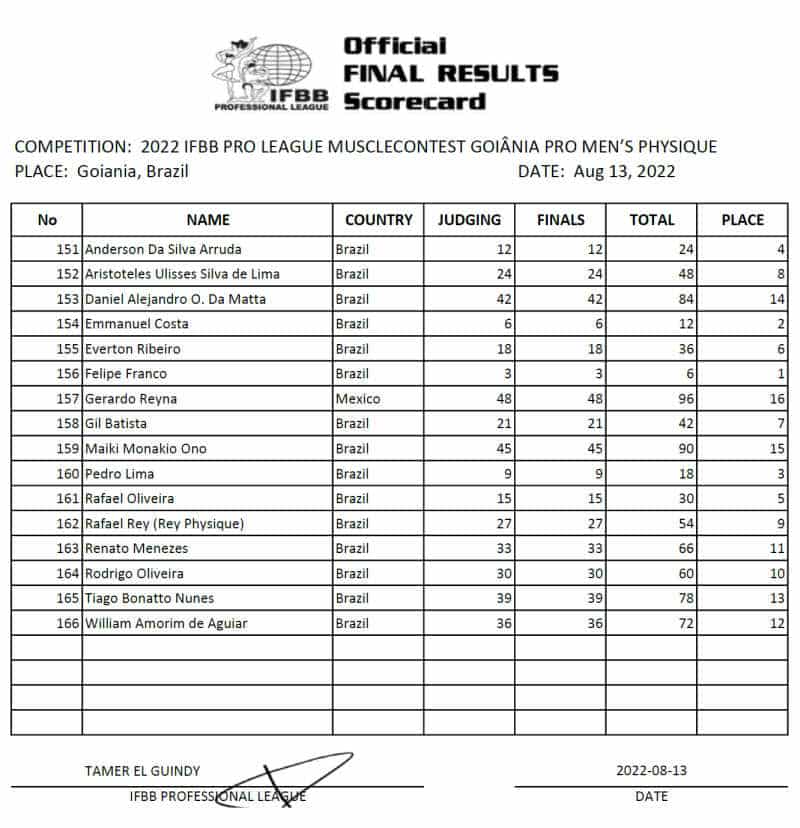 Generation Iron wishes to congratulate all the great athletes who earned a win at the IFBB Musclecontest Goiania Pro. Make sure to check out our full IFBB Pro results page from this year and previous years right here to catch up on any action you may have missed!