Aimee Velasquez wins the 2022 Pacific USA Pro!
The 2022 Pacific USA Pro took place on Saturday at the Sheraton San Diego Hotel & Marina in San Diego. The Bikini division was put on display as competitors were fighting for a ticket to the 2022 Olympia. In the end, Aimee Velasquez earned gold and will not have a chance to compete at the biggest show of the year.
Velasquez earned her Pro Card after winning the 2020 NPC USA Championships in the Bikini division. Now, she will appear at her first Olympia competition just two years later. In 2021, Velasquez finished eighth at both the Battle of Texas and Iron Games Pro. she made improvements to her physique and will look to remain at a championship level.
The full results are still being announced and will wrap up on Saturday! Check out the breakdown from the event below, along with official score cards. This article will be updated as more results are released.
2022 Pacific USA Pro Breakdown
Bikini
First Place – Aimee Leann Velasquez
Second Place – Ivanna Escandar
Third Place – Yurika Shigemoto
Fourth Place – Christian Silveira
Fifth Place – Malu Duarte
Sixth Place – Jasmine Gonzalez
Seventh Place – Peyton Hunton
Eighth Place – Laura Moore-Shay
Ninth Place – Cheuk Nam Yuen
Tenth Place – Shantal Barros
2022 Pacific USA Pro Official Score Card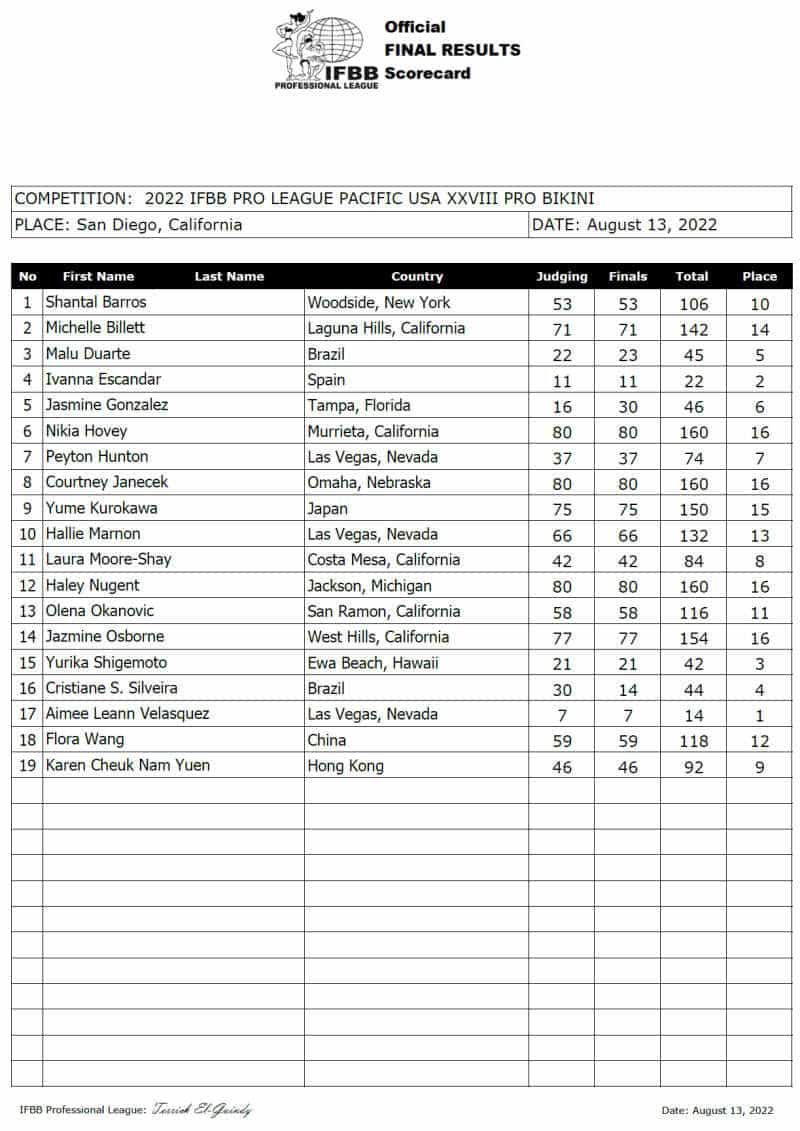 Generation Iron wishes to congratulate all the great athletes who earned a win at the 2022 IFBB Pacific USA Pro. Make sure to check out our full IFBB Pro results page from this year and previous years right here to catch up on any action you may have missed!