Marco Ruz highlights 2022 Sheru Classic Italian Pro with a victory in Classic Physique!
The 2022 Sheru Classic Italian Pro took place on Sunday as the bodybuilding season continues. Competitors from three divisions showed up in Rome to fight for qualification to the Olympia. In the end, Marco Ruz highlighted the show with a victory in Classic Physique.
Ruz appeared on stage during the 2021 New York Pro and finished fourth in Classic Physique. He will make his first appearance at the biggest show in the sport come December. Classic Physique is a division that continues to grow and improve. Ruz will have a chance to go up against some of the other top competitors in the world.
Ali Balil was victorious in Men's Physique while Kristina Brunauer won Bikini. The full results from the show have been announced. Checkout the full breakdown from the event, including official score cards from each division.
2022 Sheru Classic Italian Pro: All Division Winners
Classic Physique: Marco Ruz
Men's Physique: Ali Balil
Bikini: Kristina Brunauer
2022 Sheru Classic Italian Pro Breakdown
Classic Physique
First Place – Marco Ruz
Second Place – Emanuele Ricotti
Third Place – Edwin Underwood
Fourth Place – Mehmet Emin Baydill
Fifth Place – Shanti Mitchell
Sixth Place – Kelvin Hinde
Seventh Place – Issa Al Hasani
Eighth Place – Giovanni Randazzo
Ninth Place – Ayham Alaws
Tenth Place – Philipp Jendnelek
Men's Physique
First Place – Ali Bilal 
Second Place – Youcef Djoudi
Third Place – Furkan Er
Fourth Place – Fabian Faber
Fifth Place – Burak King
Sixth Place – Kenny Privet
Seventh Place – Nishant Bansal
Eighth Place – Andrea Mosti
Ninth Place – Manoj Patil
Tenth Place – Marecl Treichler
Bikini
First Place – Kristina Brunauer
Second Place – Anna Setlak
Third Place – Stine Hansen
Fourth Place – Chloe Margraitner
Fifth Place – Lilan Lopez
Sixth Place – Lucrezla Marchi
Seventh Place – Eleonora Sundas
Eighth Place – Noemi Lava
Ninth Place – Soldea Bella
Tenth Place – Alice Marchisio
2022 Sheru Classic Italian Pro Official Score Cards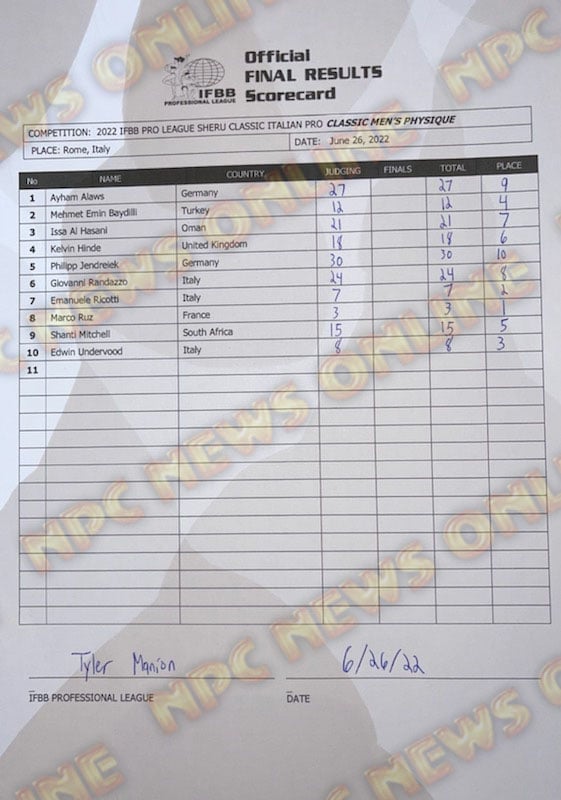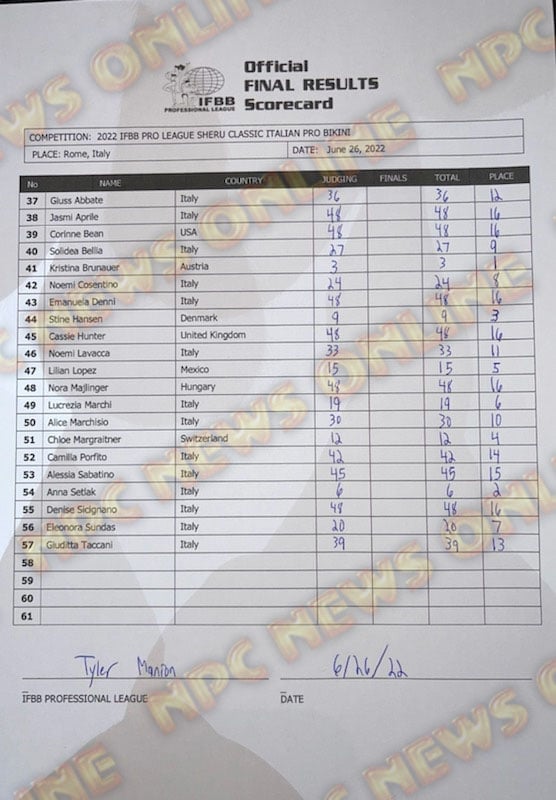 Generation Iron wishes to congratulate all the great athletes who earned a win at the IFBB Sheru Classic Italian Pro 2022. Make sure to check out our full IFBB Pro results page from this year and previous years right here to catch up on any action you may have missed!