Antoine Weatherspoon won the 2022 Tournament of Champions Pro!
The 2022 Tournament of Champions Pro took place on Saturday, with the Men's Physique division headlining the event. Antoine Weatherspoon took home a victory and will now be able to compete at the 2022 Olympia.
Weatherspoon appeared in three shows prior to his victory and finished top five in each show. This included a fourth-place finish at the Arnold Classic. He will now return to the Olympia for the first time since 2018.
The full results from the show have been announced. Checkout the full breakdown from the event below, along with an official score card from the show.
2022 Tournament of Champions Pro Breakdown
Men's Physique
First Place – Antoine Weatherspoon
Second Place – Stan Morrison
Third Place – Mark Robinson
Fourth Place – George Brown
Fifth Place – Zach Savoie
Sixth Place – Ismael Dominguez
Seventh Place – Shogo Sato
Eighth Place – Jeremy Coleman
Ninth Place – Dre Booker
Tenth Place – Frank Worley
2022 Tournament of Champions Pro Official Score Card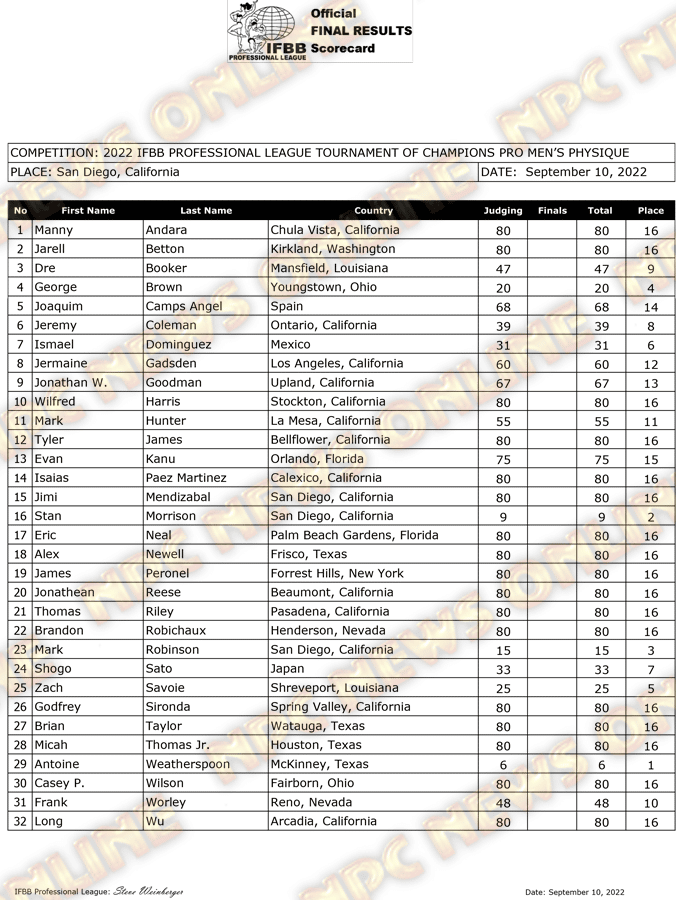 Generation Iron wishes to congratulate all the great athletes who earned a win at the IFBB Tournament of Champions Pro 2022. Make sure to check out our full IFBB Pro results page from this year and previous years right here to catch up on any action you may have missed!