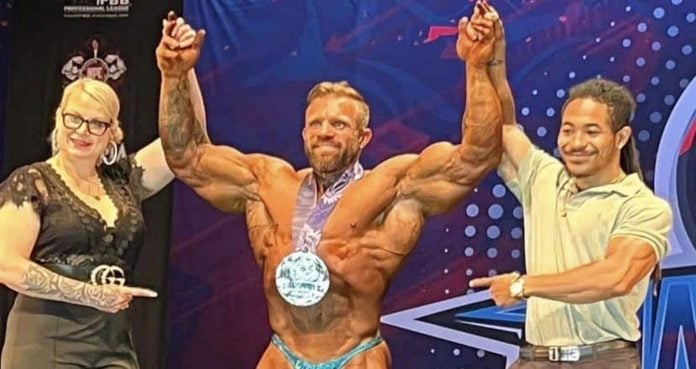 Iain Valliere wins the 2022 Vancouver Pro!
The 2022 Vancouver Pro highlighted the weekend of bodybuilding here in July 17th 2022 in Abbotsford, BC Canada. There were a total of six divisions that appeared on stage ranging from Men's Open, Classic Physique, Men's Physique, Fitness, Figure, and Bikini vying for qualification to the 2022 Olympia this December. It was Iain Valliere who won the show and took gold in Men's Open.
The Men's Open division did not feature a large roster but that does not mean that the quality of competition was low. Iain Valliere appeared on stage in Vancouver in 2019, when he finished fourth. Valliere is coming off back-to-back seventh-place finishes at the Olympia and is looking to return to improve on his standing.
Antoine Vaillant made his return to competition on Sunday after dealing with different issues that has kept him off stage. Vaillant recently announced that he has been dealing with heart issues that he has been working to fix. Heading into the show, Vaillant has been sharing different physique updates and looked massive.
The full results from the show have been announced. There were six winners crowned in different division on Sunday. Below, checkout the full breakdown from each division, along with official score cards from the show!
2022 Vancouver Pro: All Division Winners
Men's Open: Iain Valliere
Classic Physique: Chen Kang
Men's Physique: Charjo Grant
Fitness: Abby Bolton
Figure: Valerie Ratelle
Bikini: Susana Aramayo
2022 Vancouver Pro Breakdown
Men's Open
Winner – Iain Valliere
Second Place – Antoine Vaillant
Third Place – Hossein Kalateh
Fourth Place – Jonas Giatras
Fifth Place – Seth Engman
Sixth Place – Martin Hernandez
View this post on Instagram
Classic Physique
Winner – Chen Kang
Second Place – John Le
Third Place – Adam Beveridge
Fourth Place – Cody Amey
Fifth Place – Isaac Baier
Sixth Place – Ethan Gohari
Men's Physique
Winner – Charjo Grant
Second Place – Josh Bridgman
Third Place – Xezekiel Afanou
Fourth Place – Taylor Wilson
Fifth Place – Akbar Sarbaz Sarkhalo
Sixth Place – Isaias Paez Martinez
Fitness
Winner – Abby Bolton
Second Place – Noemie Champagne-Cloutier
Third Place – Danielle DaCosta
Figure
Winner – Valerie Ratelle
Second Place – Dalila Xochilt Alegria
Third Place – Brittany Offers
Fourth Place – Jennifer Reece
Fifth Place – Mandy Urner
Sixth Place – Mel Cech
Bikini
Winner – Susana Aramayo
Second Place – Shelby Pierce
Third Place – Laura Ziv
Fourth Place – Tessa Barresi
Fifth Place – Karen Wall
Sixth Place – Elizabeth Yisarel
View this post on Instagram
2022 Vancouver Pro Official Score Cards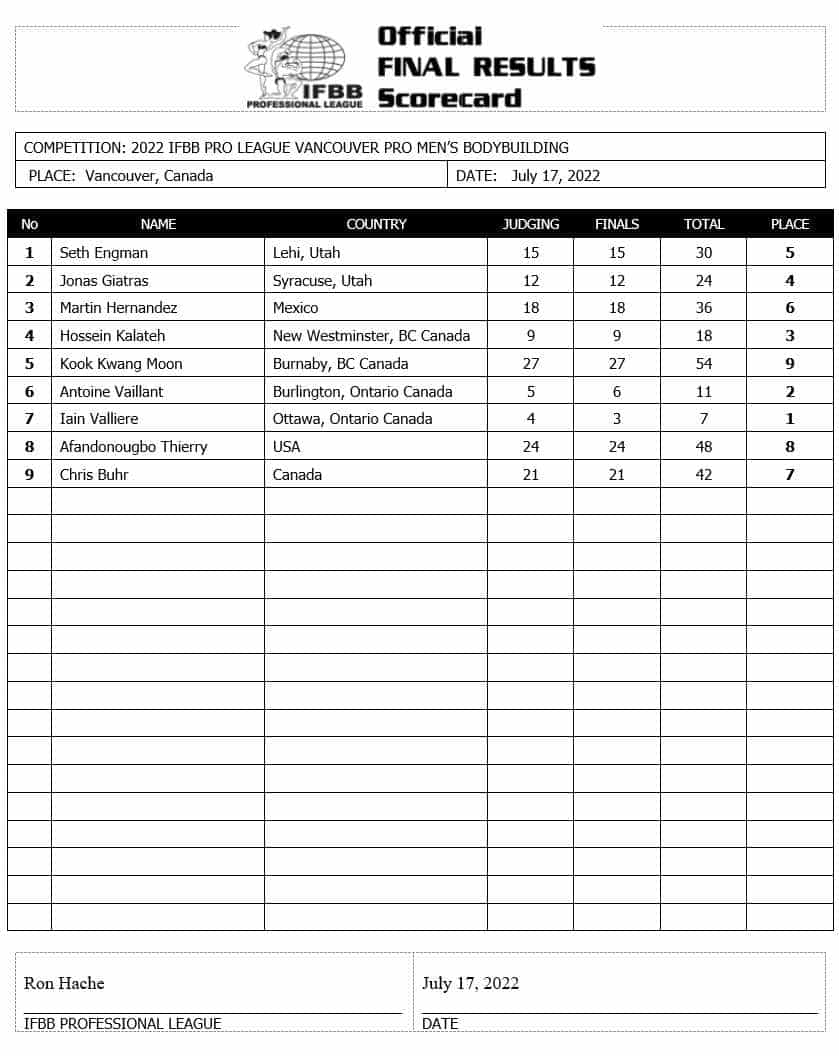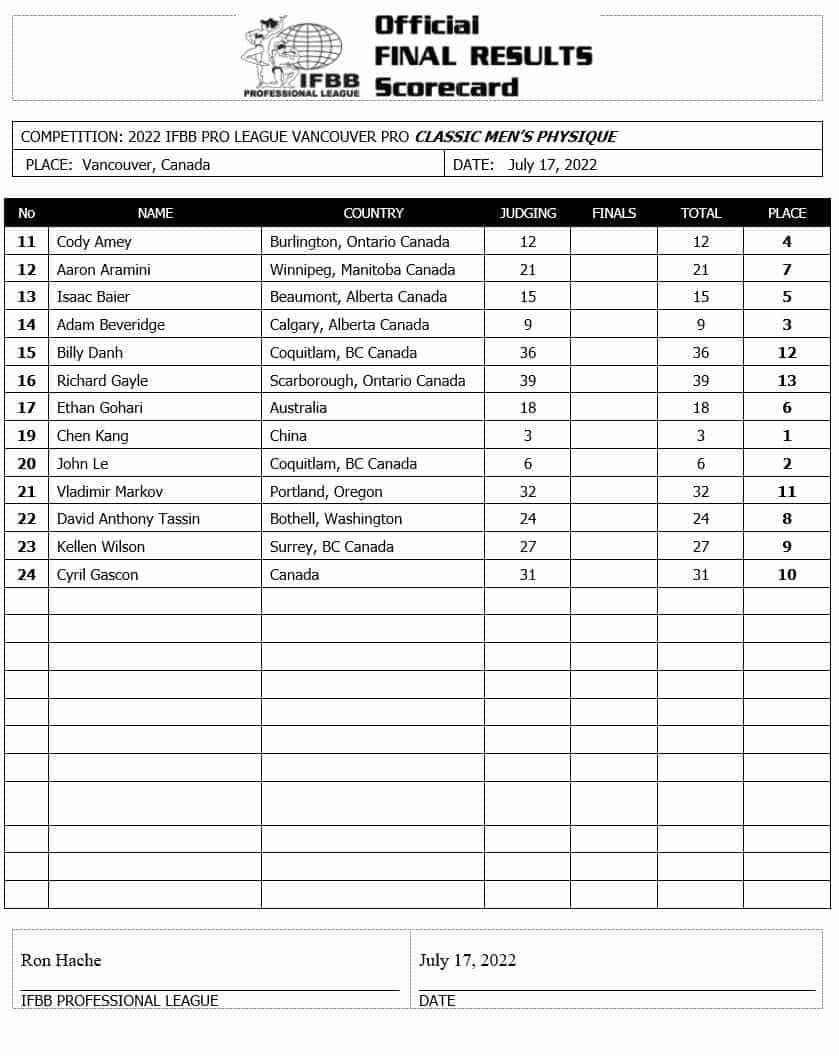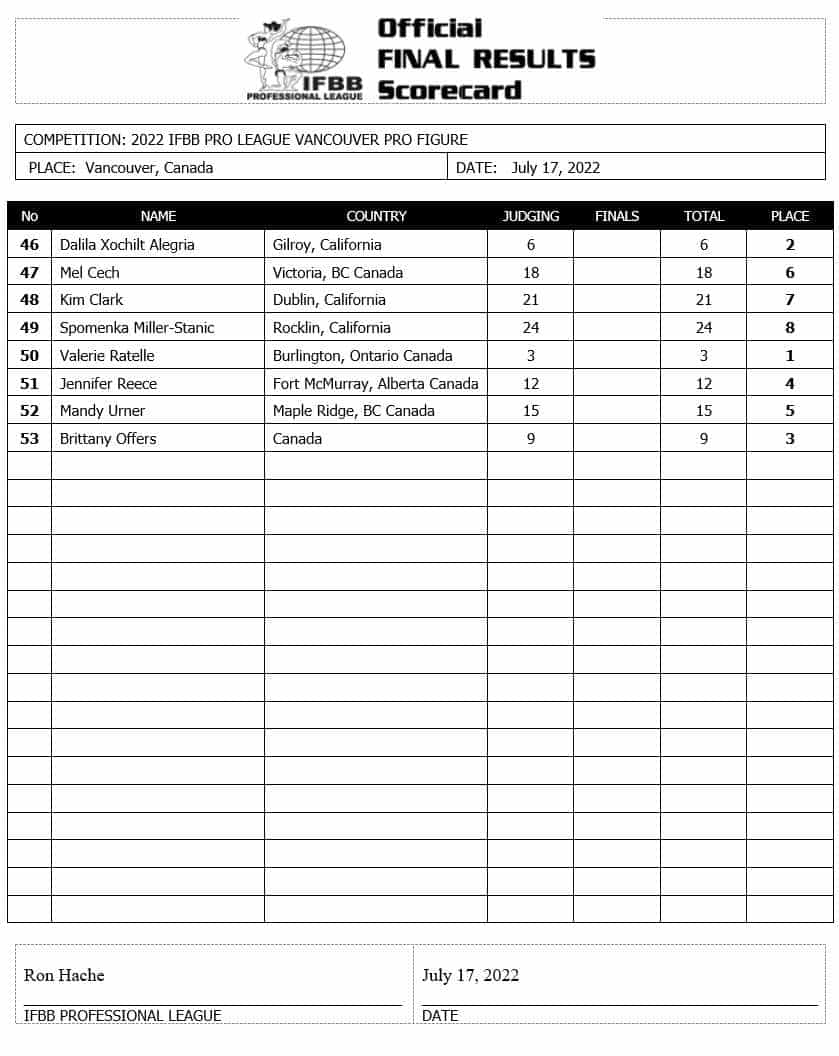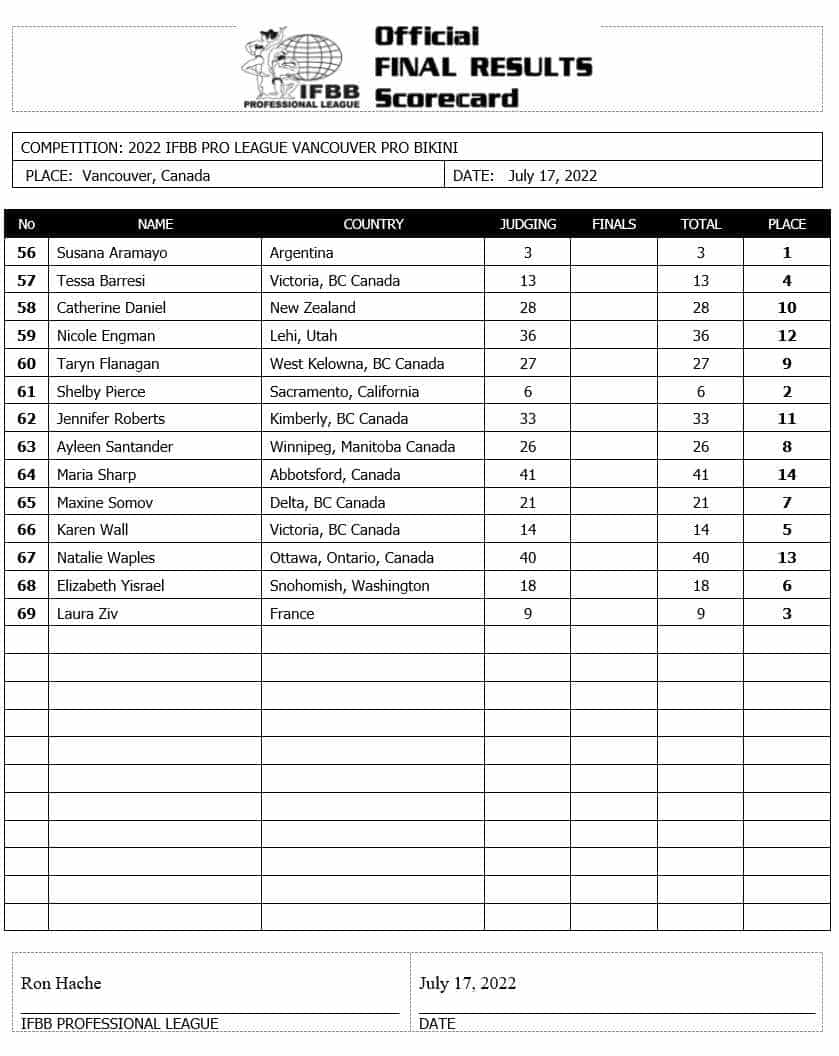 Generation Iron wishes to congratulate all the great athletes who earned a win at the IFBB Vancouver Pro 2022. Make sure to check out our full IFBB Pro results page from this year and previous years right here to catch up on any action you may have missed!