Patrick Johnson wins the 2022 Yamamoto France Pro bodybuilding show!
The 2022 Yamamoto France Pro took place on Friday and Saturday in France. Four divisions were on display, hoping to earn qualification to the 2022 Olympia. In the end, Patrick Johnson was able to win the competition to punch his ticket to the biggest show of the year.
Johnson has made improvements to his physique and has been able to perform well in recent weeks. He finished as the runner-up during the Arnold Classic UK and was able to put together a winning package in France.
The full results from the competition have been announced. Checkout the full breakdown of the event below, along with official score cards.
2022 Yamamoto France Pro: All Division Winners
Men's Open: Patrick Johnson
Classic Physique: Wesley Vissers
Men's Physique: Emile Walker
Bikini: Ottavia Mazza
2022 Yamamoto France Pro Breakdown
Men's Open
First Place – Patrick Johnson
Second Place – Marc Hector
Third Place – Jamie Christian-Johal
Fourth Place – Sarhan Sarhan
Fifth Place – Ossama Ashour
Sixth Place – Anton Bippus
Seventh Place – Kille Kujala
Eighth Place – Martin Hernandez
Ninth Place – Rob Cannon
Tenth Place – Lionel Beyeke
View this post on Instagram
Classic Physique 
First Place – Wesley Vissers
Second Place – Valeri Enchev
Third Place – Christian Zagarella
Fourth Place – Woilid Baatout

Fifth Place – Craig Morton

Sixth Place – Mohamad Al Baghdadi
Seventh Place – Luca Corrado
Eighth Place – Jesus Rodriguez Sendra
Ninth Place – Shane Cullen
Tenth Place – Dhorel Yengo-Fouani
Men's Physique
First Place – Emile Walker
Second Place – Sidy Pouye
Third Place – Lorenzo Giachetti
Fourth Place – Omar Suleiman
Fifth Place – Tunde Hassan
Sixth Place – Isaac Francis
Seventh Place – Djallel Feidi
Eighth Place – Tyler Smith
Ninth Place – Daniel Leone
Tenth Place – Jean Desulme
Bikini
First Place – Ottavia Mazza
Second Place – Eli Fernandez
Third Place – Allison Testu
Fourth Place – Ester Oczella
Fifth Place – Rukiye Solak
Sixth Place – Demi Chow
Seventh Place – Kerry Sexton
Eighth Place – Martyna Derlat
Ninth Place – Eleonora Sundas
Tenth Place – Chiara Smiljanic
2022 Yamamoto France Pro Official Score Cards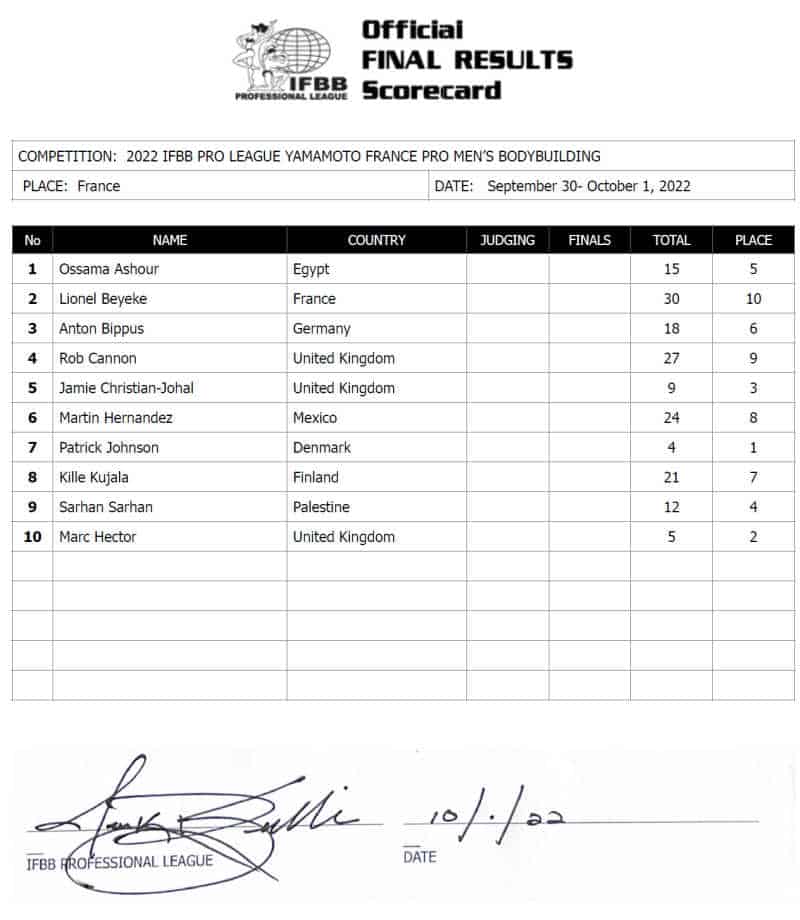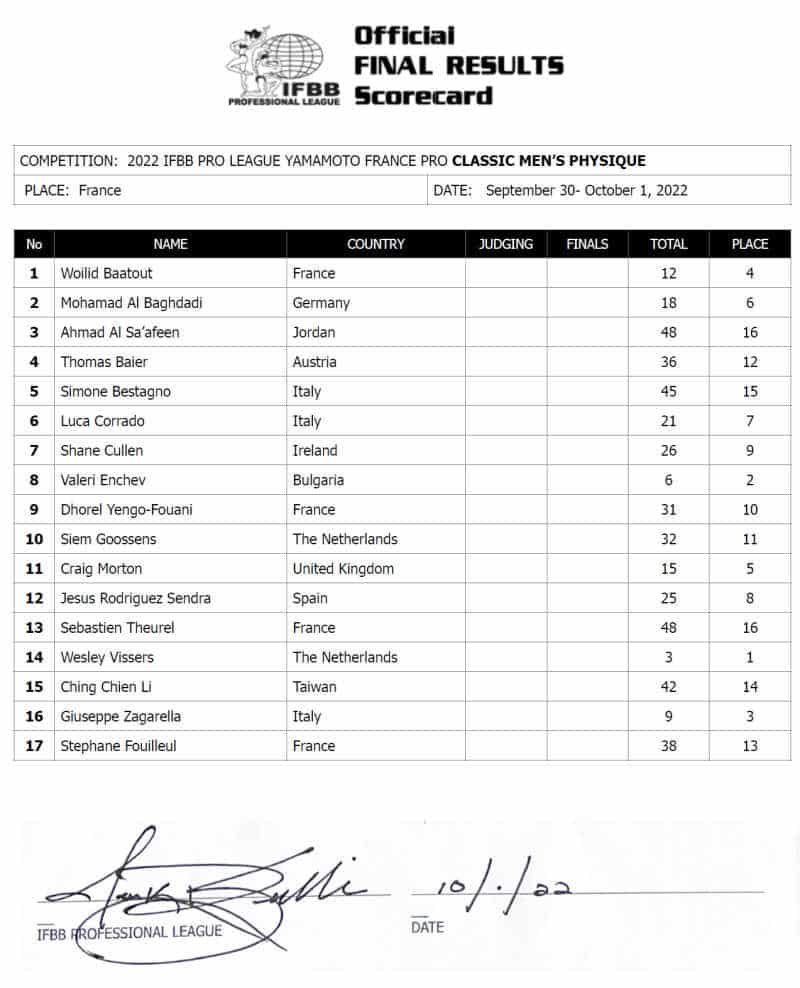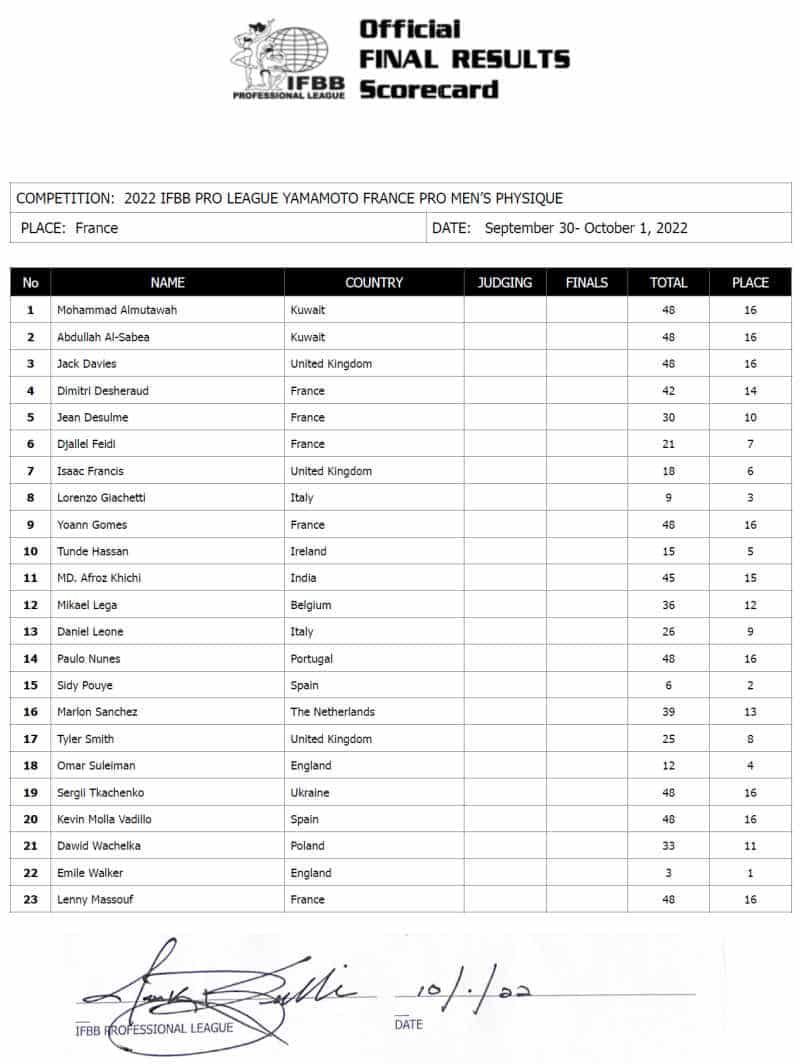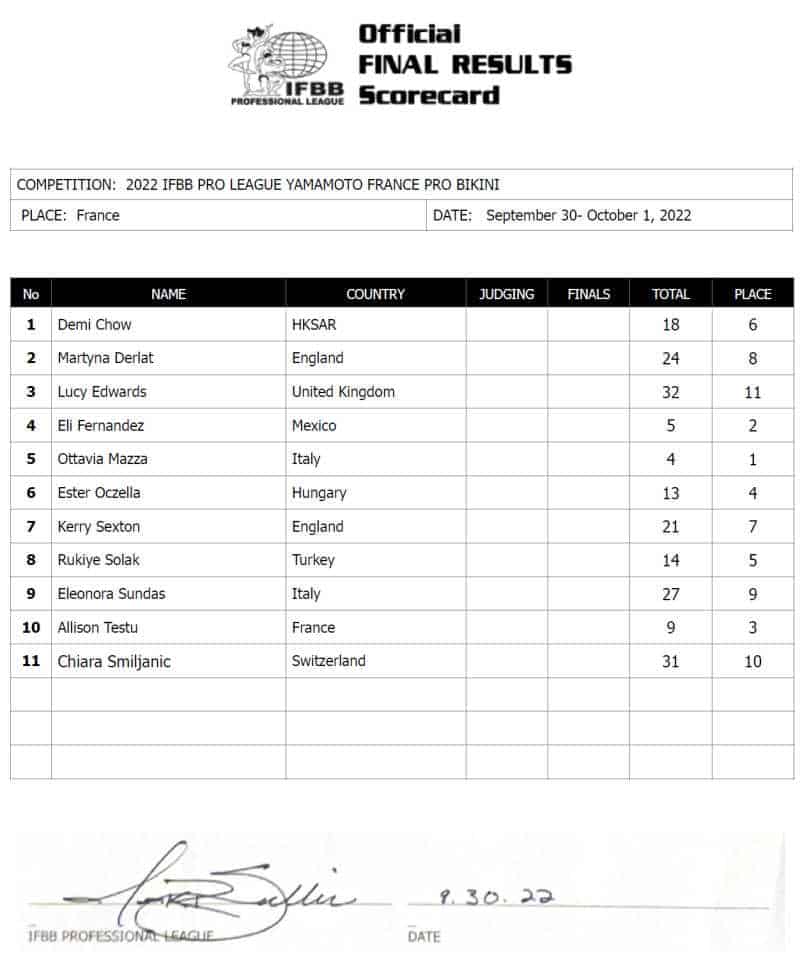 For more news and updates, follow Generation Iron on Facebook, Twitter, and Instagram.