Here are the full results from the 2023 Daytona Pro-Am Bodybuilding Show!
The 2023 Daytona Pro-Am took place on Saturday in Daytona Beach, FL with four divisions being put on display with a trip to the 2023 Olympia at stake.
The Olympia qualification system has changed this year. If an athlete did not finish in the top three in the previous year, or top five in Men's Open, they will have to win a show to qualify. The points qualification system is no more. Also, former winners of an Olympia title have lifetime eligibility.
The full results from the show have been announced. Below, check out the full breakdown, along with an official scorecard. 
2023 Daytona Pro-Am: All Division Winners
Men's Physique: Kyron Holden
Figure: Nicole Zenobia Graham
Bikini: Ndeye Ndour
Women's Physique: Marie-Solange Essoh
2023 Daytona Pro-Am Breakdown
Men's Physique
First Place – Kyron Holden
Second Place – Clarence McSpadden Jr.
Third Place – Christopher Barr
Fourth Place – Brett Mario Jackson
Fifth Place – Sharif Reid
Sixth Place – Joshua Guidry
Seventh Place – Tyler Smith
Eighth Place – Winston Sullivan
Ninth Place – Kenyon Leno
Tenth Place – Ana Farhat
View this post on Instagram
Figure
First Place – Nicole Zenobia Graham
Second Place – Thais Cabrices Werner
Third Place – Kely Estrada
Fourth Place – Emily Hammond
Fifth Place – Danielle Rose
Sixth Place – Edith Driver
Seventh Place – Dr. Adrienne Matthews
Eighth Place – Courtney Jacobs
Ninth Place – Rachel Stuckert
Tenth Place – Kimberly Smith
View this post on Instagram
Bikini
First Place – Ndeye Ndour
Second Place – Jessica Nicole Dolias
Third Place – Noelle Agnew
Fourth Place – Janine Herrera
Fifth Place – Rachael Oberst
Sixth Place – Susana Aramayo
Seventh Place – Huong Mai
Eighth Place – Winitchanok Shao
Ninth Place – Maria Vegas
Tenth Place – Myra Colcord
View this post on Instagram
Women's Physique
First Place – Maria-Solange Essoh
Second Place – Jada Beverly
Third Place – Heather Grace
Fourth Place – Heather Rigsby
Fifth Place – Andrea Alonso
Sixth Place – Laura Pyszora
Seventh Place – Jacqueline Hale
Eighth Place – Marysel Cruz Cruz
Ninth Place – Farrah Faulkner
Tenth Place – Taysir Orta
2023 Daytona Pro-Am Official Scorecards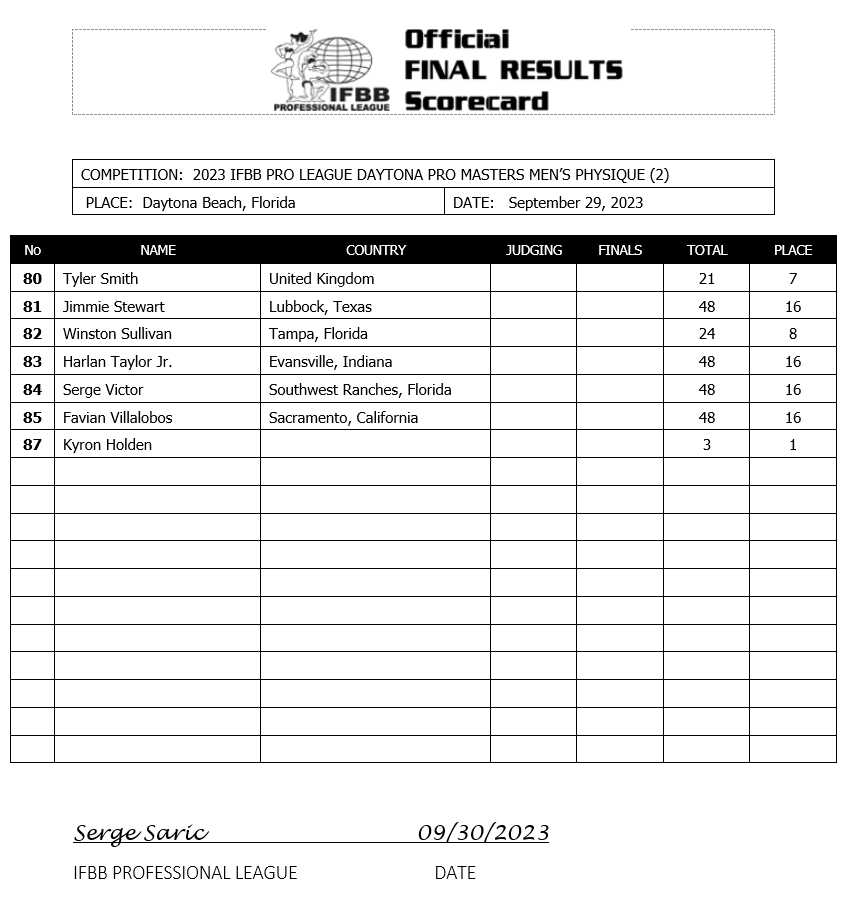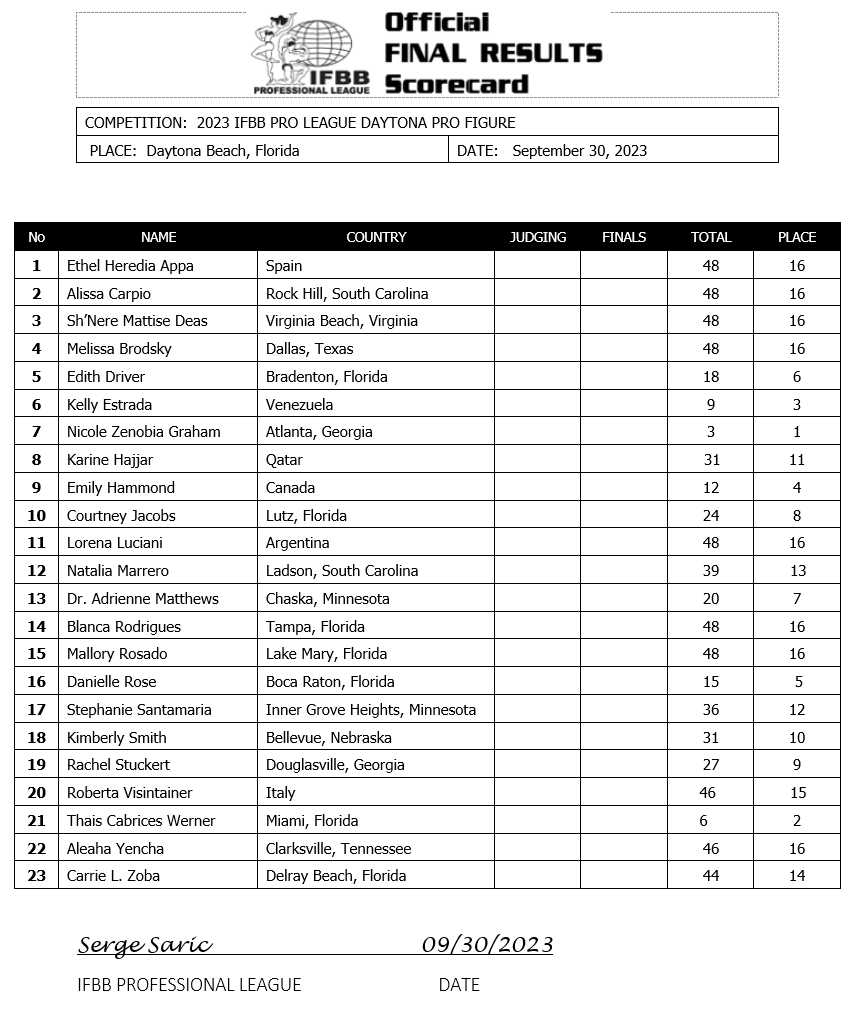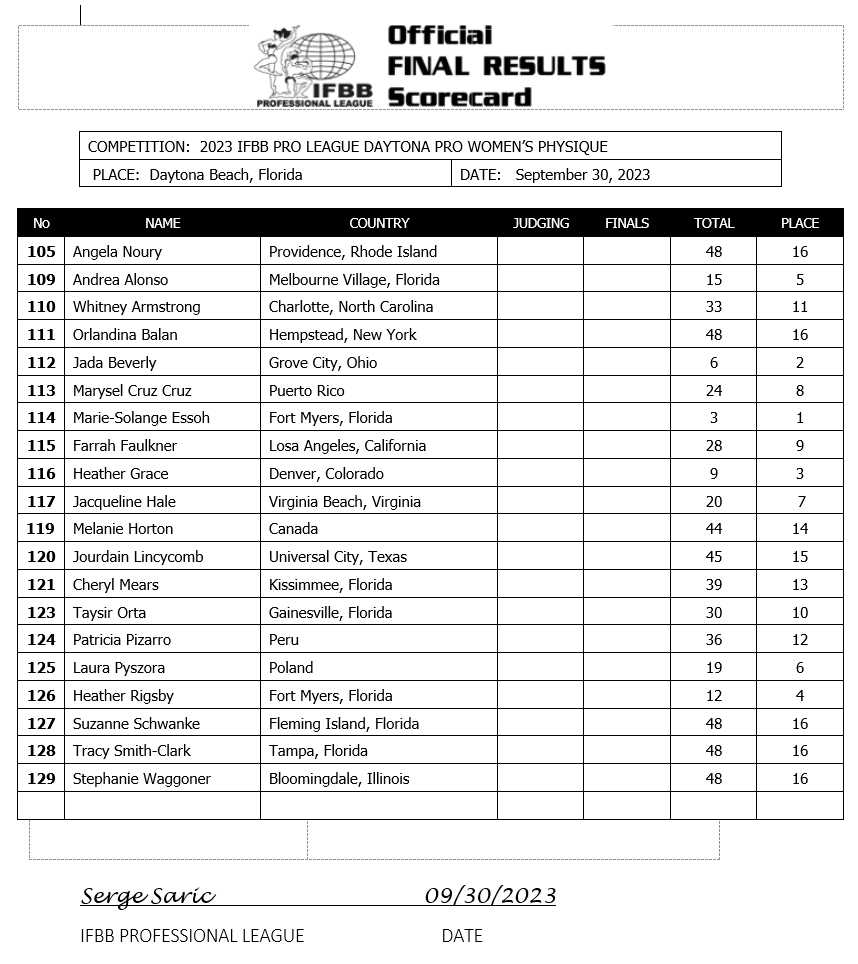 For more news and updates, follow Generation Iron on Facebook, Twitter, and Instagram.