Renata Guaraciaba wins the 2023 Musclecontest Rio Pro!
The Wellness division was on display over the weekend in multiple locations and the 2023 Musclecontest Rio Pro was one of them. Competitors flocked to Rio de Janeiro looking to punch their ticket to the 2023 Olympia. In the end, it was Renata Guaraciaba who was crowned champion.
Guaraciaba will be making her first Olympia appearance since 2015, when she was competing in Figure. She began competing in Wellness in 2020 and has been active in different shows. In 2022, she finished as the runner up during the Argentina Sur Cup Pro. She also competed in this very show and finished fourth. Now, she made the improvements to jump to the top of the scorecard.
Wellness made its debut at the Arnold Classic and Olympia in recent years. It continues to grow year after year and that will only take a step forward in 2023. Adams will be part of the journey now that she has qualified for the Olympia.
The full results from the show have been announced. Below, check out the breakdown and official scorecard from the 2023 Musclecontest Rio Pro.
View this post on Instagram
2023 Musclecontest Rio Pro Breakdown
First Place – Renata Guaraciaba
Second Place – Rafaelle Zen
Third Place – Silmara Walker
Fourth Place – Nerilde Garcia
Fifth Place – Gabriela Tavares
Sixth Place – Jessica Basso
Seventh Place – Rose Lopes
Eighth Place – Debora Pereira
2023 Musclecontest Rio Pro Scorecard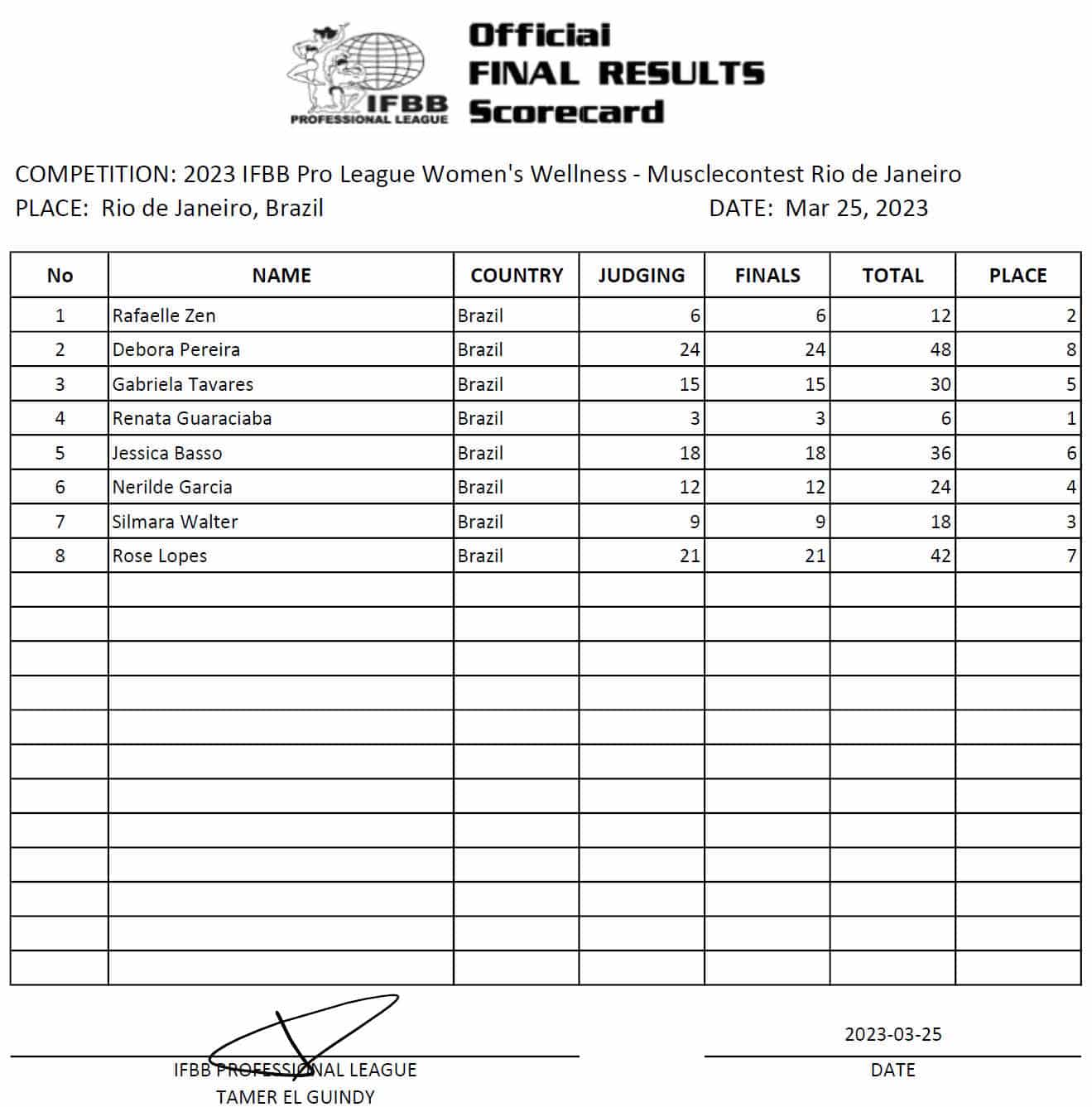 For more news and updates, follow Generation Iron on Facebook, Twitter, and Instagram.