Here are the full results from the 2023 Phoenix & Arizona Pro!
The 2023 Phoenix & Arizona Pro took place on Saturday in Phoenix with six divisions being on display. The winners earned a spot in the 2023 Olympia, headlined by champion Andrea Shaw.
The Olympia qualification system has changed this year. If an athlete did not finish in the top three in the previous year, or top five in Men's Open, they will have to win a show to qualify. The points qualification system is no more. Also, former winners of an Olympia title have lifetime eligibility.
Shaw is the reigning three-time Ms. Olympia champion. She was already qualified for this year's event but wanted to compete before taking the stage in November. The reigning champ continues to be the name to beat in the division.
The full results from the show have been announced. Below, check out the full breakdown, along with an official scorecard. 
2023 Rising Phoenix & Arizona Pro: All Division Winners
Women's Bodybuilding: Andrea Shaw
Fitness: Stephanie Jones
Figure: Rhea Gayle
Bikini: Iulia Baba
Women's Physique: Alex Hall
Wellness: Andrea Hrenko
2023 Rising Phoenix & Arizona Pro Breakdown
Women's Bodybuilding
First Place – Andrea Shaw
Second Place – Angela Yeo
Third Place – Michaela Aycock
Fourth Place – Mayla Ash
Fifth Place – Chelsea Dion
Sixth Place – Melissa Teich
Seventh Place – Sherry Priami
Eighth Place – Kristina Mendoza
Ninth Place – Reshanna Boswell
Tenth Place – Nicki Chartrand
View this post on Instagram
Fitness
First Place – Stephanie Jones
Second Place – Corina Harkelroad
Third Place – Kristin Pope
Fourth Place – Kayla Rossi
Fifth Place – Sally Kendall-Williams
Sixth Place – Rene Brosch
Seventh Place – Rachel Pitts
Eighth Place  Danielle Delikat
View this post on Instagram
Figure
First Place – Rhea Gayle
Second Place – Shanice Abrams
Third Place – Paula Rojo
Fourth Place – Christine Steams
Fifth Place – Nikki Mcguire
Sixth Place – Sophie Jenkins
Seventh Place – Osiris Trumpe
Eighth Place – Jaslynn James
Ninth Place – Elizabeth Nieder
Tenth Place – Jennifer Johnson
View this post on Instagram
Bikini
First Place – Iulia Baba
Second Place – Reijuana Jarley
Third Place – Daraja Hill
Fourth Place – Lacy Rutland
Fifth Place – Reyna Perez Mecalco
Sixth Place – Abbi Gaetano
Seventh Place – Chantel Hall
Eighth Place – Marioly Galarza
Ninth Place – Marcela Moreno
Tenth Place – Cierra Davis
View this post on Instagram
Women's Physique
First Place – Alex Hall
Second Place – Hi Hye Lee
Third Place – Yuna Kim
Fourth Place – Winsome White
Fifth Place – Joanna Romano
Sixth Place – Anna-Lena Prinz
Seventh Place – Suzan Oktay
Eighth Place – Alyssa Coppolino
Ninth Place – Tina Mauer Guadarrama
Tenth Place – Michelle Polanik
View this post on Instagram
Wellness
First Place – Andrea Hrenko
Second Place – Marika Lyons
Third Place – Rosa Benadero Munoz
Fourth Place – Jenne De Manicor
Fifth Place – Jennifer Zollars
Sixth Place – Jasmine Payne
Seventh Place – Micheline Mengue M
Eighth Place – Brittanie Molina
Ninth Place – Joann Norwood
Tenth Place – Jessica Alvarado
View this post on Instagram
2023 Rising Phoenix & Arizona Pro Official Scorecards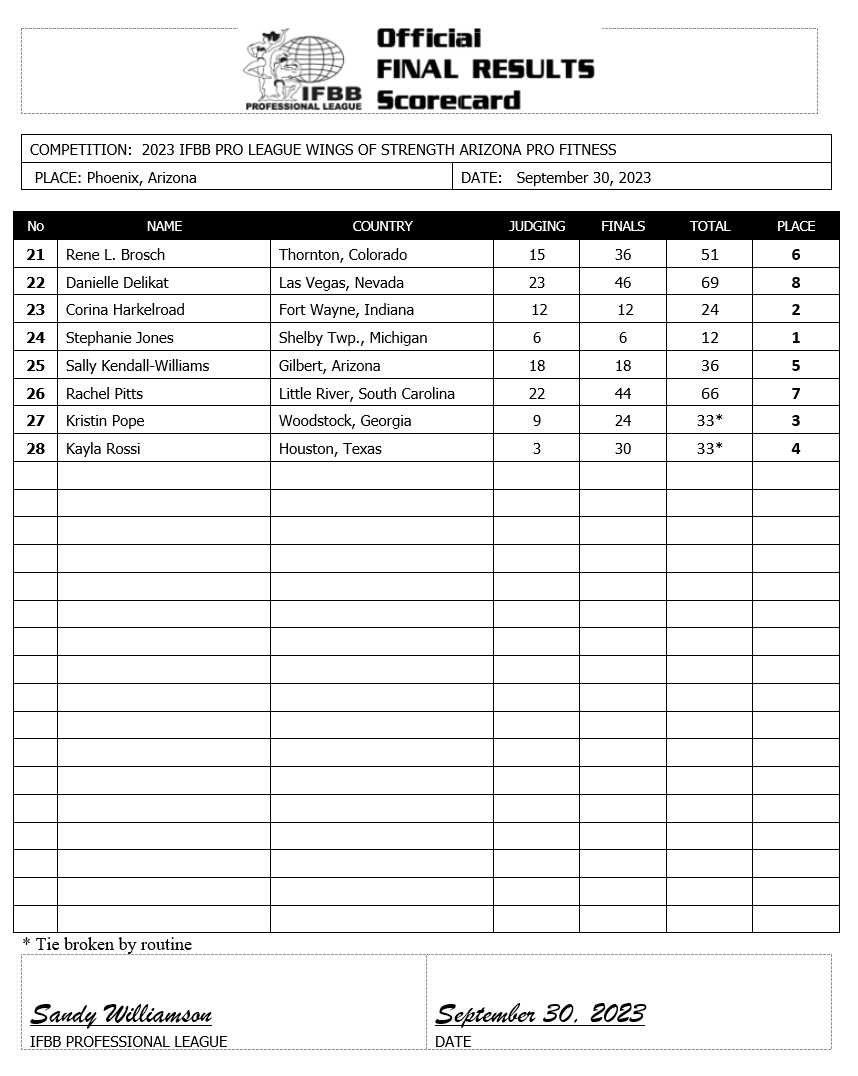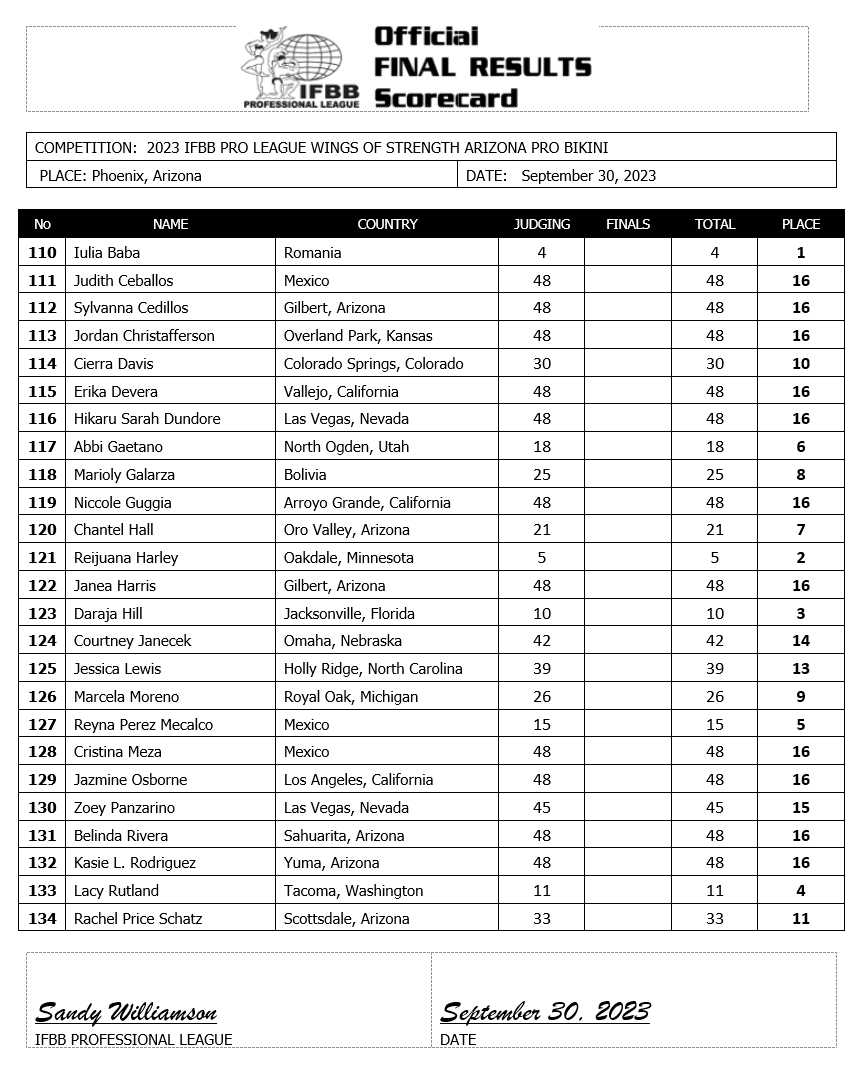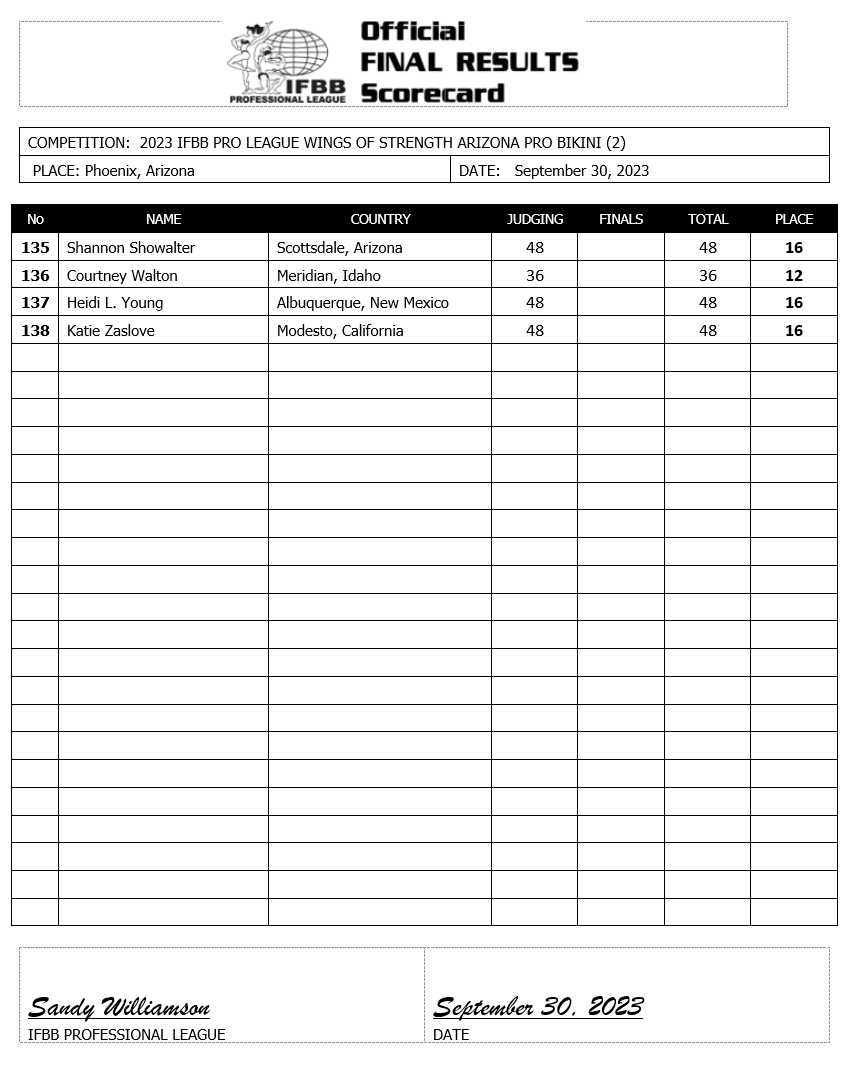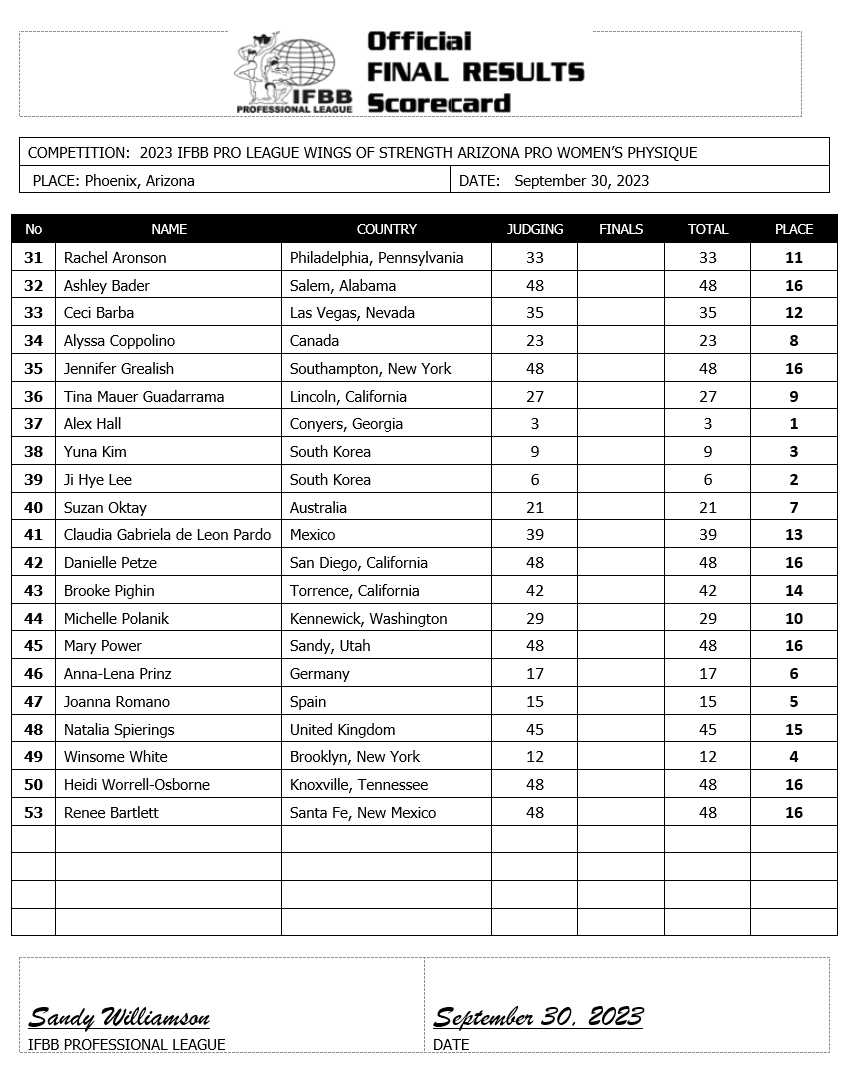 For more news and updates, follow Generation Iron on Facebook, Twitter, and Instagram.