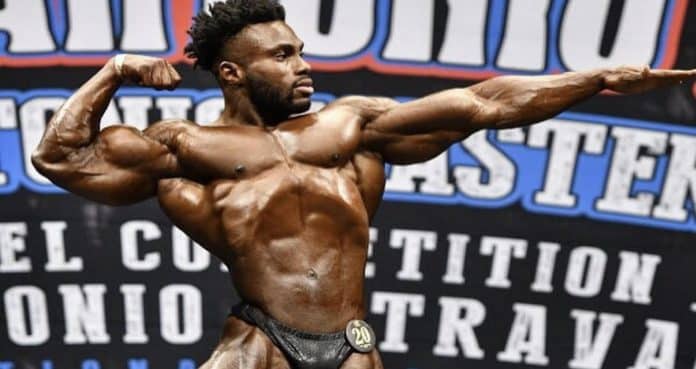 Here are the full results from the 2023 San Antonio Pro!
The 2023 San Antonio Pro took place on Saturday in San Antonio with four divisions being put on display with a chance to go to the 2023 Olympia. In the end, there were some familiar faces punching their tickets to the biggest show in the world.
The Olympia qualification system has changed this year. If an athlete did not finish in the top three in the previous year, or top five in Men's Open, they will have to win a show to qualify. The points qualification system is no more. Also, former winners of an Olympia title have lifetime eligibility.
The full results from the show have been announced. Below, check out the full breakdown, along with an official scorecard. 
2023 San Antonio Pro: All Divison Winners
Classic Physique: Courage Opara
Men's Physique: Charjo Grant
Figure: Nicole Zenobia Graham
Bikini: Jourdanne Lee
2023 San Antonio Pro Breakdown
Classic Physique
First Place – Courage Opara
Second Place – Kellen Wilson
Third Place – Oshanda Rhoden
Fourth Place – Anthony Barbera III
Fifth Place – Kevin Johnson
Sixth Place – Gabriel Domingo Hernandez Aguirre
Seventh Place – Terrence Bonds
Eighth Place – Jared Keys
Ninth Place – Cody Amey
Tenth Place – Sonny O'Brien
View this post on Instagram
Men's Physique
First Place – Charjo Grant
Second Place – Clarence McSpadden Jr.
Third Place – Michael Mayers
Fourth Place – Yukihiro Yuasa
Fifth Place – Brodie Jarrell
Sixth Place – Stephen Brooks
Seventh Place – Da'Marchitzy T. White
Eighth Place – Kevin Johnson
Ninth Place – Cordell Waddey
Tenth Place – Marcell Shippen
View this post on Instagram
Figure
First Place – Nicole Zenobia Graham
Second Place – Rhea Gayle
Third Place – Ashley Howells
Fourth Place – Taylor Mauro
Fifth Place – Jessica Baltazar
Sixth Place – Amanda Kohatsu
Seventh Place – Ruth Castillo
Eighth Place – Fatima Carlos
Ninth Place – Tamika Robinson
Tenth Place – Kimberley Smith
Bikini
First Place – Jourdanne Lee
Second Place – Iulia Baba
Third Place – Ndeye Ndour
Fourth Place – Marioly Galarza
Fifth Place – Roxana Marquez
Sixth Place – Brenda Garay
Seventh Place – Julie Marcela Moreno Reyna
Eighth Place – Lizzie Martinez
Ninth Place – Kerigan Pike
Tenth Place – Gigi Amurao
View this post on Instagram
2023 San Antonio Pro Official Scorecards