Mike Sommerfeld earned a victory in Classic Physique during the 2023 Saudi Classic Pro!
The 2023 Saudi Classic Pro took place on Saturday, January 14th in Riyadh, Saudi Arabia and provided bodybuilders from three divisions qualifications to the 2023 Olympia. The qualification period is open and now, athletes will begin punching their tickets to the show by winning an event. The IFBB Pro League has done away with the points qualification system.
Mike Sommerfeld will compete in his third consecutive Olympia after winning Classic Physique. He continues to improve, finishing fifth at the Olympia this year after a seventh-place finish in 2021. Ahmad Ashkanani was crowned champion in Men's 212 while Mahmood Al-Maghrabi won Men's Physique.
The full results from the Saudi Classic Pro have been announced. Below, check out the full results from the show, along with official scorecards.
2023 Saudi Classic Pro: All Division Winners
Men's 212: 

Ahmad Ashkanani

Classic Physique: Mike Sommerfeld
Men's Physique: Mahmood Al-Maghrabi
2023 Saudi Classic Pro Breakdown
Men's 212
First Place – Ahmad Ashkanani
Second Place – Mazin Al Rahbi
Third Place – Anwar Al Balushi
Fourth Place – Ahmed Yaha Jurayni
Fifth Place – Peter Molnar
Sixth Place – Mohammed Touri
Classic Physique
First Place – Mike Sommerfeld
Second Place – Abdullah Alrabiah
Third Place – Murat Can Karahasanler
Fourth Place – Denis Romanov
Fifth Place – Abdulaziz Al-Murshedi
Sixth Place – Hassan Mahdi Abdulreda
Men's Physique
First Place – Mahmood Al-Maghrabi
Second Place – Abdullah Alsharafi
Third Place – Imran Khan
Fourth Place – Osama Almujalli
Fifth Place – Akram Al Hasan
Sixth Place – Hashem Mohammed
2023 Saudi Classic Pro Official Scorecards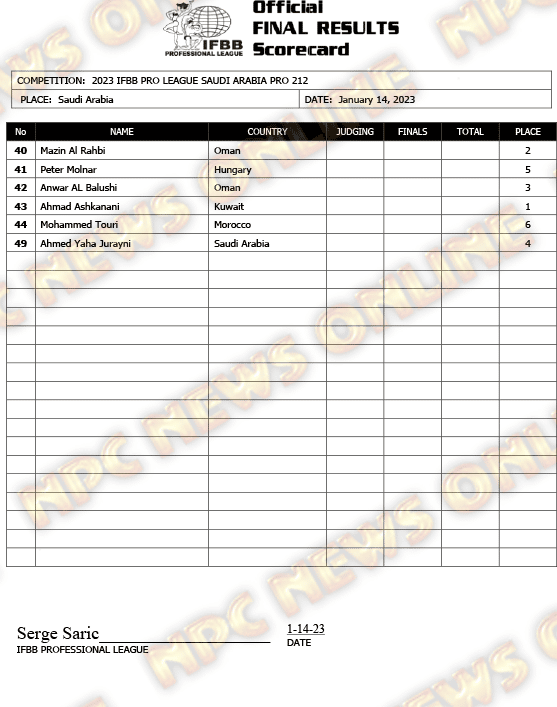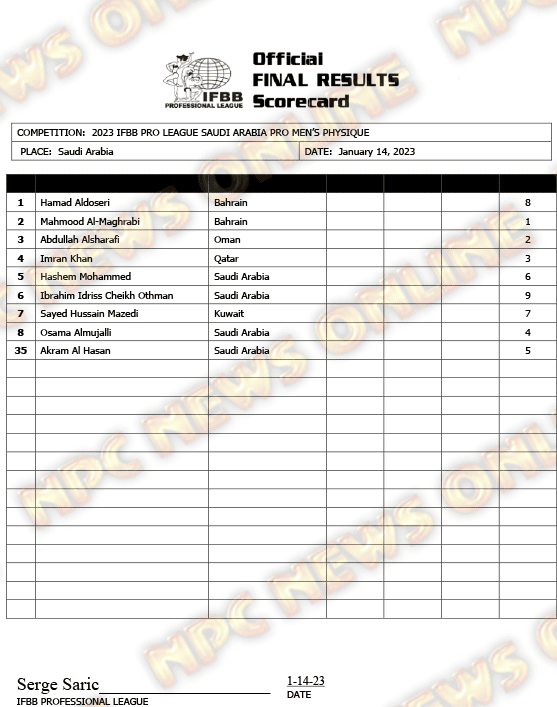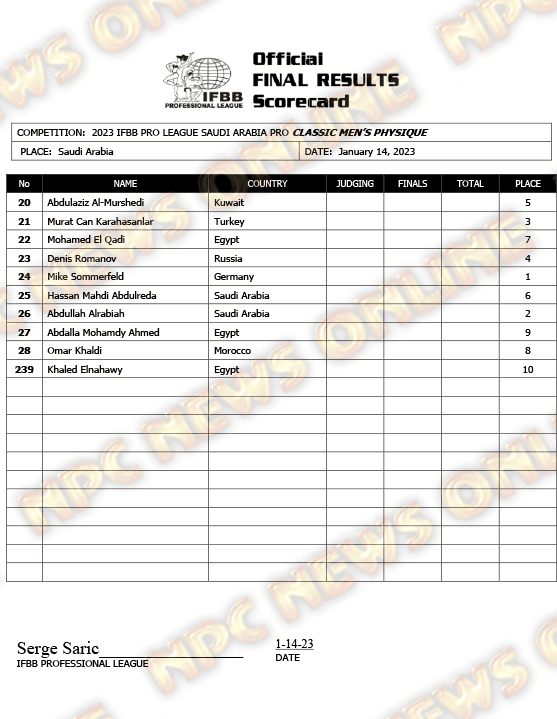 For more news and updates, follow Generation Iron on Facebook, Twitter, and Instagram.