Consuming the right nutrients after a workout can make or break your gains in the gym, so don't let poor planning hurt you.
We all think hard about what we eat before a workout, right? We need energy and fuel to lift big and maintain the gains we worked hard for. After all that effort under the bar, it would be a shame to lose it all due to a poorly planned pre workout or post-workout meal. Eating carbs and protein after your workout are the keys to rebuilding the glycogen stores and repairing those strained muscles. With the right nutrients, you will decrease the breakdown of your muscle protein, increase growth, and ultimately enhance recovery all while seeing your hard work come to fruition with what you eat after a workout.
Often times in our busy lives, we just do not have the time to sit, plan, prepare, and cook a full dish from scratch. This causes us to resort to supplements and replacements to get all of those vital nutrients. While this may be enough to get us through the day, we may not be maximizing our gains to the fullest extent of what they could be.
By working to plan post workout meals ahead of time, we will be able to eat well and enjoy a wonderful dish we took time to create for ourselves. Don't throw away your protein supplements or replacements just yet. Use them sparingly for those times you really don't have enough energy to cook to eat after a workout.
Timing, timing, timing. Many suggest eating your post-workout meal within 45 minutes upon completion of your workout as your window for protein restoration begins to diminish after that. Of course, this depends on person to person, but that 45 minute window will help your body rebuild the glycogen stores faster, thus ensuring those gains do not fall short.
This also gives you enough time to get home and prepare a solid dish without feeling rushed to get something done. For bigger gains, have a protein shake immediately after to really flood your muscles with those nutrients and then top it off with a solid home cooked meal as a good idea for your muscles to use those nutrients.
Thinking of fun and easy ways to create healthy options all while enjoying the meal can be difficult. The benefit is that there are so many alternatives and new ways to try different dishes with other variations which can make for fun and interesting dishes. Don't let the same old monotony bore you into eating the same foods or not enough of the foods you really need. Here are 4 easy post-workout meals to ensure those gains keep rolling and your hard work does not go unnoticed. Oh, and they taste good too.
RELATED: Best Pre-Workout Supplements For Bodybuilding & Muscle Gain
Benefits Of Meals After Training
You should be sure you eat a post workout meal because the benefits are undeniable for a host of physical and mental reasons. All of your hard work in the gym will go completely unnoticed if you decide to not eat properly post your workout and what will be the point if that all goes to waste. Getting these vital nutrients can improve recovery and lessen the amount of muscle soreness you may feel, thus keeping you primed for whatever workout comes next and enhancing your sports nutrition and diet.
By improving bone mass and building muscle, you will start to get that toned aesthetic you have been seeking and will be able to properly lose body fat to use it for energy in the process of muscle protein synthesis. This will help change your body composition. With other benefits like assisting in immunity, it is no wonder why these meals post training are so important with some of the best foods to eat for pre and post workout nutrition to build muscle and assist in weight loss.
#1 High Protein Peanut Butter Cup Milkshake
Who doesn't love a Reese's Peanut Butter Cup? This milkshake will curb that sweet tooth all while giving your body the proper nutrients to recover. Blend this up at any time of the day for that sweet treat feel minus all the sugar. Take on the go or enjoy on the couch, but either way, this milkshake is sure to be right up everyone's alley. For an added bonus, toss in your favorite protein powder and combine a post training meal with your protein shake into the perfect meal for your post workout nutrition or post workout snack for weight loss and muscle growth.
Ingredients:
¼ cup peanut butter
2 medium bananas
1 ½ cup of low fat milk or almond milk
1 Tbsp cocoa powder
¼ tsp vanilla extract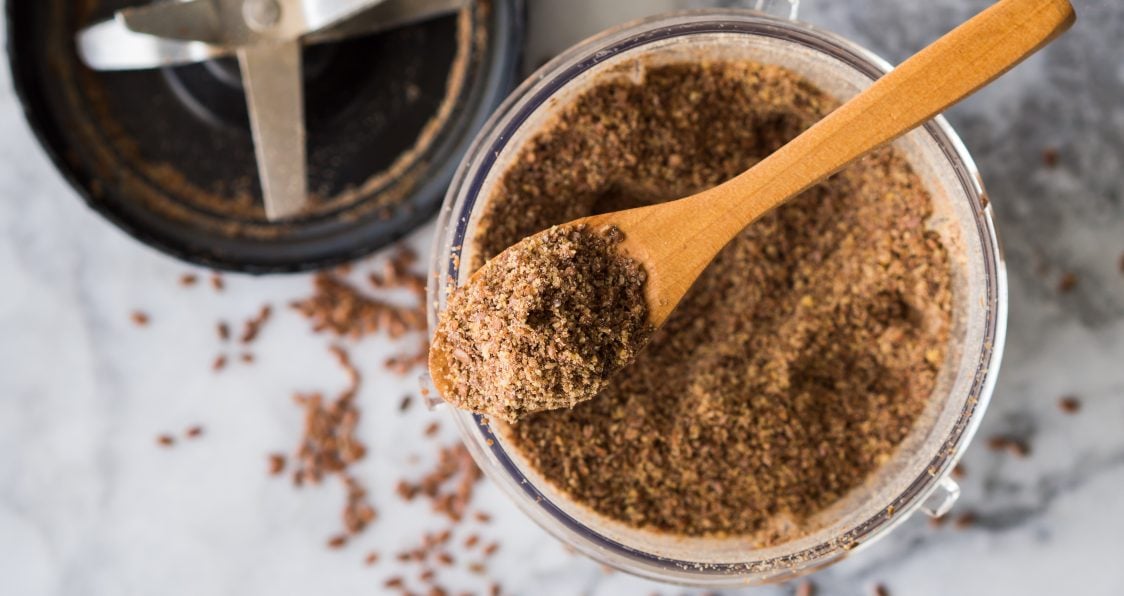 Method:
Add ingredients in a blender with desired amount of ice. Blend until smooth or desired texture.
Top with any desired topping of your choice such as mini dark chocolate chips, chopped nuts, or cinnamon.
Nutrition Info:
Calories: 250
Protein: 11g
Fat: 12g
Carbs: 29g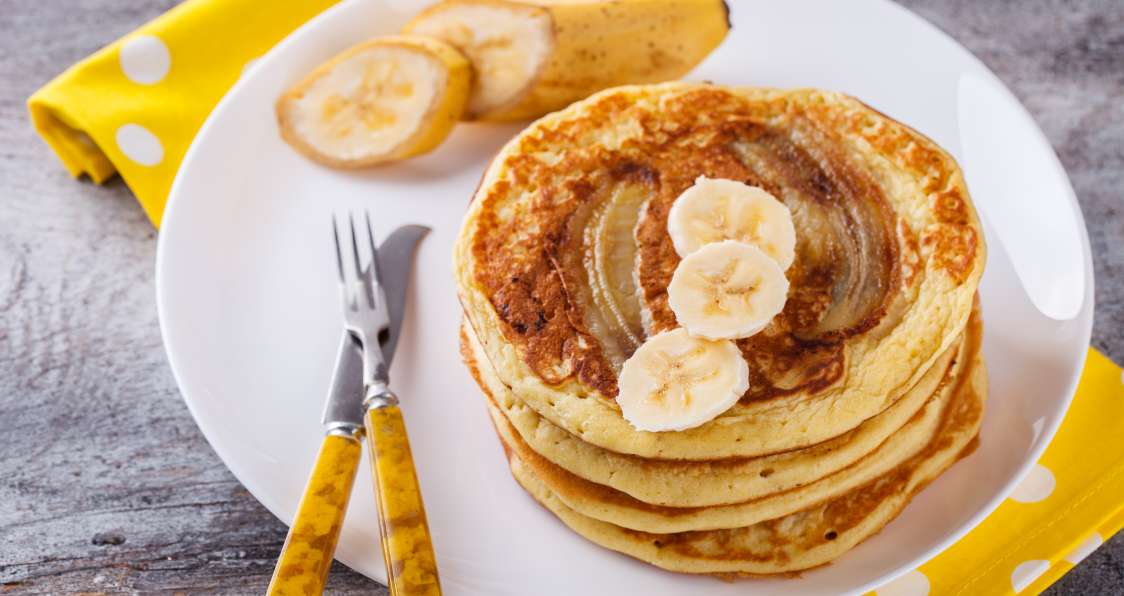 #2 Protein Pancakes
Everyone loves a good, thick pancake, but that burden put on by carbs can be quite the deterrent. These protein pancakes are sure to give you all the feels of those thick, fluffy pancakes we all know and love without the guilt attached. Packed full of protein, these are great for those trying to get lean without sacrificing all the gains. For that extra love, find some sugar free syrup (or cheat a little) and enjoy pancakes the way you used to as a kid, just with a little extra health boost. The bonus: add whatever toppings you love on top for that sweet craving and high quality meal.
Ingredients:
4 eggs whites
½ cup of oats
½ cup of cottage cheese
1/8 teaspoon of baking powder
½ tsp of vanilla extract
Method:
Place all ingredients in a bowl and mix together. Add mixture to a frying pan and cook on medium heat. Once the pancake reaches a golden color with bubbles on top, flip over to the other side. Once cooked through, add whatever desired topping on top and enjoy.
Nutrition Info:
Calories: 421
Protein: 51g
Fat: 6g
Carbs: 39g

#3 Black Bean Egg White Omelette With Avocado
A good omelette is the perfect post-workout meal to ensure those gains stay right where they are. Everyone has their favorite add-ins to an omelette, whether it be peppers, onions, spinach, or a host of any desired topping. This black bean omelette is great because with the added protein of the beans, your overall protein intake is met without a second thought. Feel free to add whatever else to this hearty meal for your favorite omelette.
Ingredients:
4 eggs whites
¼ cup of black beans
1 cup chopped tomato
1 avocado
1 ounce of low-fat cheese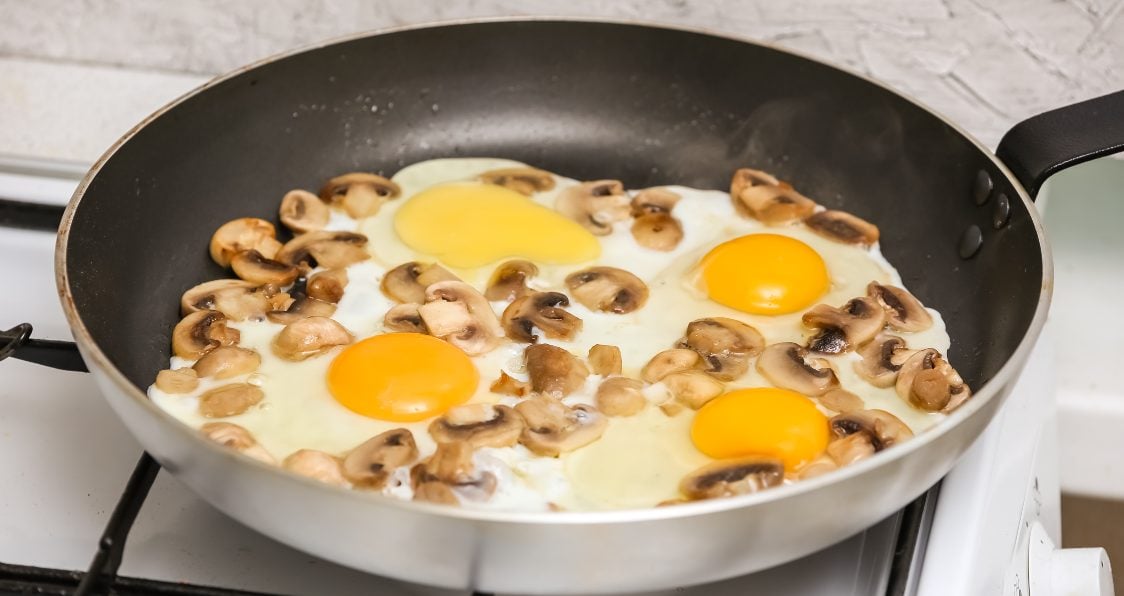 Method:
Pour egg whites into a frying pan on medium heat. Add black beans, diced tomatoes and low-fat cheese (or whatever desired toppings) on top of the egg whites. Once cooked through, flip half of your egg whites over to create the perfect omelette. Add diced or sliced avocado to your dish and enjoy.
Nutrition Info:
Calories: 431
Protein: 29g
Fat: 24g
Carbs: 31g
#4 Beef and Squash with Marinara
For those who enjoy a workout later in the day, this dish is sure to satisfy your afternoon, or even dinner, cravings. Satiate your desire for a hearty protein with beef and add that perfect pasta substitute of butternut squash or zucchini to feel great while enjoying this fun spinoff of pasta and meat sauce. Between the beef and the squash, your energy stores will feel recharged and your hunger will be suppressed offering a great post-workout meal.
Ingredients:
8 oz of lean grass-fed beef
1 butternut squash
4oz marinara sauce
Salt and pepper for taste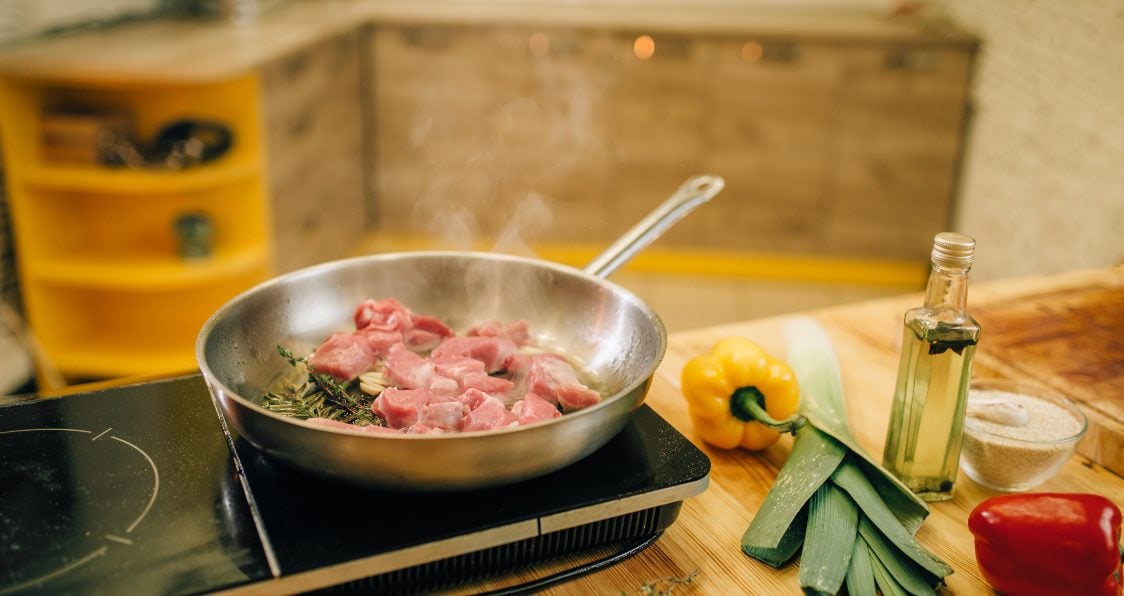 Method:
Preheat oven to 350 degrees. Cut one whole butternut squash in half and place in oven for 45 minutes, or until soft. Cook 8oz of lean grass-fed beef with salt and pepper if desired for taste. Once squash is done, carve out into a bowl. Add your beef inside and pour desired amount of marinara on top to create the perfect post-workout dish.
Nutrition Info:
Calories: 628
Protein: 70g
Fat: 18g
Carbs: 38g
Wrap Up
So, while these post-workout meals are sure to keep your hunger at bay, provide the much needed nutrients for recovery, and ensure big gains, it is important to remember to eat within a 45 minute window upon completion and to load up on carbs and protein for maximum benefit. If you are someone who has to have a protein shake after every workout, that is fine as well. You can do both. Having a protein shake right after will get you all those much needed nutrients and keep you full while you prepare and cook a quality meal for yourself instead of just a workout snack after training.
Fat is not bad to consume post-workout either, and although it may slow the absorption of the meal, the benefits still stand. It is best to maintain a 3:1 carbs to protein ratio, but if some fat happens to find its way into your post-workout meal, so be it. Your gains will not be disrupted. The idea that fat will ruin you should not deter you or keep you from enjoying certain foods because it isn't true. Everything in moderation is just fine for your health and fitness goals. This macronutrient is just as important as the other two for your diet.
Whether it be a quick snack like tuna and crackers or pita and hummus, or something more elaborate like beef and squash with marinara, the important thing is to give your body ample recovery so as to not lose the hard work you put in. Hydration and nutrition are key to a healthy body and a healthy mind so give these post-workout meals a try and let us know what you think. You should love the food you eat and love the process of making something you love to eat, especially if on a diet. Do not just suffer through a meal because you have to. Treat it as part of your training and really work to better your health, fitness, and performance overall as you drink plenty of water and eat the best foods.
Let us know what you think in the comments below. Also, be sure to follow Generation Iron on Facebook, Twitter, and Instagram. 
---
*Images courtesy of Envato