Is this the best multi-purpose bag to meet all your needs?
German-based 'Three stripes company' though has its roots in Germany, is truly a global company in the sportswear manufacturing business. Adidas AG is a multi-faceted company that continually brings you some of the best and varied sports shoes, apparel, and accessories worldwide. They also manufacture high quality and sturdy backpacks, duffel bags, and airliner bags. We present to you in this review, the versatile and multipurpose Adidas Defender II Duffel Bag, which can be a perfect bag for travel, gym, one-day trips, sports, and school needs.
Primarily designed to be a travel bag, the bag is more often used as a gym bag due to its spacious and many pockets available to store all essentials.
Managing your last-minute packing for travel will be a more manageable chore with these giant bags, and the sturdy make is sure to make it through rough use. The duffel bag has always been lamenting its mistaken identity for a gym bag (1). You can sure carry your gym essentials in it, it was not originally meant to serve the purpose of a fitness bag and was made of duffel cloth as against the modern-day polyester.
Let's get to read some of the pros, cons, and benefits of using these bags so that you know what you are getting for the price you pay.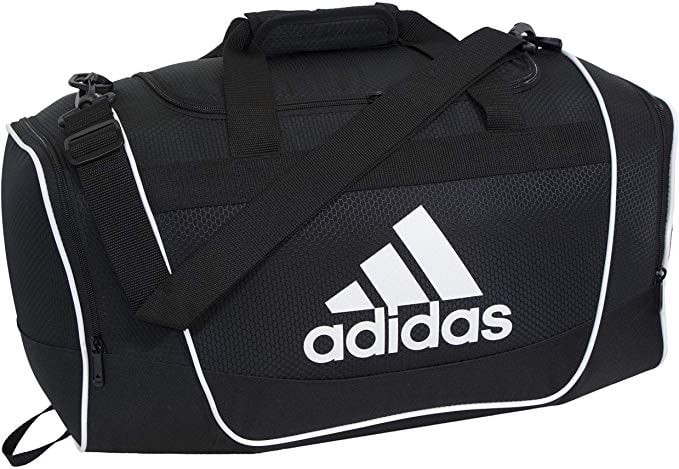 Pros
Made of 100% light yet sturdy polyester 3D ripstop material.
Choose from a variety of different hues and colors.
High-Quality Reinforced Zipper Closure.
Lengthy 26-inch shoulder drop.
Adjustable shoulder strap with soft and comfortable padding.
2 exterior zip pockets to keep all your accessories and gear organized.
It has an internal pocket with a zipper to hold valuables.
Fresh PAK ventilated shoe tunnel for both wet and dry storage.
It comes on three different sizes-small, medium, and large.
The extra roomy compartment that stands tall to facilitate easy packing.
Mesh pocket for keeping your wet/damp things.
Comfortable haul handles to facilitate easy carry.
It comes with a lifetime warranty, and hence it is a risk-free buy.
Cons
The shoulder strap on some bags have been reported to squeak.
Click here for the lowest price on Amazon
What goes into making this sturdy bag?
Made from highly durable polyester material to ensure it withstands the test of time. It will hold heavy items and will not give away easily. The material is known to repel water. Store your wet stuff in the bag without fear of it absorbing the moisture. It will also not stink like your leather bags if you store wet things in it as the polyester material dries faster.
The material is sure to repel water, but mind you, the bag as a whole is not water-resistant. Though you can make your way through a light shower without getting the contents in the bag wet, you might be disappointed if you happen to carry it through on a massive downpour day as water may seep in through the breathable side pockets.
Perks of Owing this Duffel  Bag
You must be wondering why to choose this bag over the others; we will give you enough reasons that you are sure to order one before you finish the article.
We did discuss the pros at the beginning. However, most of us are still wondering what's in it for me. Here are the benefits you will enjoy if you own Adidas Defender II duffel bag. You can use these versatile bags for more than just travel, starting from storage to your ultimate travel companion.
Ideal Travel bag – Use it for all your travel (2)needs. It stands tall, and you can easily fit all your clothes with or without those packing cubes, though we recommend using the cubes for convenient and organized packing. Stash away your shoes, floaters, and toiletries in the side zippered pockets. Keep all your valuables like a phone, wallet, etc. in the interior pocket.
You can also count the small version as your carry on for your air travel. Most airlines do allow them as carry-on luggage; however, it is better to check with the concerned airline company before you consider taking it along.
Gym bags – As I mentioned earlier, Duffel bags are often referred to as gym bags as they are a convenient way of carrying all your essentials in one bag rather than having separate bags for shoes, wet clothes, etc. The roomy compartment in the middle can hold everything from your clothes, fitness gear, water bottles, snacks, towels, etc. The sides pockets can hold you wet clothes from your work out. The separate compartment for your shoes makes the bag easy and accessible. A good gym bag is an essential part of your fitness routine, and so you can trust Adidas Defender II to be your loyal buddy (3) at Gym.
Sports Bag – The powerful yet light duffel bags also make an excellent sports bag. As per feedback from verified customers, these duffel bags can fit 5 sets of clothing, plus a basketball or football. Though you can fit quite a heavy baggage in these bags, you can carry it around with ease due to the padded shoulder straps.
Beach bags – Are you fond of going to the beach often, then you need this bag. Stash away all your beach essentials from towels, sunscreens, snacks, your kids' beach ball, and shovel, etc. to make your beach day a memorable one. You can quickly shake off the sand once you get home.
Storage – Experiencing space crunch at home? We have a way you can store those things that need a home. You can choose to store your clothing, camping gear, or any other stuff than necessarily do not have space in your closet. You can neatly arrange it in this bad and put it under your bed. The advantage is that you can sneak it anywhere because of its flexibility.
Help with moving – If you are moving homes or apartments, you can use these duffel bags to transfer your personal belongings, hats, scarfs, towels, bedsheets, pillowcases, etc.
Use it as your baby's daycare bag – Pick this trendy multi-purpose bag to keep your  baby's essentials such as sippers, milk bottles, diapers, and clothes when you drop him off to the daycare.
Is it a durable option to own?
Designed to last long, these duffel bags are sure to give you the best value for money given that it is coming from a reputed sports manufacturing company such as Adidas. The base material is hard enough to withstand everyday use and comes with sturdy straps and handles. Lifetime warranty is an added advantage though the product is built to last long.
Make sure you follow the tips to wash and keep the bag clean to ensure it has a longer life. A gentle wash by hand and line dry is recommended. It is not advisable to bleach it.
Where can you take your duffel bag to? 
You can take it to the gym, to camps, when on day trips or picnics, on vacations as your travel bag, to the club, sports arena, are few of them to mention.
My story of owning this durable and multi-purpose duffel bag?
Tired of trying different bags to hold my gym essentials, I zeroed in upon this beautiful bag after much research on the internet. I wanted to buy the medium bag, but after going through the pictures and the reviews, I decided to settle for the small one. I should say that little is big as it fits all my gym clothing, showering stuff, lotions, perfumes, and other makeup stuff perfectly. Do not forget to mention that shoes have a convenient tunnel to fit in. You know the typical girly thing to do is to carry your home wherever you go. So, I was saying it is indeed an ideal way of carrying my baggage to the gym.
However, it is a bit disappoint to know that the small version did not have the required shoulder padding. That is sure not a big deal as the luggage is quite heavy for the small bag. I also use it for my overnight stays at my friend's place, camp trips, and even for my weekend getaways.
I have also persuaded my gym friends into moving to this monster bag as it pretty much holds everything without giving you the bulky feel.
What does this bag cost me?
The price of the small size duffle bag is around $29; the price differs as per the size. Cost-wise, these branded bags are sure on the higher end than the other options in the market. You can look at it as a one-time expense to meet all your baggage needs. Easy access, multi-functionality, and durability that you get are worth every penny you have spent for this bag.
Overall Rating
Durability – 9/10
Design – 8/10
Comfort – 8/10
Price – 9/10
Final Thoughts
We have discussed at length on this vital necessity to keep your travel and gym plans go as planned. Now you will not shy away from hitting the gym for want of the ideal bag to carry all that is required for a healthy workout. Invest in this multi-purpose bag to cater to all your different needs. It is like one bag for all your many needs. You will also be surprised to get quite a few compliments on your new Adidas Defender II duffel bag, be it on your travel or elsewhere.
'gym bag' – https://en.wikipedia.org/wiki/Duffel_bag
"Holiday travel advisory". WebMD.https://www.webmd.com/healthy-aging/features/safety-during-holiday-season#1
Mayo Clinic Staff . Travel workout: Fitness tips for business travelers.