Is This The Best Sneakers For Crossfit Training?
Wish to advance your Crossfit training to the next level? We are here to help! Adidas Powerlift 3.1 Cross Trainer is the best option for you.
Adidas has come up with a variety of weightlifting footwear to choose from. Their Powerlift models are the budget-friendly options available. They have advanced in popularity since their first release for multiple reasons.
Adidas Powerlift 3.1 is a great weightlifting sneaker that allows you to improve your Olympic lifting training sessions. It is specially created for trainers who require motion control and stability. It powers them to advance to the next maximum lift numbers. To attain this, these sneakers have a solid base, high density, and wide midsole. Among the weightlifting footwear category, this model is at the entry-level. It also comes with a price range that is about 50% less than its counterparts.
Powerlift 3.1 is best suited for lifters and not non-lifting workouts. The features that make it suitable for weightlifting (1) is what makes it unique. These sneakers allow you to spread out your toes to achieve wide squats. However, it has a tighter fit than your running or training footwear. It's because, during lifts, extra foot movement may result in loss of balance or hyperextend the ankle and foot joints.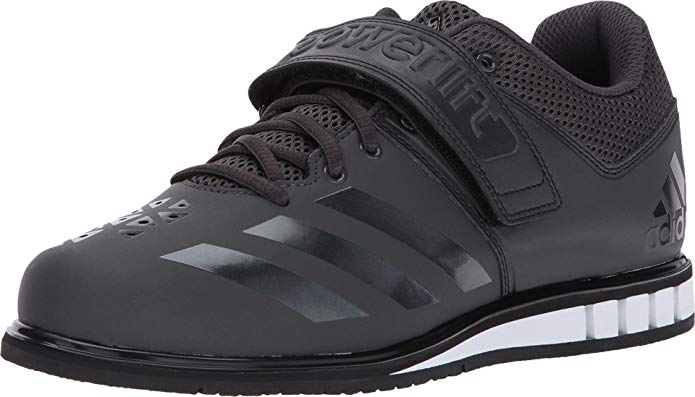 Pros:
Outsoles have an anti-slip rubber material.
Sturdy and durable.
Better strap features compared to the Powerlift 2.0 model.
It has a lot of air vents.
It offers excellent value for the price paid.
It comes with high heel height.
Cons:
The forefoot flexibility is comparatively less.
Click here for the lowest price on Amazon
Product Specifications 
Every feature of this footwear enhances your lifting ability. It allows you to practice and become stronger with progressive resistance. With a weight of about 15 ounces, it is lighter than Leistung and Adidas AdiPowers models.
Heel:
The heel consists of ethylene-vinyl acetate or EVA. It's a Polymer obtained from vinyl acetate and ethyl derivatives. Vinyl is commonly used as seat material, pad cover for a weight bench, and as a shield for cement-filled dumbbells. It is capable of retaining shape and maintaining durability. When combined with ethyl, vinyl can withstand scratching, heat, and scuffing. The padding ensures a high level of comfort to the feet.
Upper:
The upper contains a mix of synthetic mesh and soft leather for proper ventilation. Breathable material used prevents overheating of the feet and growth of foul-smelling bacteria inside the footwear. Hence its suitable for lifting exercises where you move around a lot generating heat.
Midfoot Strap:
Midfoot strap conceals the tied portion of the shoelace. Preventing them from becoming loose or hooking on to anything. As the belt is short, you don't have to worry about dragging it on the floor while wearing it. Even though it is a small aspect, it shows that Adidas pays attention to details and responds to customer's feedback. Midfoot strap is a new improvement from the previous models.
Toe Box:
Using the same synthetic and leather combination, it has sufficient foot space. You can spread your toes but large enough to wiggle and flex around. It comes with vent holes that subside sweat and enables heat transfer. A breaking point is not required; you can stretch it to conform and secure a snug fit. The open toe-box also offers good flexibility.
Soles:
The soles are entirely flattened without any flex grooves. This offers a stable and flat surface that allows you to focus on lifting the weight upwards. The EVA polymerized heel is further hardened and raised to 15 mm height. In turn, this decreases the strain on the ankles. It also helps you to go deep into squatting, which gives excellent lifting support.
Velcro Strap:
Powerlift 3.1 has a single Velcro strap along with laces. It allows you to keep your foot in place and prevents lateral moments while lifting weights. Padded mesh tongue avoids all sorts of discomfort to the foot arch as you lift heavy objects. The shoe lining and collar has an air mesh which provides good breathability and comfort. The strap is slightly thicker compared to the previous model. This aspect gives it a more secure fit than Powerlift 2. You also need not worry about strap overlay while pulling the strap tightly
Heel Cup:
It comes with an extremely secure heel cup area. It ensures stability so that your ankles won't roll around while lifting heavy irons. The front portion is narrower than any other standard sneakers. Further, this gives a tight-fitting where you feel your toes are securely locked down.
Outsoles: 
It provides maximum grip on the ground due to the presence of anti-slip rubber. The EVA soles have better compression than the TPU options.
Benefits
The various beneficial aspects are as follows:
Comfort:
These sneakers are not meant for walking long distances or for running errands. Instead, they are well suited for lifting heavy iron weights. The arch and the midfoot area are more flexible than most lifting shoes. As for the padding, it not only keeps your foot in place but also offers excellent support as you move weights. Lastly, footwear has a perfect snug fit. That is, it isn't too small to pinch your feet and cause painful sores. In turn, this makes it comfortable enough to twist and turn around without hurting your ankles.
Sensitivity:
It comes with high sensitivity at the forefoot, which is essential for weightlifting footgear. From the ball up the feet to the heels, stabilizing heavyweights, bulky items can cause sensitivity loss. However, this gear is fully equipped to handle this concern.
Overall Fit:
Though it may seem tight initially for beginners, this footwear is true to its size. It closes in over your feet and gently takes shape after a break-in, with the help of the strap. Few users have opted for a size up, which is not advisable. As excess foot room can cause injuries during squats. Powerlift 3.1 Adidas model has left sufficient spacing, which gives a firm foundation for deadlifts, squats, and jerky movements.
Durability:
The light-weighted leather and mesh material offers excellent resistance to abrasions and scuffing. The EVA heel comes with high-density material that cannot be easily compressed. These features make it better suited for long term use.
Value:
The shoes offer great value as it is packed with everything you will require for your lifting session. It makes sure you're aware of the weight that you can carry to prevent injuries. It also gives importance for correct form and focuses on power and strength.
Style:
Do you care about style and visuals? Well, Adidas has done everything possible to make this footgear as appealing and clean as possible. It also gives off a typical gym vibe. The hard and chunky soles come with an accent pattern. You will also find that the straplines are entirely in sync with the space allotted for them. Adidas logo and the 3 stripes are also visible. The synthetic material used offers a sleek and futuristic style. Lastly, to match the aesthetic and mood of the users, it's available in a variety of vibrant solid shades.
Is It A Safe Option?
This weightlifting foot gear offers excellent stability and sturdiness. It is different from the standard weight lifting sneakers. This is because it has a slightly lower heel, which has a tremendous shock-absorbing capacity. The presence of heel straps gives the user a comfortable and snug fit. It prevents your ankles from twisting and turning and causing injuries. All these beneficial features make it well suited for CrossFit competition and training sessions (2).
My Take On Adidas Powerlift.3.1 Cross Trainer 
I feel this footgear is the best option. As it is suitable for lifting weights 3 to 4 times a week. Beginners will find that they can move onto the next high lifts quickly (3). Never worn weightlifting sneakers before? Wear these and see them! You will find that it boosts your confidence levels. The additional heel height also enhances your squat efficiency.
Eat right and train hard using the shoes, and you will reach where you need to be with perseverance.
Pricing
Powerlift 3 is the best low-priced footgear available. With a starting price of around $70, it goes all the way up to $199.00. You can also get them from various online platforms for lower costs. For trainers on budget, these award-winning sneakers are the best to go to the gym. With a stable heel, this cost-efficient one is perfect for using kettlebells or barbells.
Overall Ratings 
Flexibility – 8/10
Breathability – 8.5/10
Stability – 9/10
Durability – 9/10
Comfort – 9/10
Style – 9.5/10
Final Thought 
The Adidas Powerlift 3.1 is a great sneaker that comes with enhanced features. Are you on the hunt for specialized footwear? Look no further as Powerlift 3.1 caters to your needs. It will help you to do standard Olympic weight lifts such as deadlifts, squats, and overhead presses. As they are well designed using durable materials, you can be well assured of a reliable job. Go ahead and get a pair for yourself before it runs out. Also, feel free to share your feedback with us.
References:
1- Wilcox, Julie. "The Health Benefits Of Weightlifting And The New Science That Supports Strength Building".
2- "CrossFit Games – Wikipedia". en.m.wikipedia.org.
3- Miranda Hitti. "Beginners Take Weightlifting Too Easily". WebMD.