Everything to know about this top of the line deep tissue massage gun.
Product Overview
We all know the benefits of stretching before, during, and after a workout. Keeping us flexible and injury free, a solid stretch can just feel good all around. For many of us, a good massage can loosen up tight muscle and that deep tissue grind might make us wince, but we know in the end how good we can feel. But over the past few years, handheld vibrational electric massagers have become very popular, bringing us the best of both worlds. For bodybuilders, competitive athletes, avid gym-goers, or everyday people, these handheld devices have worked wonders and are increasingly in high demand.
ALKAI M1 Deep Tissue Percussion Massage Gun brings all of the great health and wellness benefits of a massage for those looking to enhance their physical performance, support recovery (1), and aid in muscle soreness and stiffness. Whether for a pre-workout warmup to increase blood flow and prep the nervous system for activity, a mid-workout relief of tight areas to keep performance high, or a post-workout recovery to relax the body and support growth, this massage gun will provide you the opportunity to maximize performance and your overall wellness.
Save 10% off by using code MFPDCYJY at checkout
ALKAI has constructed a well-built massage gun at an affordable price to bring the benefits of a massage into an easy to use, handheld device. Committed to providing a high level of customer service, they bring you a great product to back their claims of high-quality and effectiveness.
ALKAI M1 Deep Tissue Percussion Massage Gun Highlights
The ALKAI M1 massage gun offers a unique product with really great features that should be a part of every massage gun. With four levels to choose from, the intensity can be altered to fit your desired needs for use at home, in the office, or elsewhere. Its powerful percussion massage therapy offers 30 lbs. of pressure to be applied for a powerful massage to target lactic acid build-up, pain, and tension, with the added benefits of increased blood flow and range of motion. With up to 20 hours of use off of one single charge, this massage gun holds a constant power supply to be ready for whenever you need it.
With six interchangeable heads, each is designed to target specific needs and its great LCD touch screen offers all the information you need for an easy to use machine. Quiet and easy to grip, the ALKAI M1 holds all the benefits of a high quality massage to improve sleep, increase mobility (2), but more importantly, relax, recover, and enjoy the benefits of a quality massage from the comfort of your home.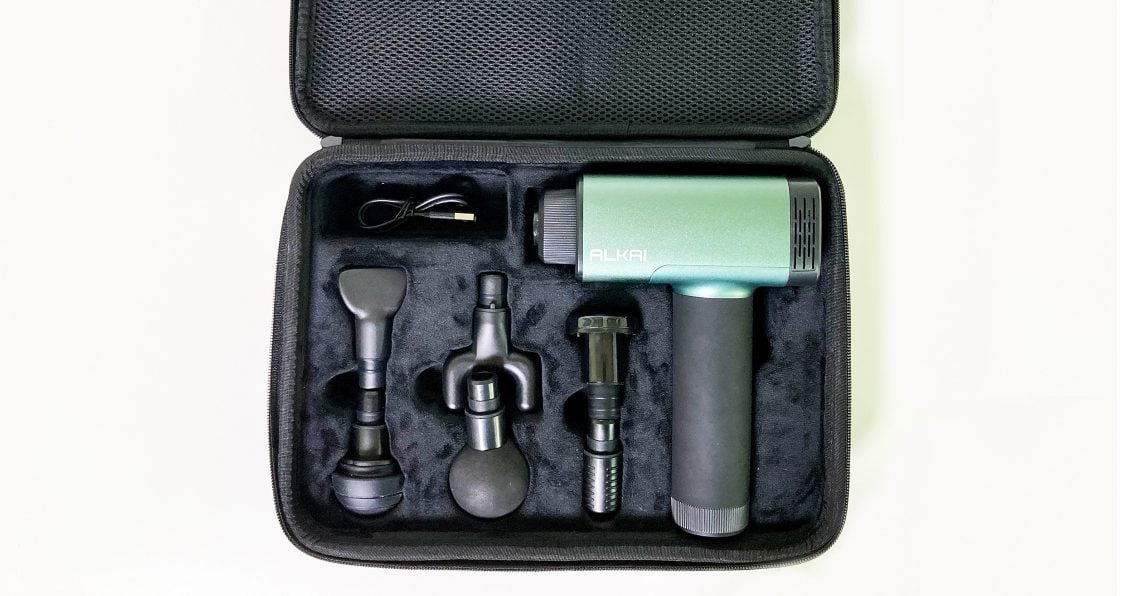 Product Details
Mode & Speed Settings
ALKAI M1 holds three modes with 12 speed levels, each mode allowing for four speed settings. The Fitness Mode is geared towards athletes and those avid gym-goers looking for much needed relief after a long workout. Perfect for any point of your workout, this mode allows for increased blood flow and muscle relief. The Medical Mode is perfect for those looking to target specific points of tension to get rid of nagging pain as a result of exercise or everyday life. For relaxation, the Health Mode will provide relief and leisure for those seeking a gentle, yet effective massage.
Fitness Mode
Level 1- 2000 RPMs
Level 2- 2400 RPMs
Level 3- 2800 RPMs
Level 4- 3200 RPMs
 Medical Mode
Level 1- 1400 to 1800 RPMs
Level 2- 2000 to 2400 RPMs
Level 3- 2400 to 2800 RPMs
Level 4- 2800 to 3200 RPMs
 Health Mode
Level 1- 1000 RPMs
Level 2- 1400 RPMs
Level 3- 1800 RPMs
Level 4- 2200 RPMs
Six Massage Heads
This product comes with six interchangeable massage heads, each designed for various treatments on different muscle groups. The component between the massage gun and each head is durable and will not deform as a result of high temperature from continuous use. The ball-shaped and flat heads are great for full body relief, while the cone trigger is perfect for targeting spots of pain. While your back takes quite a beating in workouts or from sitting at a desk all day, the fork and spade-shape heads are great for getting the spine and middle region of your back. ALKAI M1 also includes a unique heating head to support muscle relief.
LCD Touch Screen
The LCD touch screen is easy to use and without the complexity of other massage guns. You can keep an eye on the battery life, which holds 9-20 hours of continuous use off of one charge, as well as usage time and the level of your desired mode. To adjust the settings of mode and speed, touching the '+' or '-' makes for easy adjustments in speed.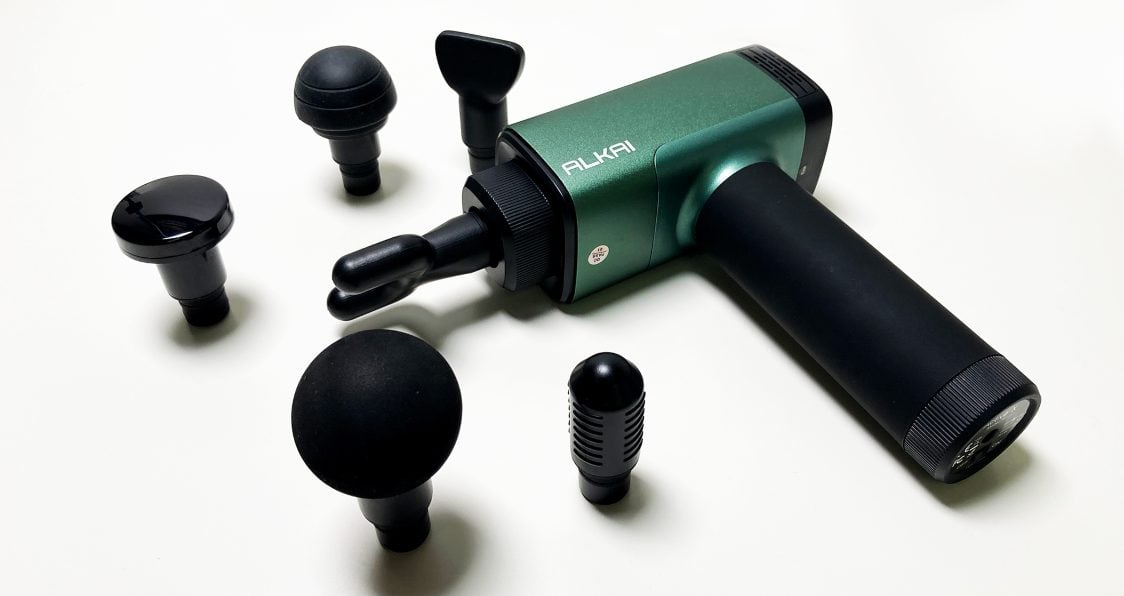 Price & Effectiveness
The ALKAI M1 runs for $169.99 and although slightly more expensive than other massage guns, offers great benefits with unique features to target all of your needs. With powerful percussive ability, this massage gun is effective for any type of person, whether they be an athlete, fitness junkie, or someone looking for relief after a long day. The six interchangeable heads offer diversity in your ability to focus on specific areas of the body in a safe and effective way.
Overall Value
The ALKAI M1 Deep Tissue Percussion Massage Gun is a great tool to aid in recovery and relief while enhancing your overall performance. With multiple modes and efficient levels of speed, its multi-use abilities far exceed others on the market. With unique features, ALKAI has created a powerful, yet quiet and safe massage gun to keep you running at maximum capacity. While the price may be high for some people, the benefits outweigh the cost. What you are really buying is a top of the line massage gun from a company who prides themselves on high-quality customer service with a unique product to fulfill all of your at-home or on the go needs. While this may not replace a traditional massage, it is a great machine to have on hand to save money and time.
Save 10% off by using code MFPDCYJY at checkout
Shop ALKAI M1 Deep Tissue Percussion Massage Gun Here
Let us know what you think in the comments below. Also, be sure to follow Generation Iron on Facebook, Twitter, and Instagram. 
References
Dawson, Lance G.; Dawson, Kimberley A.; Tiidus, Peter M. (2004). "Evaluation the Influence of Massage on Leg Strength, Swelling, and Pain Following a Half-Marathon". (source)
Yeun, Young-Ran (2017). "Effectiveness of massage therapy on the range of motion of the shoulder: a systematic review and meta-analysis". (source)