Montgomery vs Morel.
Welcome to our ARNOLD CLASSIC 2016 PREVIEW FACE OFF – where we pit two of the top competitors against each other in a virtual pose off to see who we think will place higher during the Arnold Classic 2016 weekend.
We're creeping ever closer to the Arnold Classic 2016 and means we have more to breakdown before the first big bodybuilding event of the year. There are so many things to keep a look out for at this year's show, the Classic Physique division making it's first debut at a major competition. But we all know that the main draw is and always will be the Open Weight division that headlines the Arnolds every year. If there was a theme to pick for this year's show it would undoubtedly be youth versus experience and what better way to highlight that difference than with a comparison between a young up and comer against a veteran of the sport.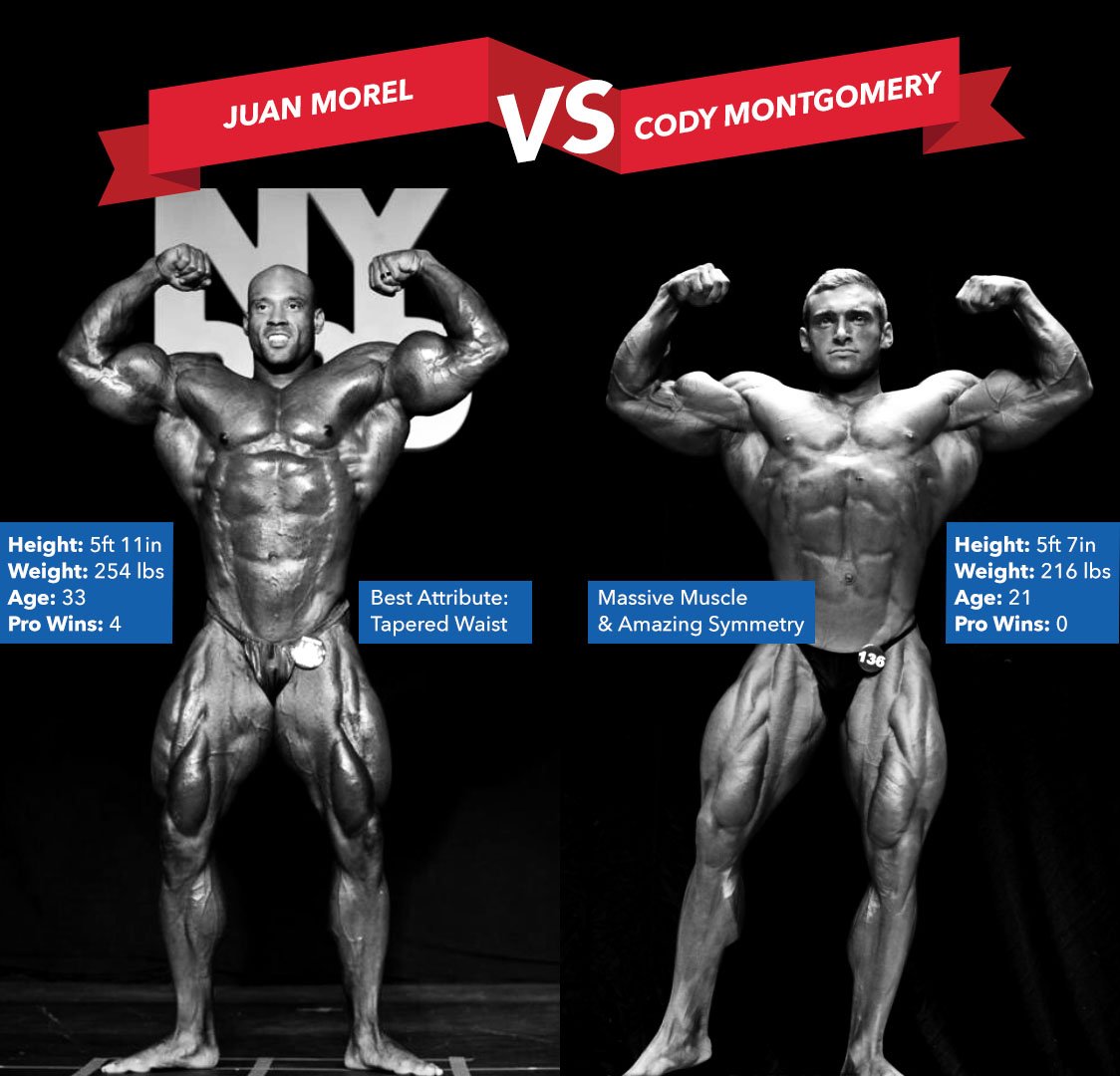 Cody Montgomery
Cody Montgomery is one of the young guns poised to make a big splash in bodybuilding. At the young age of 21 Montgomery has already made it to the IFBB stage and is hoping to start off his career with a big win at the Arnolds. Montgomery has won every competition he's competed in so we know he has the drive and ability to succeed. The major problem is that he's up against some of the greatest bodybuilders in the world who've seen it all before. This Cody's first pro competition and that means he's going up against athletes with way more experience. Despite having massive muscle and great symmetry, it may not be enough to overcome the veterans of the sport who have more experience at performing on the big stage. If compared to Juan Morel, Montgomery does have a decent chance, but even if his physique wins over the judges it's likely that his presentation will be lacking simply from lack of experience.
[wptouch target="mobile"] [/wptouch]
[wptouch target="non-mobile"][/wptouch]
Juan Morel
Juan Morel has been competing as a pro for five years now and still has room to grow. Calling Morel a veteran does seem premature considering his age, but when you look at the list of fellow bodybuilders he's competed against then it comes as no surprise. Morel has been on stage with some of the best bodybuilders in the game today. His experience taking to the stage against athletes like Phil Heath, Kai Greene, Victor Martinez, Big Ramy, and many more has given him confidence to face anyone in the world. His best attribute is his tapered waist which is made all the more evident by his mass musculature. His muscle maturity and time competing against the best in the world likely makes him the more impressive bodybuilder compared to Montgomery.
How well do you think Juan Morel and Cody Montgomery will place at the Arnold Classic 2016? Let us know in the comments and forums. Also, be sure to follow Generation Iron on Facebook and Twitter.
[wptouch target="mobile"]
[/wptouch]
[wptouch target="non-mobile"]
[/wptouch]