Terrence Ruffin wins Classic Physique at the Arnold Classic 2021.
The Arnold Classic 2021 was postponed due to COVID-19 and cut down to one day. There were a total of four events that took the stage in Columbus, OH — Men's Open, Classic Physique, Bikini, and Fitness. The results have been announced and it is Terrence Ruffin who wins the crown in the Classic Physique division. This is Ruffin's first win at the Arnold Classic after finishing second in 2020.
The Classic Physique division was extremely deep at this year's Arnold Classic. The top two finishers from last year returned, in Ruffin and Alex Cambronero. This also included some newcomers looking to make an impact. Bryan Jones and Peter Molnar led the way for the newcomers, along with Logan Franklin, who has competed at the Arnold Classic in the Men's Physique division previously.
The best poser award was also introduced to the Classic Physique division this year and the inaugural winner was Logan Franklin.
The full results have been announced. Check out our full breakdown of the Classic Physique division at the Arnold Classic 2021 results below.
Arnold Classic 2021 Classic Physique Results
First Place – Terrence Ruffin
Second Place – Alex Cambronero
Third Place – Logan Franklin
Fourth Place – Courage Opara
Fifth Place – Bryan Jones
Sixth Place – Fabian Mayr
Seventh Place – Dani Younan
Eighth Place – Peter Molnar
Ninth Place – Tony Taveras
Tenth Place – Jarek Crew
View this post on Instagram
Official Score Card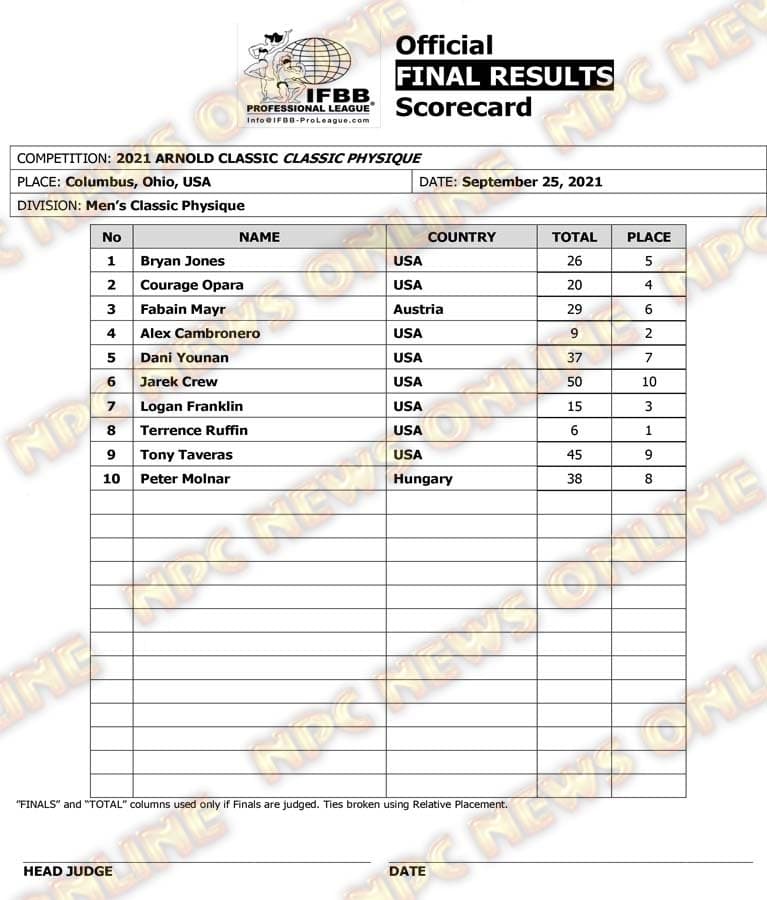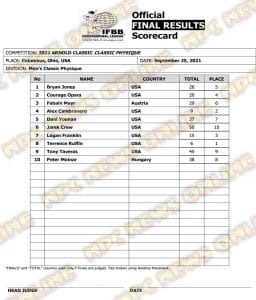 Generation Iron Fitness Network will be coverage the full Arnold Classic 2021 event including pre-judging reports, analysis, and results updates. Stay tuned to Generation Iron and visit our official Arnold Classic 2021 coverage hub right here!