Don't Wait to Experience instant and never before muscle recovery with Goliath By Dr. Emil BCAA Plus Glutamine Capsules…!!
Routine workout, physical fitness, and a healthy lifestyle are the keys to happiness in life. However, this routine is frequently affected by muscle cramps and damages. Muscle Recovery takes a lot of time, and medications bring various side effects. What can be the best way to treat this issue?
Get introduced to Goliath By Dr. Emil BCAA Plus Glutamine Capsules and bring an end to every problem associated with your muscles. It is rich in nutrients and delivers the right balance between health and fitness. It has various benefits and unique in its formula.
Why does this product seem the best overall?
Branched Chain Amino Acids, (1) have loaded benefits. This product has enhanced BCAA pills along with L – Glutamine(2), which increases the metabolism rates considerably. This, in turn, facilitates fast recovery and growth stack. It also has the ideal and optimal 2:1:1 ratio of L – Leucine, L – Isoleucine, and L – Valine. This ratio helps to prevent muscle fatigue, breakdown, and even soreness. It offers extended growth and support. Comparatively, it contains a higher dosage of 3200mg in the capsule form. If you are into regular workout sessions and that you are a bodybuilder, this product is definitely a must. No matter how low you go on your health, you will undoubtedly bounce back…!!
This product also has a strong background. It is introduced by Dr. Emil, who is a renowned medical practitioner and a highly respected authority in the field of supplement research. Hence, it is backed by science and enough research. They have proven to give positive results in all the tests conducted. Apart from providing muscle growth and recovery, it is said to prevent muscle wasting and breakdown as well. It gives synergistic energy after active workout sessions.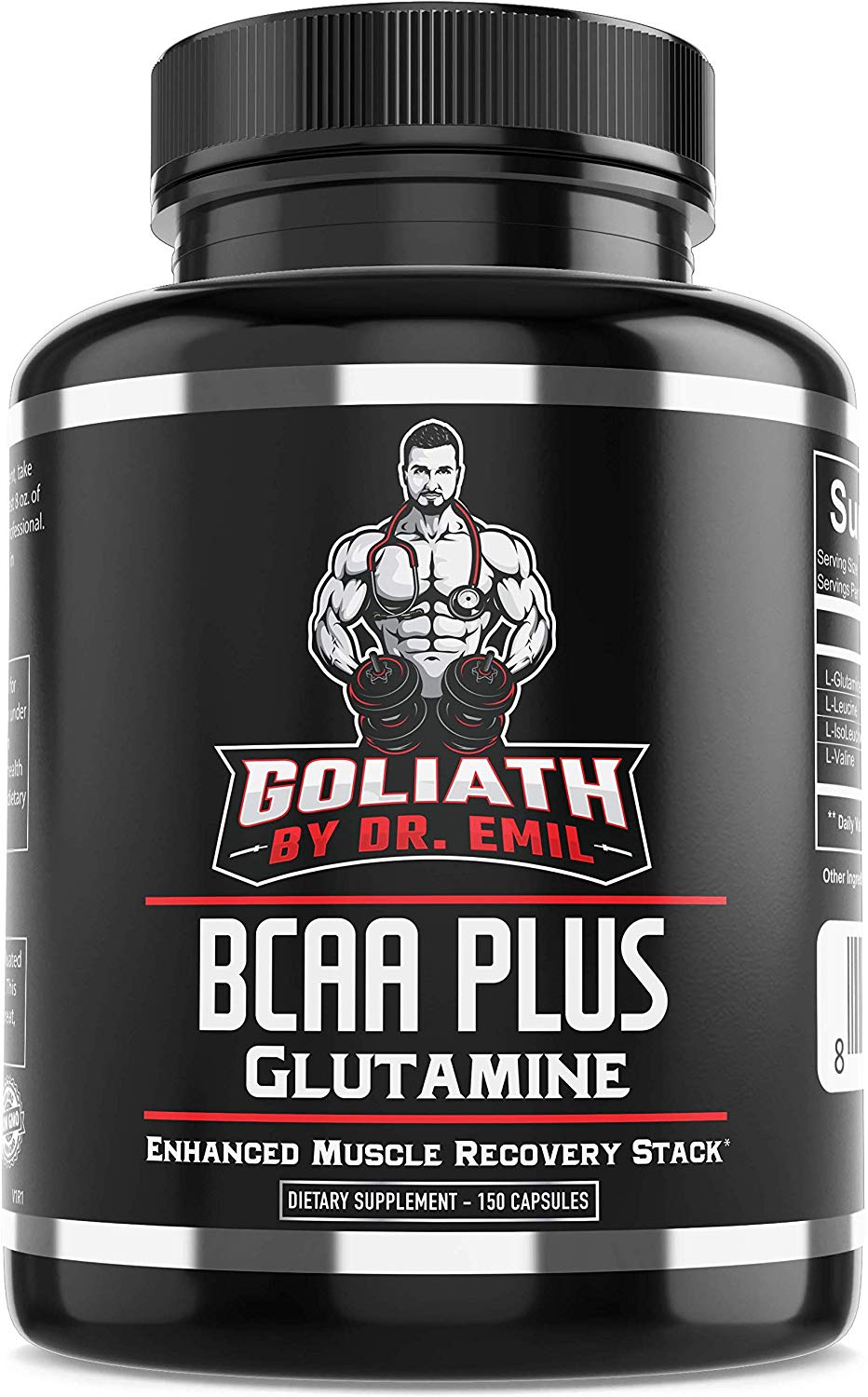 Pros:
●
It contains herbal extracts and natural vitamins and minerals
●
It does not contain any harmful additives, and hence no side effects
●
Non-GMO and gluten-free; free of hormones and allergens as well
●
Manufactured under GMP certified and FDA registered laboratory
Cons:
· Very sensitive people might get stomach problems initially
Click here for the lowest price on Amazon
Ingredients and Nutritional Information
The suggested servings are size five capsules, and there are 30 servings available in a container. It contains 1500mg L – Glutamine, 850mg L – Leucine, 425mg L – Isoleucine, and 425mg L – Valine. Other ingredients that require mention here is the Gelatin Capsule.
Benefits
Protein synthesis happens with 20 amino acids that combine differently. Out of these, nine are considered as essential amino acids and are not naturally formed in our bodies. We will have to consume it through our diet only. There are three amino acids; Leucine, Isoleucine, and Valine that are called BCAAs. They have substantial benefits to support our muscles in several ways.
Muscle soreness affects all of us after a heavy training session. It happens due to muscle tearing down during the session and can be treated by BCAAs. When protein breakdown overtakes protein synthesis, degeneration of muscle tissue is the result. It is a natural process and BCAAs are effective against that. Hence, the benefits of BCAAs are beyond expectations. Let us discuss the importance of the individual Branched Chain Amino Acids in detail so that it will help you in a great way.
L – Glutamine
Glutamine is an essential amino acid that serves as the building blocks for proteins. It exists in two forms L – Glutamine is just the predominant type. It can be produced naturally in our bodies. However, in some essential cases, it is required to be consumed as supplements. It can support and improve muscle recovery after intense workout sessions. It decreases muscle soreness and fatigue to a great extent. It can enhance the immune system of our body and provide high energy. It preserves the synthesized proteins and uses it as and when required.
L – Leucine
Leucine is a branched-chain amino acid that is available in the market as a supplement for varied purposes. It has given positive results in bringing and building strong muscles and providing energy. L – Leucine is known as the natural form of this amino acid and is very useful. It has proven to reduce muscle fatigue after heavy workout sessions and even exertion after prolonged exercise. It aids in the process of synthesizing proteins and helps reduce its degradation as well. This, in turn, prevents muscle soreness and fatigue as well. Tests and scientific research conducted in many parts of the world have proven this effect to be positive. It may not give you the required energy or the strength for effective performance; however, it certainly positively reduces muscle fatigue.
L – IsoLeucine
L – Isoleucine is another Branched Chain Amino Acid and is an essential amino acid that needs to be consumed as supplements. It gives you the necessary endurance and assists in the repair and rebuilding of muscles. It is a crucial intake amongst bodybuilders as they get the vital energy and help in the muscle recovery from workout sessions as well. This particular substance is broken down within the tissues comprising the muscles. It fuels the muscles during stress and increases protein synthesis and reduces protein catabolism.
L – Valine
L – Valine is an important essential amino acid. It helps in alleviating muscle disorders and regulates the immune system as well. It allows athletes and bodybuilders for the quick recovery of the muscle tissues. It increases muscle metabolism and endurance, as well. It promotes muscle growth and gives excessive energy. It recovers muscle tissues during any kind of physical activity. It also preserves the necessary amount of nitrogen and energizes the metabolism in the body.
Is it safe to consume this product?
Dietary supplements(3) are best to be consumed by all of us. It is merely due to a busy lifestyle that we fail to concentrate on our health. We tend to get disorganized with our food and exercise patterns. It reduces the level of immunity and strength as well. To recover fast and strengthen the muscles, products like these are the best as they contain natural ingredients and backed by research.
However, it is best to consult your doctor before consuming any kind of supplements. Have a word with the doctor and consume it comfortably and as directed.
When and how to consume?
Goliath By Dr. Emil BCAA Plus Glutamine Capsules are perfect and are effective if consumed immediately after the workout. As it is available in the form of capsules, it is easy to drink. It is an instant supplement and does not require any preparation. It would be best if dissolved in any beverage or blended to have it as a shake. It can be had with a glass of water. The suggested proportion is 5 capsules per serving. Taking beyond that can bring in slight complications, so just be aware of that fact.
My Opinion
There are certain features that I look at dietary supplements. On this note, for a supplement to work as muscle recovery, I expect it to be natural with no side effects. It should be easy to consume. It should be nutritious and support a healthy lifestyle. The hygienic manufacturing process is also a big factor that I always want to focus on as manufacturing processes highly impacts the quality of the product. Goliath By Dr. Emil BCAA Plus Glutamine Capsules fulfill these requirements in the best possible manner, and I suggest entirely to rely on it for a faster muscle recovery process.
How much does it cost?
This product costs $23 for 150 capsules. It is moderately priced and affordable for everyone. On average, this product costs around $13 – $50. However, the most important fact is that it is so valuable for the money you spend on it.

My Overall Rating Of Optimum Nutrition Platinum Hydrowhey Protein
●
Effectiveness – 9/10 Stars
●
Ingredients – 8.5/10 Stars
Final Thoughts
If you are not into the practice of staying fit and eating healthy, your body will certainly not be able to recover from any kind of muscle fatigue. It may be challenging to stick to a healthy routine due to various personal and professional commitments. Accumulating such a health condition can invite various health problems. We will have to take precautionary steps to keep us healthy in a natural way. These products can aid you well in that regard. They are healthy, serve the purpose of providing the desired recovery, and relatively fast in action. They are safe to consume and backed up with adequate research. It has fairly received good reviews from many users across the world which gives us the necessary confidence to use this product right away!
References:
1.     Tatpati, Laura L.; Irving, Brian A.; Tom, Andrea; Bigelow, Maureen L.; Klaus, Katherine; Short, Kevin R.; Nair, K. Sreekumaran (2010-2). "The Effect of Branched Chain Amino Acids on Skeletal Muscle Mitochondrial Function in Young and Elderly Adults". The Journal of Clinical Endocrinology and Metabolism. 95 (2): 894–902. doi:10.1210/jc.2009-1822. ISSN 0021-972X. PMC 2840857. PMID 20022987 –https://www.ncbi.nlm.nih.gov/pmc/articles/PMC2840857/
2.      "Glutamine: Uses, Side Effects, Interactions, Dosage, and Warning". –https://www.webmd.com/vitamins/ai/ingredientmono-878/glutamine
3.      "Office of Dietary Supplements (ODS)". –https://ods.od.nih.gov/