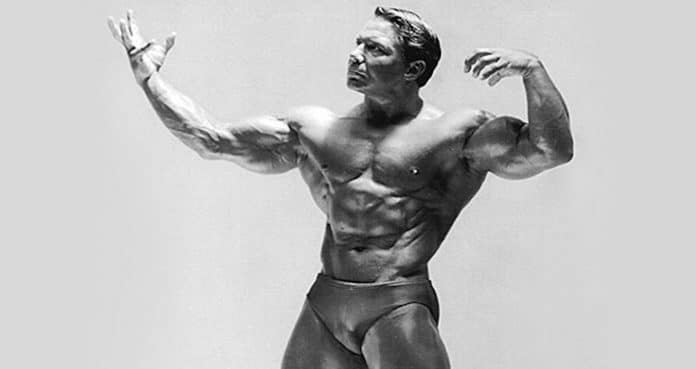 Golden Era bodybuilder Bill Pearl passed away in his home early Wednesday morning.
Former Mr. Universe champion and Golden Era bodybuilding legend Bill Pearl has passed away at the age of 91. Pearl, who enjoyed incredible success on stage, was battling Parkinson's disease and this might have played a role in his death. The news was announced on Wednesday by Pearl's wife, Judy Pearl, on his official Facebook page.
Pearl was recently involved in a mower accident and picked up a bacterial infection while he was in the hospital. He was able to overcome the infection thanks to "intense antibiotic therapy." Judy Pearl shared a long message on behalf of her husband.
"TO ALL OUR FAITHFUL FACEBOOK FRIENDS:

As you all know, Bill has overcome a lot of things that would have taken down a lesser man in this past year.

just as he was getting back in the gym after his accident, he developed a bacterial infection (pseudomonas) which he apparently picked up while in the hospital. after intense antibiotic therapy, he overcame that.

i believe the parkinsons finally defeated him.

he passed away peacefully at home at 4:00 AM this morning."
The Legendary Career Of Bill Pearl
At 22 years old, Bill Pearl served in the United States Navy. He was stationed in San Diego and began training at Leo Stern's gym. In 1953, he competed for the first time as a professional, winning the AAU Mr. California and Mr. America competitions.
That same year, Pearl won the first of four NABBA Mr. Universe titles. In 1956, Pearl captured the Mr. USA title. Aside from his career on stage, Peal began managing several gyms and even dabbled in owning. This includes his purchase of George Redpath's gym in 1962, which was one of the first co-ed gyms in the country.
Following his career on stage, Bill Pearl worked as a trainer, coaching nine Mr. America winners and 14 Mr. Universe champs. He also wrote three books, where he continued to share his knowledge of fitness.
Bill Pearl won six Lifetime Achievement Awards following his career from many outlets. In 2004, he was awarded the Arnold Schwarzenegger Lifetime Achievement Award for his incredible work in bodybuilding.
"All day yesterday he was fretting about his facebook page, and had me post a couple of things he had prepared.
He loved to share stories of other peoples triumphs and accomplishments.
he had written a lot while his page was down last year which he asked me to continue to post.
He so much appreciated your prayers and messages of encouragement after his accident. He loved reading your comments and arguments. It kept him occupied when he was unable to do much physically. Thank you all. I know we will all miss him," Judy Pearl wrote on Facebook.
Generation Iron sends condolences to the family and friends of Bill Peal during this time. For more news and updates, follow Generation Iron on 
Facebook
, 
Twitter
, and 
Instagram
.