Use These Dumbbells For Strength Training
Bowflex is one of several branded products marketed and sold by American manufacturer Nautilus Inc., which has a wide array of home exercise equipment.  In 2011, they stopped selling to gyms or any establishment that will use it commercially and just focused on personal consumption.  This makes me think that they value quality control to make sure that they're putting great products in the market by not overreaching their targets.  And if there's a particular item under its wing that stands out, that would be their pair of SelectTech 552 adjustable dumbbells.
This product is not exactly new, it was first released more than 8 years ago and has undergone a number of tweaks here and there since then, which is nice.  It reflects that the company heeds their market and once again, it is truly committed to providing an excellent product.
The adjustability of the BOWFLEX SELECTTECH 552 is its major feature – you can start with a minimum of 5 pounds to as heavy of 52.5 pounds using just one all-encompassing device.  With 2.5-pound increments up to 25 pounds (and five pounds thereafter),  you will have a total of 15 different weights, which you can toggle from one to the other with its quick dial system.  This means, you don't have to rack up numerous individual dumbbells just to work with variable weights.  I think this value proposition is very appealing, especially for those who have space-challenged personal gyms.
A pair of SelectTech 552s will add up to a total of 30 sets of weights.  I say that is more than enough for an average user to break a sweat.  But for the hardcore powerlifter, 52.5 pounds is a walk in the park.
The BOWFLEX SELECTTECH 552 Design
A set of BOWFLEX SELECTTECH 552s comes with detachable weight plates, 2 holder platforms (one per dumbbell), and a metal stand which is sold separately.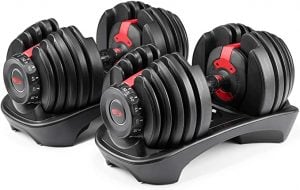 The first thing you'll notice is the innovative design and durable construction, which is quite impressive.  The dumbbells are slightly bigger than I anticipated, but afford you with a comfortable grip with their embossed rubber handle.  They are pretty much ready to use, no assembly necessary on your end – a perfect complement to any home or makeshift gym.
This being an all-in-one type of product, getting used to its wider and longer build may be difficult at first.  After all, it is not your typical dumbbell, which is something you can drop carelessly without serious damage.  You can't do this to a Bowflex dumbbell, what with its gears and a little more complex build.  Once you drop it, whether accidentally or not, it's pretty much irreparable.
The plates are made of metal which, although they are encased in solid plastic, they do not look cheap by any means.  As you shift your weights, you leave metal plates onto the platform.  Each transition feels seamless – it only takes less than 5 seconds, so you will not lose your momentum, especially if you're doing circuit training or drop sets.  I must say that they can get stuck and misaligned at times which can be disruptive.  You can fix them, however, with slight adjustments and they're good to go again.
While other users have noted the wobbly plates when you are engaged in the activity,  they should be no cause for worry.  Each dumbbell has a locking mechanism such that it ensures the remaining plates are secure enough that they won't slide off when in use.  And besides, it will be impossible for you to lift the Bowflex if the lock has not been triggered in the first place.  That said, you also have to get used to positioning your dumbbells correctly on the platform, otherwise, you will find them unyielding from the base.
As much as you'd like to lug this around when you want to change your workout setting just like a yoga mat, it will be cumbersome to do so.  Although it is compact, it is still bulky and heavy, so this is not really one of those things that you can easily bring wherever you please.  It is just a necessary evil that one must accept as a tradeoff to all the benefits you can gain from it.
The BOWFLEX SELECTTECH 552 Metal Stand
This one is an optional expense, but it is not without purpose.  It facilitates your routine without having to bend down every time you change your dumbbell load.  Because it is a bit pricey, others have resorted to buying alternative stands that are cheaper which I think should be ok for as long as it's sturdy and stable to hold your Bowflex dumbbells.
Dumbbells in general are great tools for strength training and muscle conditioning.  In fact, results from a study have confirmed high levels of muscle activation when resistance exercises are performed with just the use of dumbbells.  This is why they are often incorporated into rehabilitative workouts for those who have suffered from neck and shoulder injuries, and help even the elderly in dealing with physical weakness after a medical operation.
Meanwhile, let's go back to the BOWFLEX SELECTTECH 552 dumbbells.  There are many individuals who simply prefer the comfort of their homes where they can focus on their exercise without judgment from others.  Especially at times like these when there is restricted social activity outside, you will be glad to know that you can work with a variety of weights without having those traditional dumbbells in cumbersome shapes and sizes that eat up so much of your limited space – who has that room, anyway?
You can work up a pair of these Bowflex dumbbells (plus your commitment to fitness of course) to lift weights and work through a varied range of motion.
Here are some of the benefits backed by science about dumbbell training.
Activates and stabilizes the muscles
Dumbbells can be just as powerful devices as barbells.  According to this study, lifting dumbbells requires stability such that it activates muscle fibers in the process at a higher level than one who performs a bench press using a barbell.
Improves cognitive functioning
Dumbbells apparently do not only do your body good but your mind as well.  A research on the effects of a specific dumbbell training for older people with mild cognitive impairment such as dementia reveals significant improvement in their cognitive measures after being subjected to a 3-month momentum-based routine.
Lessens risk of osteoporosis
With lifting weights as part of strength training, you increase bone density and give rise to new bone as well.  This study suggests that aerobic exercises without weights do not have the same effect on bone density compared to activities that involve weight training.
BOWFLEX SELECTTECH 552 Adjustable Dumbbell Cost
These adjustable dumbbells are sold at over 300 dollars – it's neither chump change,  nor excessively priced.  To me, it is one of those things where you get the value of what you paid for.  You wanted a premium product – you pay for it, that's what it is.
BOWFLEX SELECTTECH 552 adjustable dumbbells
FEATURES – 7/10
BENEFITS – 8/10
COST -7/10
REASONS TO LIKE THE PRODUCT
Compact and versatile
High quality construction
Quick transitioning from one weight to the next
Eliminates need for multiple dumbbells
Priced accordingly
REASONS NOT TO LIKE THE PRODUCT
Still a bit expensive for some
Dropping it can be catastrophic
Not easy to transport
Conclusion
The BOWFLEX SELECTTECH 552 adjustable dumbbells are excellent alternatives to having multiple fixed types because most of us simply do not have enough room to accommodate bulky gym equipment. They are not by any means the perfect product, but they are good nonetheless.