The Selecttech 840 combines simple design and targeted results.
Bowflex is one of several branded products marketed and sold by American manufacturer Nautilus Inc., which has a wide array of home exercise equipment.  In 2011, they stopped selling to gyms or any establishment that will use it commercially and just focused on personal consumption.  A couple of years later, the company launched a revolutionary product in the form of the SELECTTECH 552 adjustable dumbbells.   Because of its tremendous success, they have added several product variants to their lineup, one of which is the BOWFLEX SELECTTECH 840 adjustable kettlebell.
Staying true to their selling point, the SELECTTECH 840 presents itself as versatile as its predecessor by being an all-in-one adjustable kettlebell.  It is yet another option for the workout enthusiast looking for the perfect solution to having limited room without compromising his need for total fitness.
Kettlebells are some of the best free weight devices you can use for aerobic exercise and strength training in the gym or at home.  You have these routines that range from beginner to advanced depending on the weight you work with.  It could be that the more difficult it is, the better.  Anyone who's out there wanting to burn some serious fat will likely take on that challenge.
BOWFLEX SELECTTECH 840 Adjustable Kettlebell Features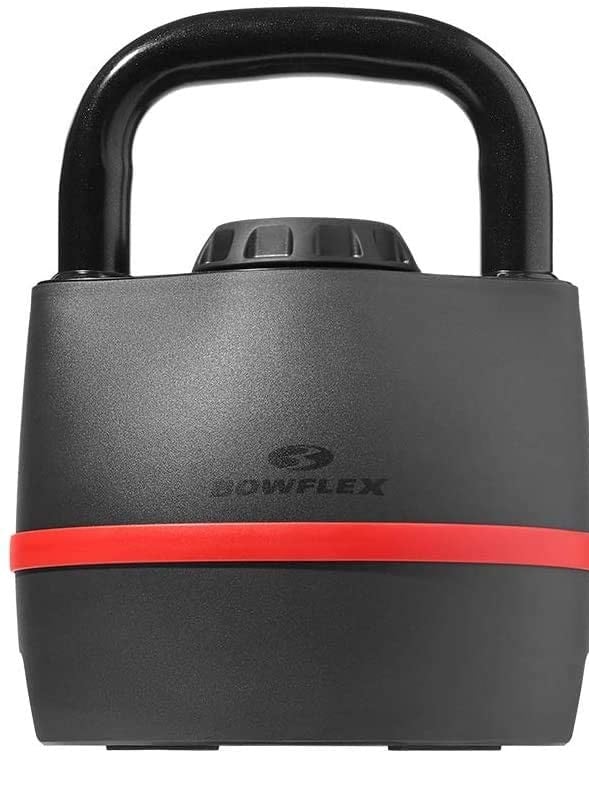 No space? No problem. 
Typically, having a small space at home will limit the tools you can buy or set up, and even restrict your exercise movements.  This makes the BOWFLEX SELECTTECH 840 worth considering because it's practically the size of your kettle hence, an automatic space saver.  It has a diameter of roughly 7 inches so I can manage to leave it anywhere in the house without it being an eyesore or hindrance.  That said, it effortlessly serves as a constant reminder for me, almost as if calling my attention to use it.
Click here for the lowest price on Amazon
First impression on the BOWFLEX SELECTTECH 840 is that you will like its modern design, which actually looks more like a kitchen appliance (again, that kettle) than a piece of gym equipment.  As mentioned, it is an adjustable type, it has six incremental weights beginning 8 pounds up to 40 pounds (or 18 kilograms)  hence the 840 name.
You can shift in between weights by simply turning the rotary dial.  It is similar to the BOWFLEX 552 where metal plates are placed onto the cradle when reducing the load.  The different weights on the SELECTTECH 840  are basically nested in its shell interior.  They are exposed  from the open bottom of the kettlebell, which makes you wonder if they will accidentally slide off, especially when you're swinging it.  It even makes a rattling sound when in motion.  Thankfully, those fears are unfounded.
Just like the 552, the BOWFLEX SELECTTECH 840 kettlebell has a locking mechanism as well that prompts the user to return to the cradle before adjusting the dial.  In its entirety, this device looks a lot larger than your standard cast-iron fixed weight kettlebell.  After all, it houses six weights in one product.  Still, it is relatively compact, you can even do lifts while watching your favorite TV show on the side, which kind of distracts your mind from the heavy load.  And before you know it, your workout just went by faster.
Let's talk about the handle:  it has enough width that will accommodate both of your hands, especially when doing those goblet squats.  Some users have found its wider width a bit awkward, especially when you do twists that can cause it to hit other parts of your body.   This issue though, could very well be just a matter of  individual preferences.
Personally, I like using this tool with two hands.  It was fiddly for starters, but I've gotten used to it after a while.  It seemed scary to lift it overhead.  The trick though is to hold it firmly on the sides of the top handle, which makes it horizontal when it is at the top of your head.  Dialing between weights is also quick and keeps you in the zone.  When your current load becomes a bit much, you can simply return it to the cradle and adjust the dial to a lighter weight.
BOWFLEX SELECTTECH 840 Adjustable Kettlebell Advantages
Kettlebells or dumbbells
It's not surprising if there is confusion in choosing between a kettlebell and a dumbbell.  After all, they serve the same purpose as free weights.   It's not as clear and straightforward as hopping on a bike when you want to spin, or taking on the treadmill if you like to do a stationary run.
So how do you know which weight device to choose for strength training?  Actually, it is not just a matter of preference.  Technically speaking, you can use either of the two devices because what it comes down to is you are handling the proper weight.
According to a study though, there is no marked difference in muscle activation whether you are using a dumbbell, kettlebell or barbell even.  It has been found, however, that kettlebells have shown more muscle activity that strengthens the medial hamstring when doing squats compared to other types of free weights.
It appears that there are specific exercises that are optimized when you use a kettlebell instead of a dumbbell.  Many fitness instructors recommend using kettlebells for higher intensity weight routines like single arm swings, cleans, and racked lunges.
The shape of the kettlebell gives it a slight advantage – it is spherical with a top handle.  As such, its weight distribution will differ from that of a dumbbell, which has two weights on opposite sides and a handlebar in between.  That said, functional movements with a kettlebell is best handled by someone who has more weight training experience and therefore more adept with the way it distributes the mobility weight.
Having this all-in-one kettlebell product may be a blessing, but of course, it will not replace the fact that it is still better to have individual kettlebells with more varying weights.  But then again, that depends on the skill of the user, and if you have a spacious room for them.  For an average person, however, this will suffice unless you want something less than 8 pounds, then this tool is not for you.
BOWFLEX SELECTTECH 840 Adjustable Kettlebell Cost
You can grab the BOWFLEX SELECTTECH 840 for 150 dollars.  It's definitely on the higher end compared to competition that is just priced a little over 100 dollars, so it may not appeal to everyone.  It comes down to branding and to be fair, its quality and versatility reflect this price.  Come to think of it, if you will match it with six individual fixed weights, you might end up paying about the same if not more.  Then, it will also hog more space than you may be comfortable with.
BOWFLEX SELECTTECH 840 adjustable kettlebells
FEATURES – 7/10
ADVANTAGES – 8/10
COST – 6/10
REASONS TO LIKE THE PRODUCT
Space saver and plenty of versatility
Durable construction
Ample variety of weights
Quick transitioning from one weight to the next
Eliminates need for multiple kettlebells
Ergonomic handle can fit both hands comfortable
REASONS NOT TO LIKE THE PRODUCT
Expensive
Dropping it can be catastrophic
Has a rattling sound during use
Conclusion
Overall, the BOWFLEX SELECTTECH 840 somehow lives up to its brand reputation and hype.  However, if you are being smart with your money, you can buy other adjustable kettlebells with pretty much the same features at a lower price.