Buying protein powder the right WHEY
When it comes to bodybuilding supplements, without a doubt whey protein is the number one most consumed and commonly purchased. You can buy it at any vitamin store or local pharmacy. All gyms are stocked with RTD's (Ready To Drink) or have a shake bar right at the front desk.
[wptouch target="mobile"]
[/wptouch]
[wptouch target="non-mobile"]

[/wptouch]

Needles to say with them so widely available, many people consume protein shakes on a regular basis. In addition to them being everywhere, there is an overabundance of brands and blends that makes it almost impossible for the uneducated consumer to make the right choice.

Most people will usually go for the popular brand or the best tasting, which is generally not the smartest choice. So for those of you who don't know what's in the shake you are sipping, read on as the following is whey protein 101.
Whey protein is a complete protein source derived from dairy with the highest availability for muscle growth. The 3 most common forms of whey protein powder are the following:
-Whey Protein Concentrate
-Whey Protein Isolate
-Whey Protein blend (concentrate/isolate)
Whey Protein Concentrate
The most common among the three for one very simple reason, its less expensive to make. Any time you see a store brand whey protein you can bet its concentrate. Although less expensive than Isolate, the major disadvantage is that whey protein concentrate still contains traces of lactose. These are the shakes that people report feelings of stomach discomfort, bloating, gas etc. If you are lactose intolerant you will want to avoid Concentrate.
Whey Protein Isolate
A much higher quality whey protein as the lactose is completely removed. Whey Protein Isolate is also the lowest in calories due to being 100% protein with no fillers like extra carbs, sugar, and fat. This makes it the better option when dieting. Another major benefit it has in addition is digestibility. You will almost never feel any type of stomach discomfort sipping whey protein isolate as the lactose is completely removed. The drawback of Isolate is that it is always going to cost more than Concentrate.
Whey Protein Blend
Normally these are the protein powders a fancy supplement company will come out with, slap a cool looking logo on a colorful tub and advertise it as a "Complete Protein." With multiple sources of protein in addition to Isolate and/or Concentrate these can contain milk, casein, egg or soy. You may even see the protein content being hidden behind something titled "proprietary protein blend" Generally "proprietary blend" is used to not fully disclose what's in a product.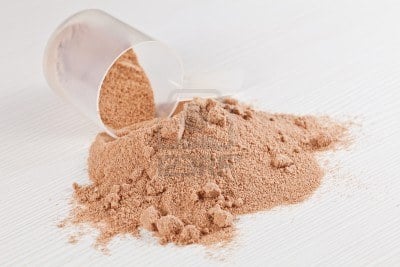 How to tell which one you are buying?
With all supplements you should learn how to correctly read the nutrition label. Under the ingredients list the first source is what the product primarily consists of or in some cases may be the only ingredient. A 100% Whey Isolate will have the first ingredient listed as "100%Whey Protein Isolate." If the product is a protein blend it will have multiples sources of whey listed (usually concentrate and isolate.) When you see an ingredient way down the list, just know the product may only contain trace amounts.
What protein powder do you use?
Let us know by hitting up our comments below or head on over to our official Facebook and Twitter.
[wptouch target="mobile"]
[/wptouch]
[wptouch target="non-mobile"]
[/wptouch]
[wptouch target="mobile"] [/wptouch]
[wptouch target="non-mobile"][/wptouch]