Who became champion at the IFBB California Pro 2021?
And just like that, in a flash, the pro bodybuilding season has kicked into full gear. This weekend held the IFBB California Pro 2021 in Anaheim, California on May 30th. It's the third major IFBB Pro show to be held in May alone. Finally the sport of bodybuilding is starting to feel normal again. Patrick Moore won first place at the California Pro 2021 – read on to check out the full breakdown of the results.
Patrick Moore earned a ticket to the 2021 Olympia with his first place win. The Tomball, Texas bodybuilder finished fourth at last year's IFBB California Pro 2020 and this win marks a clear improvement. Two notable competitors going into this competition were Hassan Mostafa and Mohamed El Amem. Both of these competitors have already stepped on stage previously this month. Mostafa ended up placing 3rd at the New York Pro 2012. Mohamed competed in both the Indy Pro 2021 and the New York Pro. He placed 2nd at the Indy and 5th at the NY Pro. It's clear these two competitors are hungry to earn a Mr. Olympia qualification.
But the clear highlight of the night was Patrick Moore. A pro competitor who has been hyped as "The Future" since he won the California Pro in 2019. Since then he has had a bumpy road placing 13th at the Arnold Classic and ultimately taking an extended offseason. He now claims to be ready for the stage again – and the California Pro 2021 was his target. Patrick Moore showed improved muscle maturity and impressive legs.
Compared to the New York Pro and Indy Pro – the 2021 California Pro was a relatively smaller affair. Not in terms of talent but in terms of divisions. The Cali Pro only featured the Men's Open division. The winner of the division received qualification to the Mr. Olympia 2021 set to be held October 7th – 10th in Orlando, Florida.
The official IFBB California Pro 2020 results have finally arrived. You can check them out below.
IFBB California Pro 2021 Breakdown
Men's Open Bodybuilding Results
First Place – Patrick Moore
Second Place – Mohamed Shaaban
Third Place – Hassan Mostafa
Fourth Place – Mohamed El Emam
Fifth Place – Eddie Bracamontes
View this post on Instagram
California Pro 2021 Official Score Card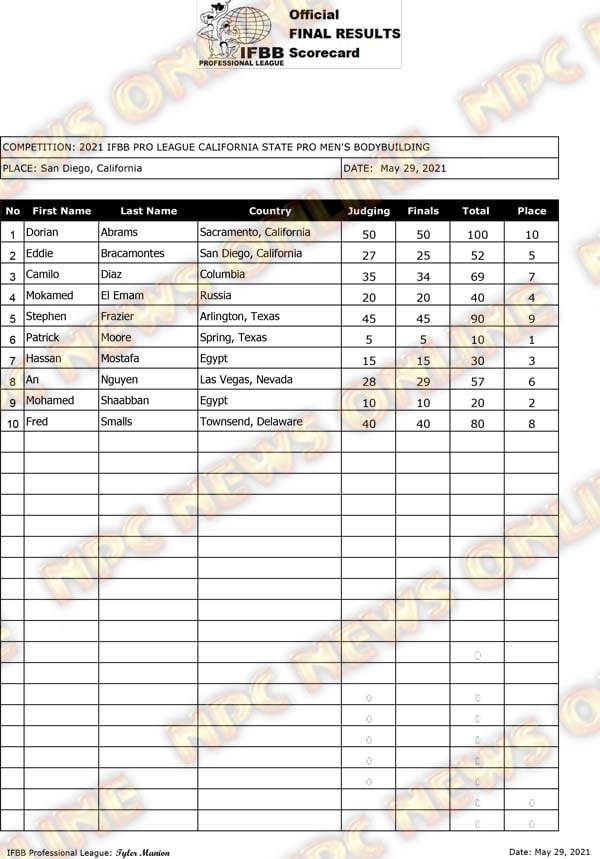 Make sure to check out our full IFBB Pro results page from this year and previous years right here to catch up on any action you may have missed!