This weightlifting belt is perfect for providing comfort while also aiding in back support during those big lifts.
Product Overview
While we all seek huge gains in the gym, our stubbornness of taking an all natural approach can often times lead us towards trouble, especially when it comes to unwanted pain and injury. Exercise tools are designed to help us and promote solid form and enhanced lifts so we protect ourselves when put in a vulnerable state. Weightlifting belts are one of those useful tools that can elevate our gains to new heights. You've seen athletes and hard core gym goers rock these belts, and now it's time you do too. Dark Iron Fitness Genuine Leather Weightlifting Belt is a great option when looking for extra support and back stabilization.
The benefits of lifting belts are great and should not be overlooked. Primarily, these belts can support your core so your body stays braced to conduct heavy lifts while also reducing lower back strain that can lead to unwanted injury. With increased stabilization, you also allow for better range of movement (1). By working on mind-muscle connection and improving form with assistance, when you move away from the belt, you will be more efficient and more safe when it comes to those big lifts.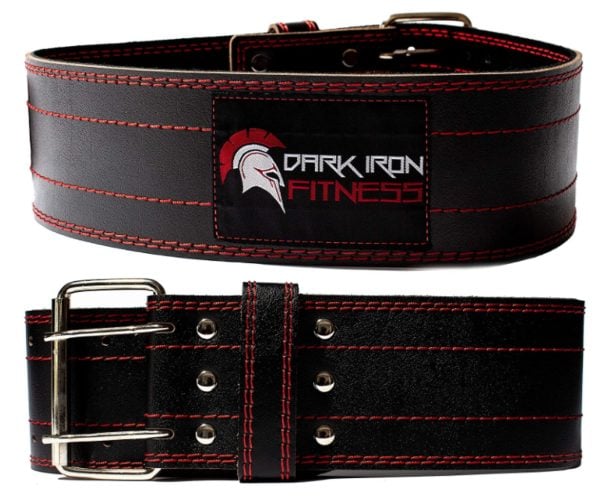 Dark Iron Fitness creates weightlifting accessories designed uniquely for your personal growth to help you with efficiency and safety. They seek to build comfortable and supportive products that are more dependable than others because ultimately you are in charge of your own success. Dark Iron Fitness is there to help you along the way by keeping you healthy and safe so you can accomplish all of your goals. Seeking only the best for their customers, Dark Iron Fitness has your back with all of their products.
---
See where Dark Iron Fitness Genuine Leather Weightlifting Belt fell on our list of the Best Weightlifting Belts!
---
Dark Iron Fitness Genuine Leather Weightlifting Belt Highlights
Dark Iron Fitness Weightlifting Belt is a great belt for providing comfortable core support and low back stabilization during those big lifts and intense training sessions. Built to last, these leather belts won't break, tear, or constantly wear out because they aren't made from cheap material like plastic or velcro. Made from genuine buffalo hide leather, these belts are designed to be soft and flexible to not dig into your sides and cause unnecessary pain. Although flexible and versatile, this belt still provides great support.
Made from the right thickness and width, this belt increases the weight you lift by 10% to allow for extra power, strength, and support in your back and abs. With great customer service and a money back guarantee, on top of a life time warranty, Dark Iron Fitness is a company you can trust for they care for their customers. This belt is also IPF and USAPL approved so your training and competition needs are all met.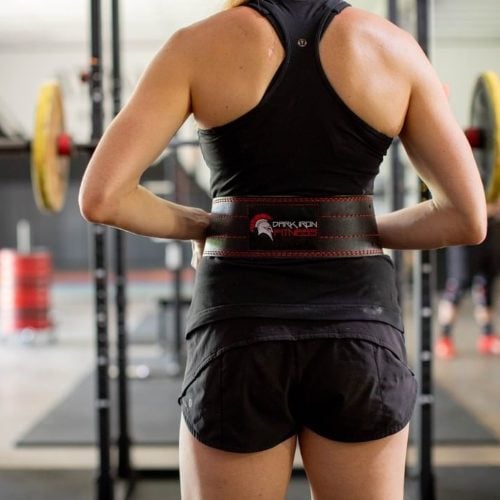 Price & Effectiveness
Dark Iron Fitness Genuine Leather Weightlifting Belt is a great belt for low back stabilization and extra support for any of those big lifts. With a lifetime warranty and 100% money back guarantee, this belt comes at a reasonable price of $39.99.
Pros: It does provide for great support and will help reduce the risk of injury by improving form and offering stabilization. The two-prong buckle closure and rivets are sturdy.
Cons: Some support may fade in the initial weeks of use and a rather flimsy feeling may occur. For really heavy lifts, looking for a thicker belt may be a better option.
Featured Athlete
Zach Drake is a bodybuilder and Dark Iron Fitness athlete who uses their products to enhance all of his gains both inside and out of the gym. As someone who knows what it takes to be the best, especially in a sport like bodybuilding where many greats walk among us, it's important to have a company surrounding you that you trust and can work with to both use and promote their amazing products.
Working with Dark Iron Fitness, Drake seeks to help others find the right equipment to help them succeed so they too can see those bodybuilding goals come to life. As a trusted company, Drake relies on Dark Iron Fitness to catapult his gains to new heights.
Overall Value
Dark Iron Fitness Genuine Leather Weightlifting Belt is a great choice for your lifting belt needs. Designed to be comfortable, flexible, and versatile, it doesn't sacrifice support or stabilization so you continue to lift big and see growth without adding any unnecessary pain and strain. Great for both men and women, this belt is a must in your gym bag. Made from genuine buffalo hide leather and built to last, this belt comes in at a great price with awesome benefits. What you are really getting is a high quality and durable weightlifting belt from a reputable company at a great price. Check out Dark Iron Fitness Genuine Leather Weightlifting Belt today and see what this amazing lifting aid can do for you.
Try Dark Iron Fitness Genuine Leather Weightlifting Belt Here
Generation Iron may receive commissions on purchases made through our links. See our disclosure page for more information.
Let us know what you think in the comments below. Also, be sure to follow Generation Iron on Facebook, Twitter, and Instagram. 
*Images courtesy of Dark Iron Fitness and Dark Iron Fitness Instagram
Finnie. S. B.; Wheeldon, T. J.; Hensrud, D. D.; Dahm, D. L.; Smith, J. (2002). "Weight Lifting Belts: Motivations For Use". (source)