These kettlebells are durable and effective to help maximize all of your strength and hard training goals.
Product Overview
Kettlebells are great fitness tools to help enhance your growth as you seek the most out of strength training while also boosting aerobic capacity. As simple and convenient tools, kettlebells can be used at home or in the gym and provide for an effective way to power through training and into performance. Putting a priority on strength and hard training, Eleiko Kettlebells are sure fire products to help you achieve any and all of your goals.
Kettlebells work to provide benefits in a multitude of areas and can be used with a variety of exercises. As equipment for a full body workout, you can increase strength, endurance, and flexibility during any hard training (1). Promoting things like power, balance, and stability, you can work to nail down form to enhance mind-muscle connection while also allowing your body to fall into better muscle memory for bigger lifts (2). Eleiko Kettlebells can do all this and more as they seek to be simple, convenient, and effective ways to train.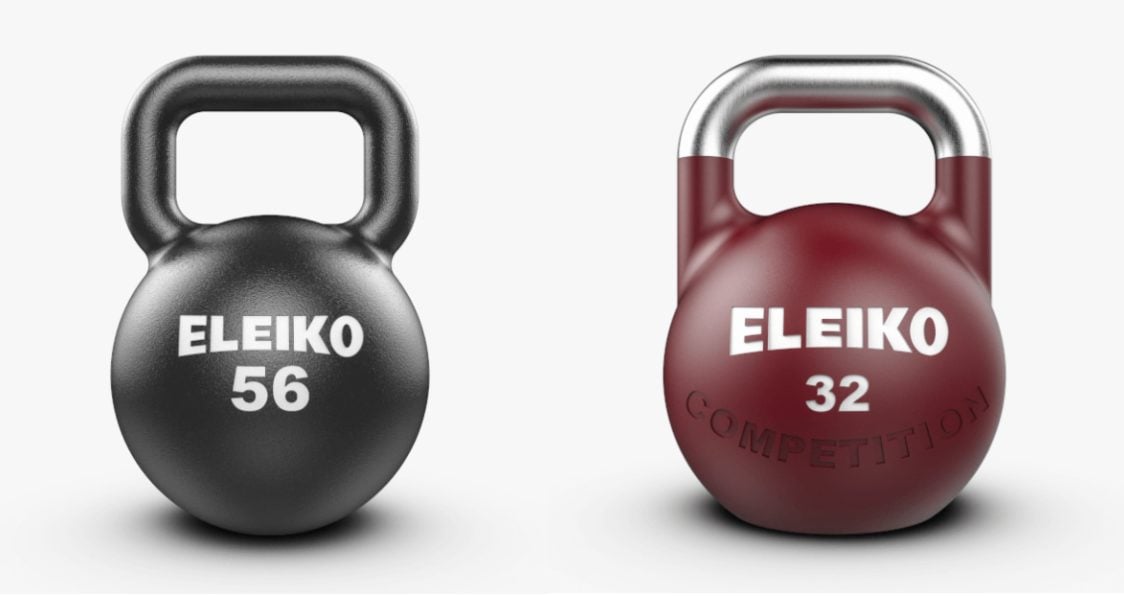 Eleiko is on a mission is help make people stronger so they perform better in sports and in life. Their journey to making workout equipment is fascinating and started with their main metal product; waffle irons. Focusing on innovation and being committed to quality and performance, they sought to improve the lives of others and shift their focus to kettlebells, barbells, and more so those who want to can improve their strength training and performance to be the best they can be.
---
Check out our list of the Best Kettlebells for more great equipment!
---
Eleiko Kettlebells Highlights
Eleiko Kettlebells capitalize on the many benefits that a kettlebell can do from strength training, to endurance work, to promoting better form. Eleiko knows that athletes prioritize both training and performance, and while they are essentially one in the same, those at the top of their game know how to separate them and Eleiko has created a set of training kettlebells and competition kettlebells so all can improve their strength and hard training goals.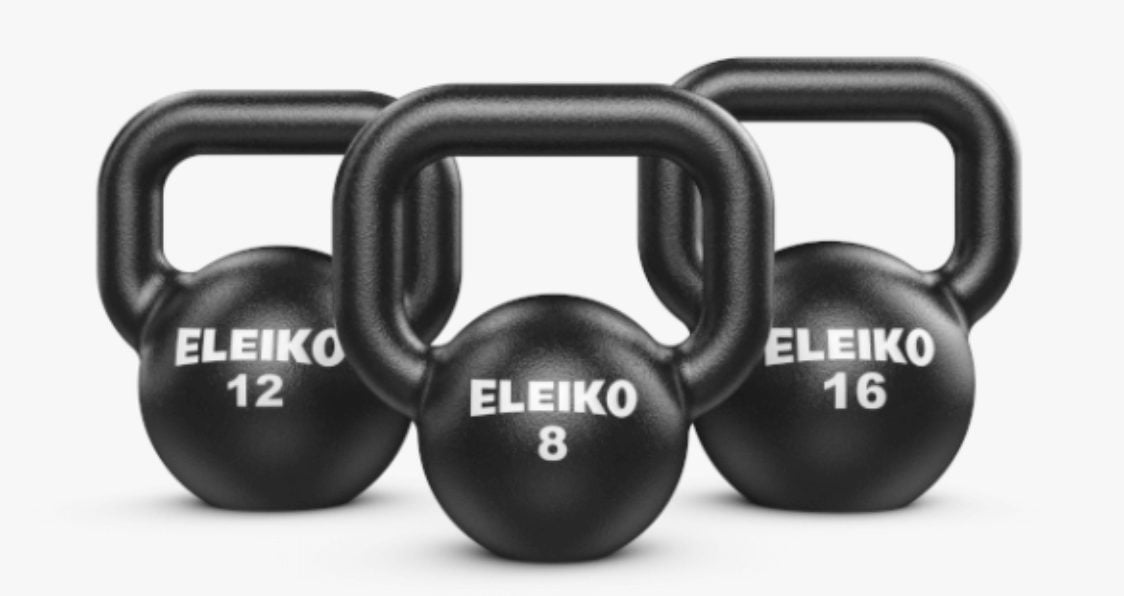 Training Kettlebells
These well-constructed kettlebells are classic and effective for dynamic strength movements and functional fitness. Designed for dynamic training, these will help you gain strength, mobility, and the cardiovascular benefit of real endurance. The varied grip allows for a double hand hold and the rugged and durable finish is resistant to high impact and holds chalk for a good grip. A durable high-grade cast iron kettlebell, this is perfect for those strength goals and the demands of hard training on the body.
Check Out Eleiko Training Kettlebells Here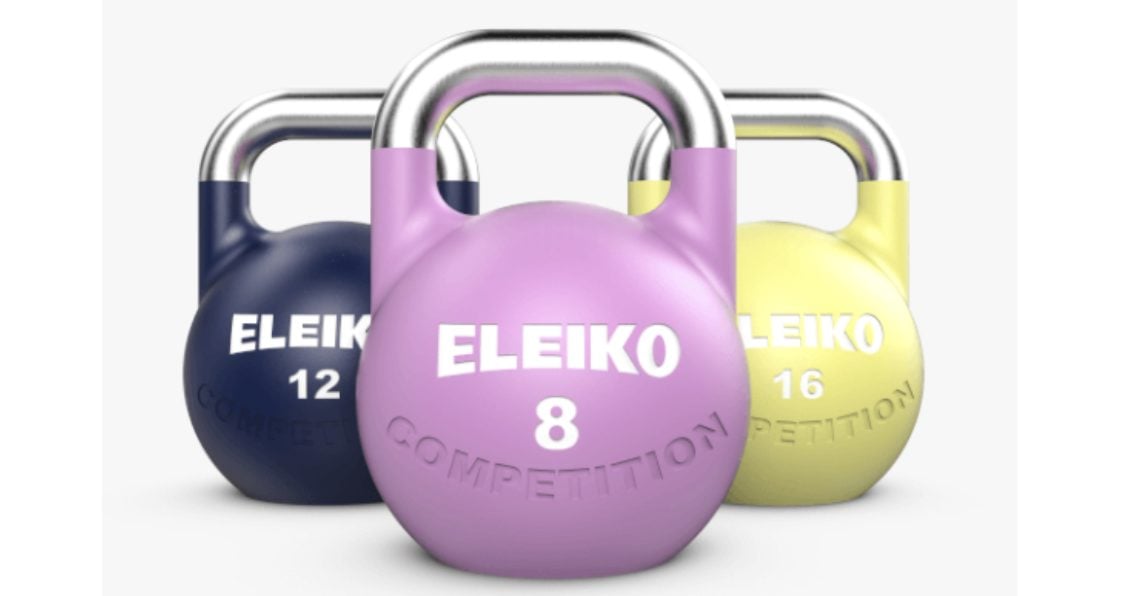 Competition Kettlebells
These competition kettlebells are designed for performance and calibrated for competition and come in popular weight ranges. Using high-grade iron and a molded construction for exceptional durability, these kettlebells are carefully calibrated for competitive use with a wide flat base and non-corrosive steel handle. Regardless of the weight, each kettlebell is identical in size so you can continue to strength train with consistent equipment.
Check Out Eleiko Competition Kettlebells Here
Price & Effectiveness
Both of these Eleiko kettlebells, whether for training or for competition, are perfect for improving your strength and hard training goals. Built to last and highly durable, you absolutely can't go wrong by using these in your home or at the gym.
The training kettlebells range in weight from 4kg all the way up to 56kg. Prices range from $25.00 to $163.00.
The competition kettlebells range in weight from 8kg to 32kg. Prices range from $65.00 to $153.00.
Pros
Durable and consistent
Great weight options for variety
Perfect for strength work and hard training
Great grips on both for stability and added strength
Cons
Eleiko Ambassador
Harrison Maurus – Weightlifter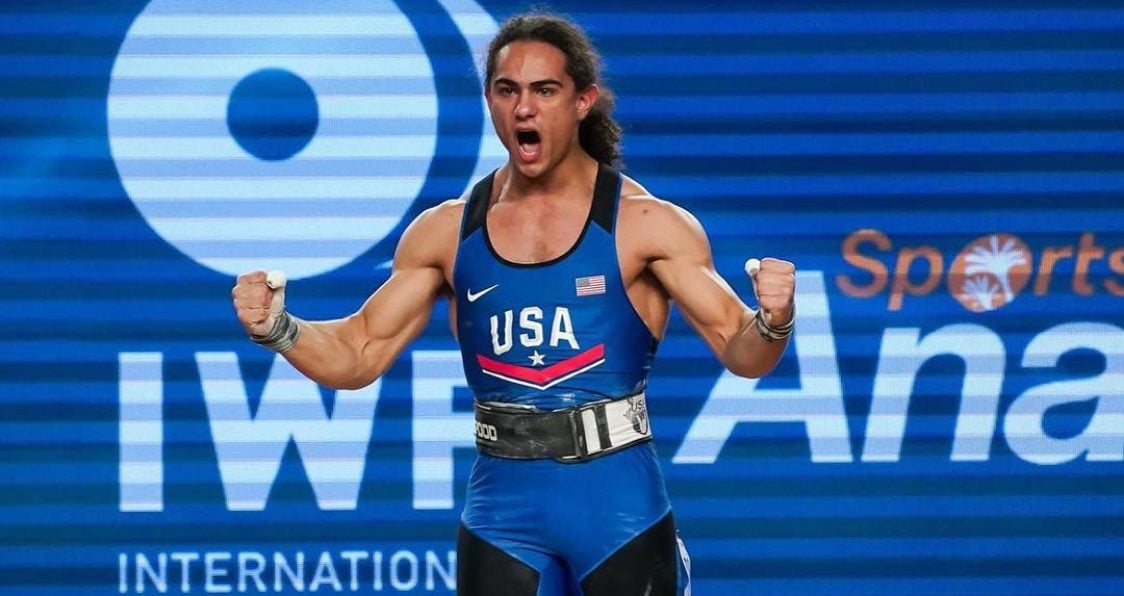 Harrison Maurus is an American weightlifter on Team USA and an Eleiko ambassador, seeking to promote their great workout products to further his goals, but also those of others. He currently holds 10 American records and the Youth World Record in the clean and jerk. His past three World Championships finishes have been a bronze medal in 2017, 6th in 2018, and 9th in 2019, but that hasn't stopped Maurus from continuing to compete at a high level to achieve his goal of a world title. Relying on Eleiko to help power his strength and hard training goals, Maurus knows just what it takes to be the best in the world.
Overall Value
Eleiko Kettlebells are great workout tools to really power you through any strength goals or hard training. Made from high-quality material and designed for optimal effectiveness, you can't go wrong with a great kettlebell to add to your home or gym routine. What you are really getting is a top tier kettlebell that is built to last and designed for all your strength training goals. Check out Eleiko today and watch your strength, endurance, and stability grow to new heights.
Generation Iron may receive commissions on purchases made through our links. See our disclosure page for more information.
Let us know what you think in the comments below. Also, be sure to follow Generation Iron on Facebook, Twitter, and Instagram. 
*Images courtesy of Eleiko, Harrison Maurus Instagram and Envato
References
Kravitz, Len. "Kettlebell Research Update". (source)
Beardsley, Chris; Contreras, Bret (2014). "The Role of Kettlebells in Strength and Conditioning: A Review of the Literature". (source)