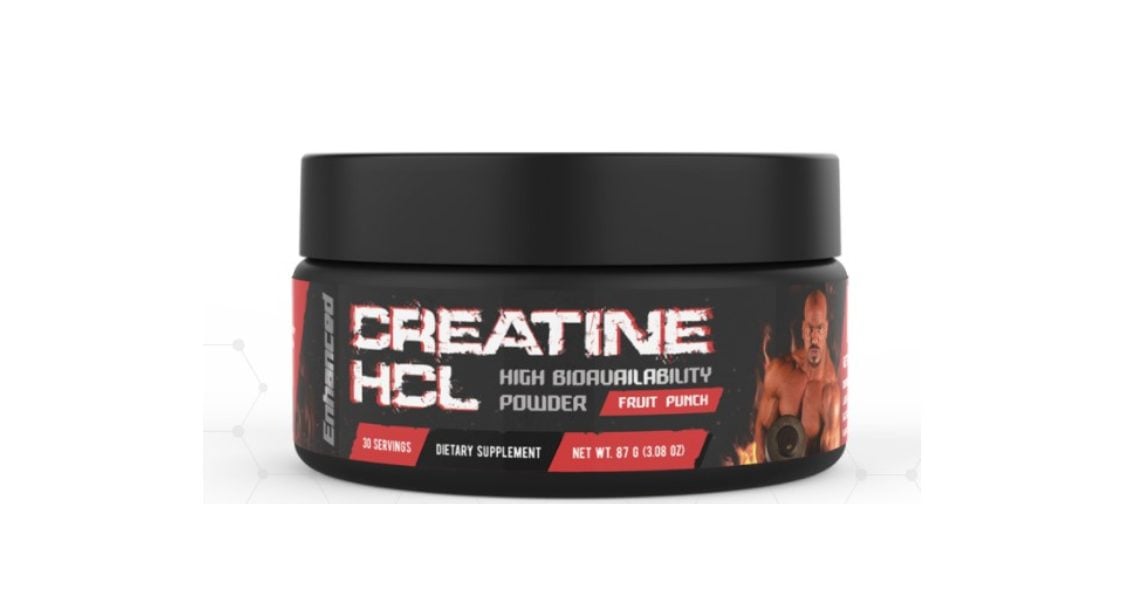 Get a high bioavailability creatine with Enhanced Creatine HCL.
Product Overview
When we lift, we all expect those strength and muscle gains to show almost immediately. With the right training, diet, and supplementation routine, it is possible to see faster gains. But one thing that is for certain is that if you take a creatine supplement, those strength and muscle goals you wish to see will come in no time. Creatine is a supplement growing more and more in popularity and with its ability to increase strength and muscle gains, while also promoting better power output, athletes have flocked to this supplement. Enhanced Creatine HCL is one of those supplements able to improve training and performance so you only see the best results.
Creatine can increase strength, improve your metabolism, and boost performance and power, among other things. With the creatine supplement, and the right form of creatine, you will have these handled with no problem. Creatine HCL is very soluble and is a great choice for those looking to increase strength and muscle mass with a faster absorbing supplement. Enhanced Creatine HCL can do this and much more and is a top choice for those looking to see faster gains.
Enhanced Creatine HCL is a high bioavailable powder able to help tackle all of those strength gains.
Enhanced Labs are a team of bodybuilders, chemists, and innovators who joined together to disrupt a chaotic industry by doing absolutely whatever it takes to come out with the most effective hardcore supplements line on the market. By always staying on the cutting-edge advancements in technology and chemistry, Enhanced Labs gives their customers the continuous edge they desire most.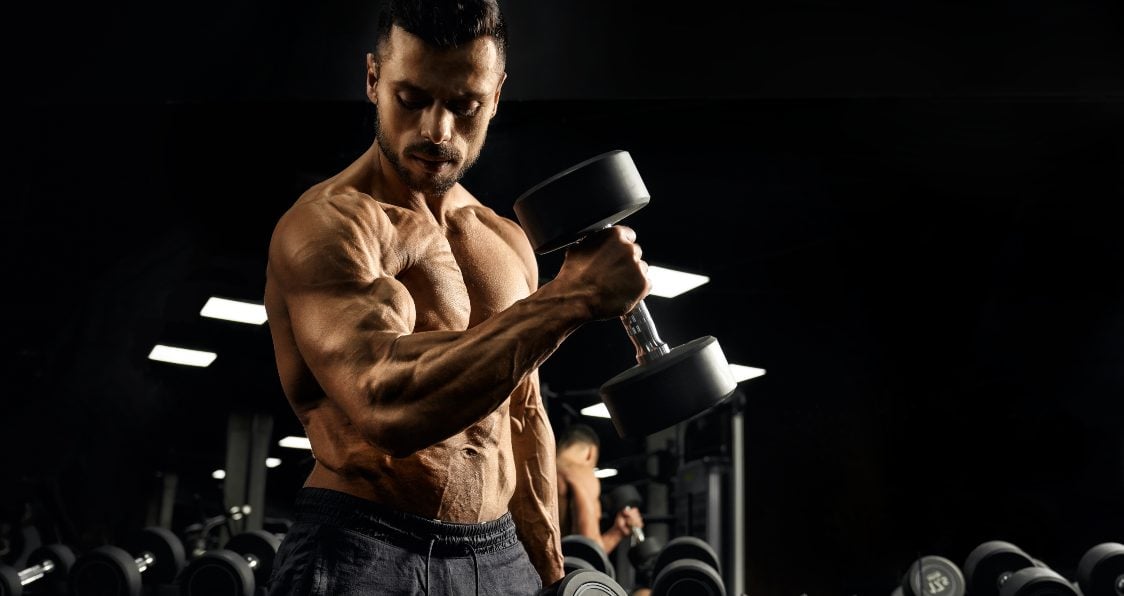 Enhanced Creatine HCL Highlights
Enhanced Creatine HCL is a high bioavailability powder that dissolves easier and faster into your body. This advanced formula has zero side effects and works for the fastest of gains. Able to increase strength and muscle mass, improve absorption, and decrease bloating, what you will find is a quality creatine supplement from a reputable company.
With 2,500mg of creatine HCL, you will have more energy to train harder and longer while you build that muscular physique. A great flavor in fruit punch ensures only the best for you and your overall gains.
Ingredients
Creatine HCL (2,500mg)
Creatine HCL is when a hydrochloride group is added to base creatine. What this does is improve the solubility and overall stability of the product, so you see faster gains to strength and muscle mass, better absorption, and less bloating (1,2). It is a safe supplement and popular amongst athletes looking to improve their overall goals.
Other Ingredients
Natural Flavors, Stevia
| | |
| --- | --- |
| Amount Of Creatine | 2500mg |
| Number Of Servings | 30 |
| Serving Size | 1 Scoop |
| Best Way To Take | Take one serving of this supplement each day. |
Price, Flavors & Effectiveness
Enhanced Creatine HCL is a great creatine supplement able to provide you with an advanced formula and plenty of benefits with a great taste. What you will find is an increase in muscle mass and strength, better power output, less bloating, and improved overall performance.
With 30 servings per container, 1 scoop of this powerful supplement will produce the best gains. A great tasting flavor in Fruit Punch is exactly what you need to deliver an amazing taste.
Pros
Great benefits to strength, muscle mass, less bloating, and performance
Faster absorption so it hits you harder
Fruit Punch flavor tastes great
From a reputable company in Enhanced
Cons
Other flavors would be nice
Price: $30.00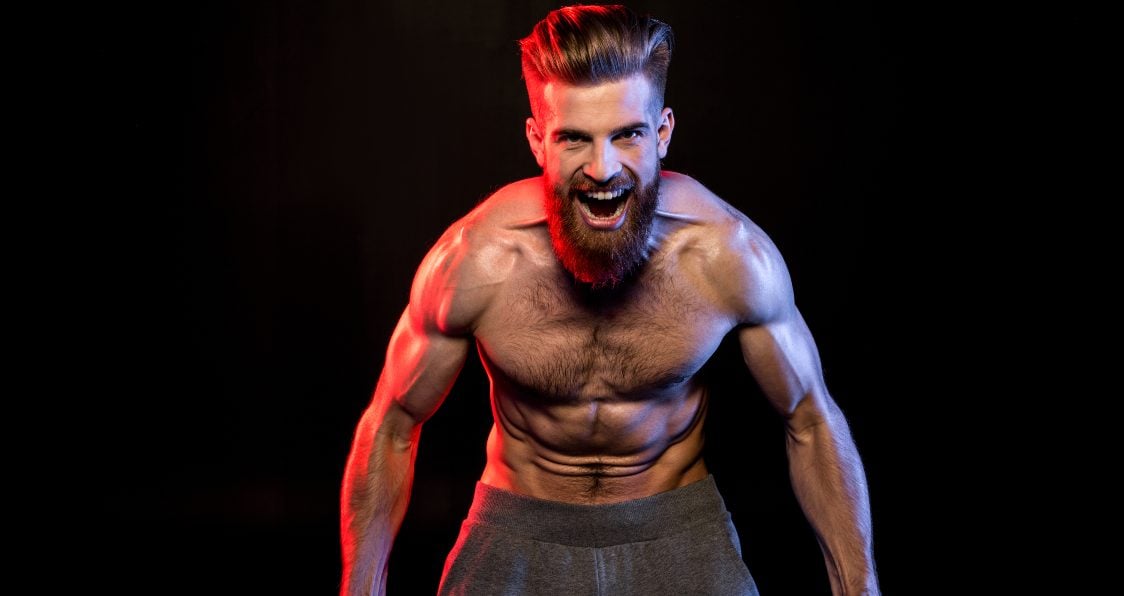 Benefits Of Creatine HCL & Who Should Use This Supplement
As mentioned before, creatine HCL is just one of many forms of creatine but the difference with this is that it combines with a hydrochloride group which improves solubility. A supplement that is more soluble and bioavailable will allow for faster absorption so you can better see gains as it hits your body faster and more efficiently.
Athletes looking to improve their gains more efficiently can benefit from creatine HCL. With its faster absorption, those looking to see better strength and muscle mass gains, improved performance, and less bloating can really benefit from this form of creatine.
---
Check out our list of the Best Creatine Supplements for more great strength building and power improving products!
---
Overall Value
Enhanced Creatine HCL is that creatine supplement you need most to see only the best gains possible. With the right approach to training, diet, and supplementation you will see great gains, but a product like this creatine HCL from Enhanced is a great addition to your shelf. With great benefits, faster absorption, and a nice taste, this supplement is perfect for all your goals. What you are really getting is an effective creatine supplement with great benefits, a good flavor, and a reputable company backing it. Try Enhanced Creatine HCL today and watch your training and performance take off.
Try Enhanced Creatine HCL Today
---
Generation Iron may receive commissions on purchases made through our links. See our disclosure page for more information.
Let us know what you think in the comments below. Also, be sure to follow Generation Iron on Facebook, Twitter, and Instagram. 
*Images courtesy of Level Select and Envato
References
Francaux, M. et al. (1999). "Effects of training and creatine supplement on muscle strength and body mass". (source)
De Franca, E.; et al. (2015). "Creatine HCL and Creatine Monohydrate Improve Strength but Only Creatine HCL Indued Changes on Body Composition in Recreational Weightlifters". (source)